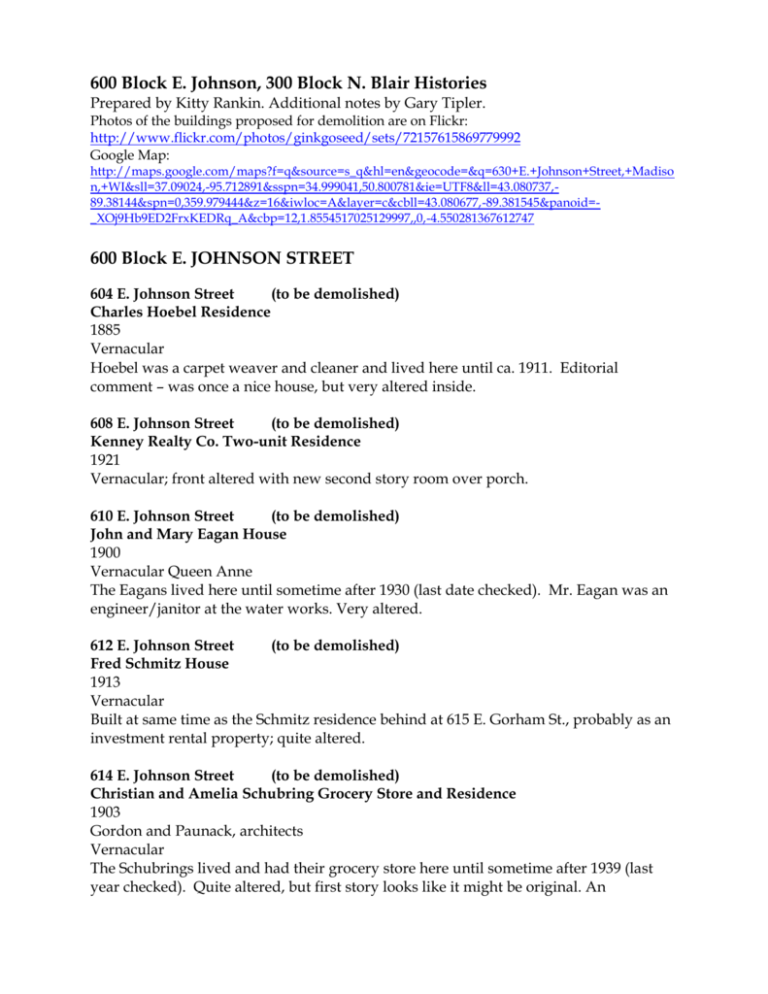 600 Block E. Johnson, 300 Block N. Blair Histories
Prepared by Kitty Rankin. Additional notes by Gary Tipler.
Photos of the buildings proposed for demolition are on Flickr:
http://www.flickr.com/photos/ginkgoseed/sets/72157615869779992
Google Map:
http://maps.google.com/maps?f=q&source=s_q&hl=en&geocode=&q=630+E.+Johnson+Street,+Madiso
n,+WI&sll=37.09024,-95.712891&sspn=34.999041,50.800781&ie=UTF8&ll=43.080737,89.38144&spn=0,359.979444&z=16&iwloc=A&layer=c&cbll=43.080677,-89.381545&panoid=_XOj9Hb9ED2FrxKEDRq_A&cbp=12,1.8554517025129997,,0,-4.550281367612747
600 Block E. JOHNSON STREET
604 E. Johnson Street
(to be demolished)
Charles Hoebel Residence
1885
Vernacular
Hoebel was a carpet weaver and cleaner and lived here until ca. 1911. Editorial
comment – was once a nice house, but very altered inside.
608 E. Johnson Street
(to be demolished)
Kenney Realty Co. Two-unit Residence
1921
Vernacular; front altered with new second story room over porch.
610 E. Johnson Street
(to be demolished)
John and Mary Eagan House
1900
Vernacular Queen Anne
The Eagans lived here until sometime after 1930 (last date checked). Mr. Eagan was an
engineer/janitor at the water works. Very altered.
612 E. Johnson Street
(to be demolished)
Fred Schmitz House
1913
Vernacular
Built at same time as the Schmitz residence behind at 615 E. Gorham St., probably as an
investment rental property; quite altered.
614 E. Johnson Street
(to be demolished)
Christian and Amelia Schubring Grocery Store and Residence
1903
Gordon and Paunack, architects
Vernacular
The Schubrings lived and had their grocery store here until sometime after 1939 (last
year checked). Quite altered, but first story looks like it might be original. An
exceptional mixed-use building in the neighborhood. A rare building type in Madison,
and one of the best remaining.
618 E. Johnson Street
(to be demolished)
Collins-Farwell-Hendricks House
1853, major improvement in 1891
Vernacular
This is a very old house, but quite altered. From ca. 1856 to ca. 1872 it was owned by
John Sachtjen, a carpenter. C. F. Rinder, who built the grocery store on the corner of
Johnson and Hamilton, lived here from ca. 1873 to 1901. Shingle-siding was added in
the 1920's. Mature white pines are behind the house.
620 E. Johnson Street
(to be demolished)
Carl Hoebel House
1871-1872
Vernacular
This Hoebel was in the carpet weaving and repair business, and was probably the father
or uncle of the Hoebel of 604 E. Johnson Street. He retired ca. 1900. This is a simple
little cottage with later siding.
626 E. Johnson Street
(to be demolished)
Mark and Orpha Pearce House
1867
Vernacular
A small cottage with modern siding, built for a carpenter. Unusual features include
Greek Revival interior door and window trims and a finely detailed leaded-glass
window in the bay window. A resident who lived there and died there in 1904 was O.
E. Woodbury, who had been the superintendent at the Ball Foundry, was somewhat
famous for having written "Tippecanoe and Tyler Too," an election campaign slogan
that helped the populist Benjamin Harrison's presidential campaign in 1840. At the
time, Woodbury was a 13-year-old boy and his uncle Levi Woodbury, who was serving
as Secretary of the Treasury under Martin Van Buren at the time, had the song
performed at a local Whig convention in New York state, and it caught fire, with
additional phrases added as the song passed from state to state.
Sources: Historic Madison Inc. (Feb. 19, 2007) "Historic Madison: Tippecanoe and Tyler, Too.";
Historic Madison, Inc., Forest Hill Cemetery: A Biographical Guide to the Ordinary and the
Famous Who Shaped Madison and the World, Vol. I, 2002, p.89.
630 E. Johnson Street
(to be demolished)
Harry and Ethel Church house
Late 1850s-1860s unknown. Moved to this site in 1927.
Greek Revival
A much altered sawn cedar shingle sided house probably dating originally to the 1850s.
The rear addition was built in recent decades. Church was a painter for the Mautz
Brothers.
640 E. Johnson Street
(no change proposed)
1958
A plain apartment building of no architectural interest.
644 E. Johnson Street
(no change proposed)
Linus and Isaac Palmer House
1885
A simple two-story vernacular house with later siding. Linus Palmer was a retired
farmer and Isaac was a fisherman.
300 Block N. BLAIR STREET
309 N. Blair Street (to be demolished)
Bayer House
1886-1887
Queen Anne
This vernacular Queen Anne house has later siding but a nice front porch, two bay
windows, walnut stair rail and colored-glass stair window. Several members of the
Bayer family lived here in the 19th century. Emelia Bayer was a milliner.
311 N. Blair Street (to be demolished)
A completely altered old house, so altered that we have never researched it.
315 N. Blair Street (no change proposed)
Martin and Regina Gaukel House
1911
Four Square
A standard four-square frame house of simple design and altered with later siding and
enclosing the front porch. The first owner was Don Sherman, but the first occupants
were the Gaukels. It was probably built as an investment and rented out. Mr. Gaukel
was a lawyer and only lived here for a year or two. In its early years, the house had
several different families living here in quick succession.
323 N. Blair Street (no change proposed)
Edward B. and Sophie Steensland
1904
Queen Anne
A large Queen Anne house with a corner tower much altered. Steensland was secretary
of the Savings Loan and Trust Co.. Later home of Andrew and Magdalene Schubert.
Mr. Schubert was a well-known photographer.
600 Block E. GORHAM STREET
These properties are not proposed for demolition.
609 E. Gorham Street (no change proposed), renovated 2008 by Michael Matty)
Theodore and Emily Wiedenbeck house
1910
Claude and Stark (Madison Democrat, 9-11-1910)
Prairie School Style
Wiedenbecks lived there until sometime after 1937 (last date we checked)
He was president of Wiedenbeck/Dobelin Co. (est. 1896) a wholesale hardware
company, specializing in supplies for blacksmiths and wagon-makers , pres. Madison
Hardware Specialty Co., vice-pres Madison Hardware Co., later also vice-president of
Union Trust Co. Claude and Starck designed the new main building for the W-D Co. in
1907. I don't know where I got the idea about one of the buildings being destroyed by
fire, there is no documentation of this in the file.
615 E. Gorham Street (no change proposed)
Fred and Philomena Schmitz House
1913
Progressive Style
The Schmitzes owned and operated "The Hub," men's clothing store on the square.
They lived here until ca. 1931.
619 E. Gorham Street (no change proposed)
Vincent and Minorah Kubly House
1905
Gary T. and I attribute it to Lew Porter, but we are not certain.
Progressive style
Vincent Kubly lived here until ca. 1927. He was a partner in Wolff, Kubly, Hirsig
hardware store on the square. Kubly was also vice-president of the Madison Hardware
Specialty Co. (see Wiedenbeck above). Ca. 1927-1937 and beyond (last year checked)
Jessie and Grace Forbes lived here, of Forbes-Meagher Music Co.
625 E. Gorham Street (no change proposed)
Nathaniel and Martha Cramton House
1901
Prairie School/Craftsman style
Cramton was a druggist with Sumner and Cramton. The Cramtons lived here until at
least 1937 (last date checked). Ca. 1930 Rennebohm bought out Cramton and he became
an insurance agent.
627 E. Gorham Street (Joe and Aleen Lusson's House, being restored)
Christian and Sophia Spangenberg House
Built in 1877 for Mr. Spangenberg, a beekeeper.