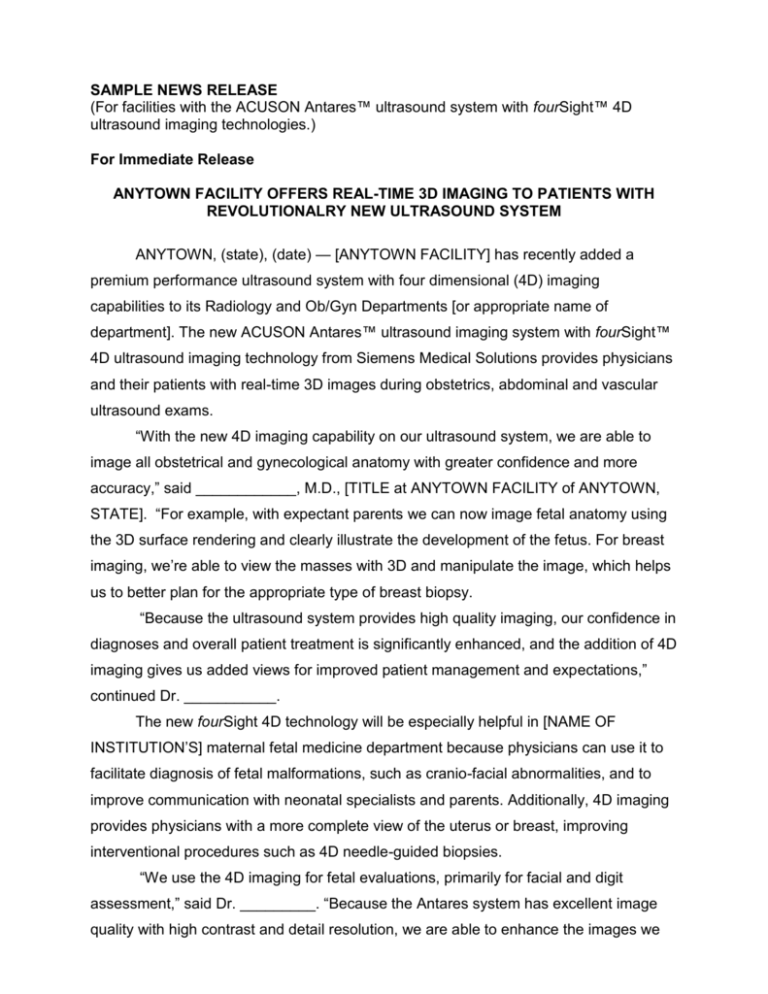 SAMPLE NEWS RELEASE
(For facilities with the ACUSON Antares™ ultrasound system with fourSight™ 4D
ultrasound imaging technologies.)
For Immediate Release
ANYTOWN FACILITY OFFERS REAL-TIME 3D IMAGING TO PATIENTS WITH
REVOLUTIONALRY NEW ULTRASOUND SYSTEM
ANYTOWN, (state), (date) — [ANYTOWN FACILITY] has recently added a
premium performance ultrasound system with four dimensional (4D) imaging
capabilities to its Radiology and Ob/Gyn Departments [or appropriate name of
department]. The new ACUSON Antares™ ultrasound imaging system with fourSight™
4D ultrasound imaging technology from Siemens Medical Solutions provides physicians
and their patients with real-time 3D images during obstetrics, abdominal and vascular
ultrasound exams.
"With the new 4D imaging capability on our ultrasound system, we are able to
image all obstetrical and gynecological anatomy with greater confidence and more
accuracy," said ____________, M.D., [TITLE at ANYTOWN FACILITY of ANYTOWN,
STATE]. "For example, with expectant parents we can now image fetal anatomy using
the 3D surface rendering and clearly illustrate the development of the fetus. For breast
imaging, we're able to view the masses with 3D and manipulate the image, which helps
us to better plan for the appropriate type of breast biopsy.
"Because the ultrasound system provides high quality imaging, our confidence in
diagnoses and overall patient treatment is significantly enhanced, and the addition of 4D
imaging gives us added views for improved patient management and expectations,"
continued Dr. ___________.
The new fourSight 4D technology will be especially helpful in [NAME OF
INSTITUTION'S] maternal fetal medicine department because physicians can use it to
facilitate diagnosis of fetal malformations, such as cranio-facial abnormalities, and to
improve communication with neonatal specialists and parents. Additionally, 4D imaging
provides physicians with a more complete view of the uterus or breast, improving
interventional procedures such as 4D needle-guided biopsies.
"We use the 4D imaging for fetal evaluations, primarily for facial and digit
assessment," said Dr. _________. "Because the Antares system has excellent image
quality with high contrast and detail resolution, we are able to enhance the images we
already obtained in 2D, and in real time, have a diagnostic 4D image. This is particularly
helpful for patients, and it also helps us to improve our overall departmental workflow
because our exams are more precise, therefore the need for repeat ultrasound exams
are significantly reduced."
The new Antares ultrasound system with 3D/4D imaging capabilities was
installed at [ANYTOWN FACILITY] in [MONTH]. To learn more about the system's
diagnostic capabilities, or to schedule an appointment, please contact [WEBSITE or
PHONE].
About ANYTOWN FACILITY
[ANYTOWN FACILITY] was established in [YEAR] and has a staff of [XXX].
[ANYTOWN FACILITY provides X, Y & Z care for the ANYTOWN area. (Insert
developments over the past year that represents the growth at your facility, such as
acquisition of new equipment or notable physician hires, research grant, etc.).] For
additional information, visit our web site at [WWW] or call [Contact Name] at [contact
number].
###
Media Contact:
[Contact Name]
ANYTOWN FACILITY
000.000.0000 [contact phone]
NAME@EMAILADDRESS
All trademarks and registered trademarks are property of their registered owner.