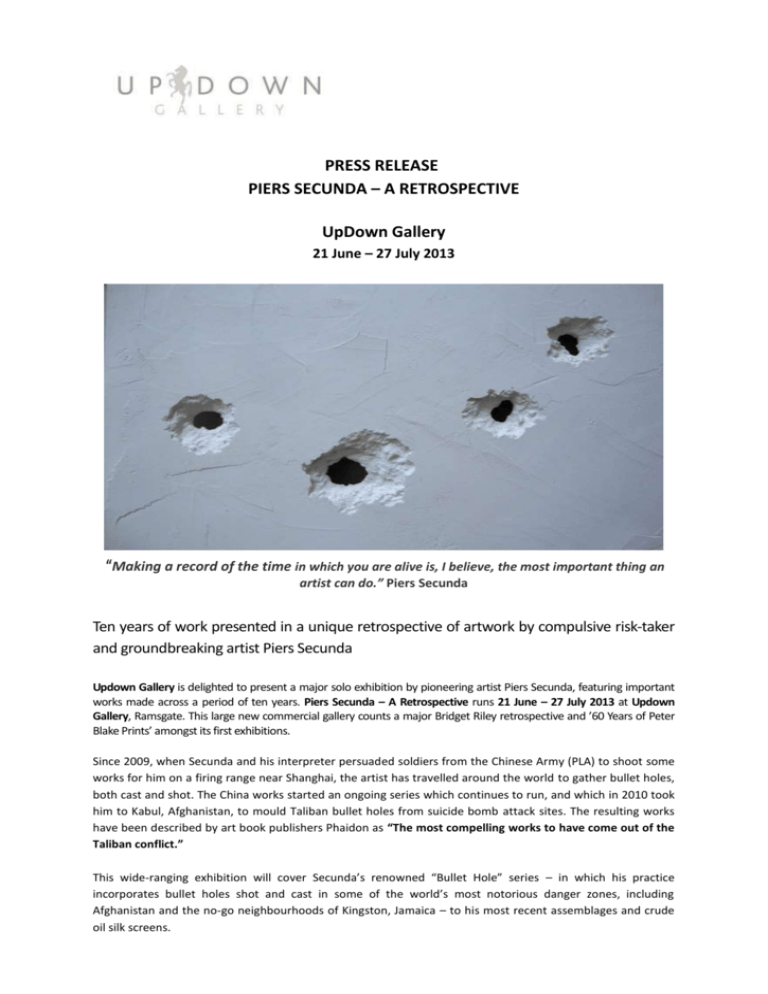 PRESS RELEASE
April 2013
PRESS RELEASE
PIERS SECUNDA – A RETROSPECTIVE
UpDown Gallery
21 June – 27 July 2013
"Making a record of the time in which you are alive is, I believe, the most important thing an
artist can do." Piers Secunda
Ten years of work presented in a unique retrospective of artwork by compulsive risk-taker
and groundbreaking artist Piers Secunda
Updown Gallery is delighted to present a major solo exhibition by pioneering artist Piers Secunda, featuring important
works made across a period of ten years. Piers Secunda – A Retrospective runs 21 June – 27 July 2013 at Updown
Gallery, Ramsgate. This large new commercial gallery counts a major Bridget Riley retrospective and '60 Years of Peter
Blake Prints' amongst its first exhibitions.
Since 2009, when Secunda and his interpreter persuaded soldiers from the Chinese Army (PLA) to shoot some
works for him on a firing range near Shanghai, the artist has travelled around the world to gather bullet holes,
both cast and shot. The China works started an ongoing series which continues to run, and which in 2010 took
him to Kabul, Afghanistan, to mould Taliban bullet holes from suicide bomb attack sites. The resulting works
have been described by art book publishers Phaidon as "The most compelling works to have come out of the
Taliban conflict."
This wide-ranging exhibition will cover Secunda's renowned "Bullet Hole" series – in which his practice
incorporates bullet holes shot and cast in some of the world's most notorious danger zones, including
Afghanistan and the no-go neighbourhoods of Kingston, Jamaica – to his most recent assemblages and crude
oil silk screens.
The comprehensive showcase provides an insight into an extraordinary and stunning studio practice, which
records some of the most important social and political conversations of our time. The works in the
retrospective range from simple moulded forms to intricately detailed, hand-held objects with multiple moving
parts such as the Chinese Puzzle Balls – the common theme across the exhibition being that all the works are
made out of paint.
Over 17 years Secunda's artistic practice has evolved around the use of paint as a sculptural medium, and has
resulted in highly complex structures created from paint alone. It is the combination of innovative techniques
within powerful symbolism that sets this method apart. Secunda's work is often steeped in forgotten histories
and laced with geo-political references, such as printing with crude oil, ultimately producing work full of rich
narratives – while simultaneously pushing paint to its absolute limits.
"I have always been bothered by the physical restraints of the canvas. For me it limits what a painting
can be, so I've disposed of it and I handle the paint on its own – by default the paint behaves like a
sculptural material." Piers Secunda
Tivoli Gardens Bullet Holes, 2012, Industrial
floor paint and household gloss, 48 x 36 x 1cm
© Piers Secunda
Taliban Relief Painting, 2011, cast industrial floor paint with cast paint fixtures,
302cm x 80cm x 8cm © Piers Secunda
In June 2012, Secunda went to Jamaica to mould bullet holes made by the Jamaican police and army during
the drug wars which erupted in Kingston in 2010 at the cost of some 200 lives. With unprecedented access to
cartel heads, gang leaders and local hit men, Secunda was able to record the recent violence in his art - and
persuaded the criminals to shoot sheets of paint to make work for him.
Secunda's work in both Afghanistan and Jamaica can be seen in his extraordinary short films:
Afghanistan:
http://www.pierssecunda.com/film-01.html
Jamaica:
http://www.pierssecunda.com/film-03.html
Increasingly aware of how contemporary lives are
entirely facilitated by oil, and setting out to record the
petro-chemical age with the oil itself, Secunda was able
to make crude oil behave like paint and began to screen
print with it in 2009. The works portray the defining
moments of the petro-chemical age – using oils from
the locations portrayed.
The crude oil project will span Secunda's lifetime – and
will cover the key moments in the defining material of
our age. His project reveals little-known world-changing
moments such as the first discovery of oil in Saudi
Arabia in 1937 (With the success of the Dammam No. 7
well, at left) A work which is printed in Dammam No.7
crude oil, and an event which dramatically changed the
balance of both politics and economics.
Dammam No. 7 Blowing In, Dammam No. 7 crude oil, varnish,
industrial floor paint and cast paint nuts and bolts © Piers Secunda
Piers Secunda – A Retrospective also features several assemblage works and editions. They have been part of
the practice as it has evolved over a decade and a half. Varying in size from an 8cm ball ("Painting of a Chinese
Puzzle Ball", below) to a 1m cube consisting of every rejected work from his studio over a period of a decade, the
works push the limits of his practice and show us the potential for paint's diversity.
A Decade of Rejected Works Re-configured into a One Metre
Cube, 2010-2012, industrial floor paint, 1m x 1m x 1m
© Piers Secunda
Painting of a Chinese Puzzle Ball, 2011, industrial floor paint, 8cm x
8cm x 8cm © Piers Secunda
Chinese puzzle balls were traditionally ornate ivory carved craft and trade items consisting of spheres within
spheres, each rotating freely though carved from the same block. Completing the puzzle requires the holder to
line up the 13 exterior holes through all of the 16 concentric spheres, to the centre. Secunda's puzzle ball is
made entirely of paint, is 8cm across and 16 layers deep. A two minute film was created about this work,
including an interview with the V&A's Asian Department Curator, Julia Hutt:
http://www.pierssecunda.com/film-02.html
The Pergamon Museum, Berlin, and the V&A, London
In 2012, the V&A announced its final plans for the
conversion of its inner courtyard, a renovation which
will require the removal of the majority of the Blitzdamaged "Curtain Wall" on Exhibition Road. In spite
of numerous requests in the past from artists for
consent to make work with the Blitz damage,
permission from the V&A to do this has never been
given before.
But in June 2012 the V&A granted Piers Secunda
permission to mould the shrapnel damage prior to
the dismantlement of the Curtain Wall. These Blitz
shrapnel holes will form a new body of work, which
will be mirrored by the castings he will make from the
shrapnel-damaged walls of Berlin's Pergamon
Museum in April of this year.
Above: Piers Secunda moulds the shrapnel damage at the V&A, as
published by The Art Newspaper
Notes to Editors
MEDIA ENQUIRIES
For any media-related enquiries please contact Tani Burns:
T:
0207 377 5665
M:
07888 731 419
E:
tburnsarts@gmail.com
UpDown Gallery
Satis House
11 Elms Avenue
Ramsgate Kent ct11 9bw
Kate Smith 01843 588181
info@updowngallery.co.uk
www.updowngallery.co.uk
PIERS SECUNDA
For the latest activity please visit: www.pierssecunda.com
UPDOWN GALLERY
Kent's Newest Contemporary Art Gallery – Satis House, a two-storey former Victorian
House in Ramsgate is the setting for Kent's latest prestigious arts venture. Owned by
curator and director Kate Smith, formerly of Bernard Jacobson Gallery, UpDown
Gallery hosts exhibitions featuring the best of modern and contemporary British,
European and American art.
The gallery is located over two floors and across four gallery spaces; just a few
minutes' walk from Ramsgate's town centre and the majestic Royal Harbou r. The
gallery has a world-class schedule of exhibitions, including Bridget Riley, Sir Howard
Hodgkin, Ben Nicholson, Damien Hirst, Ian Davenport, Piers Secunda and Katharine Le
Hardy.