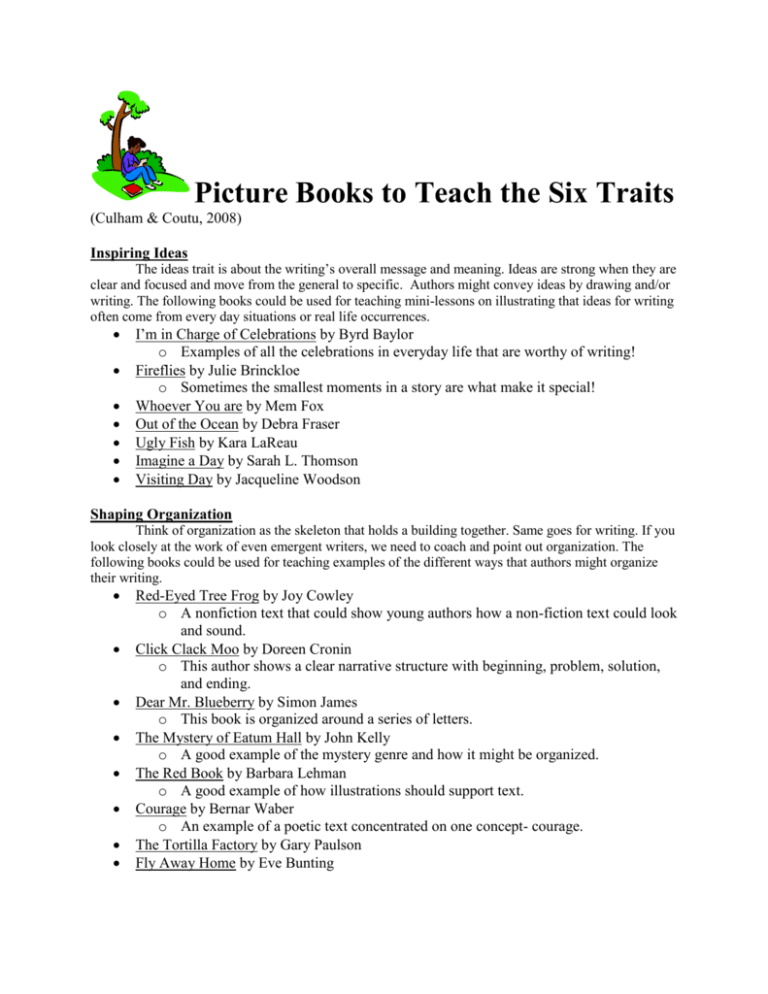 Picture Books to Teach the Six Traits
(Culham & Coutu, 2008)
Inspiring Ideas
The ideas trait is about the writing's overall message and meaning. Ideas are strong when they are
clear and focused and move from the general to specific. Authors might convey ideas by drawing and/or
writing. The following books could be used for teaching mini-lessons on illustrating that ideas for writing
often come from every day situations or real life occurrences.







I'm in Charge of Celebrations by Byrd Baylor
o Examples of all the celebrations in everyday life that are worthy of writing!
Fireflies by Julie Brinckloe
o Sometimes the smallest moments in a story are what make it special!
Whoever You are by Mem Fox
Out of the Ocean by Debra Fraser
Ugly Fish by Kara LaReau
Imagine a Day by Sarah L. Thomson
Visiting Day by Jacqueline Woodson
Shaping Organization
Think of organization as the skeleton that holds a building together. Same goes for writing. If you
look closely at the work of even emergent writers, we need to coach and point out organization. The
following books could be used for teaching examples of the different ways that authors might organize
their writing.








Red-Eyed Tree Frog by Joy Cowley
o A nonfiction text that could show young authors how a non-fiction text could look
and sound.
Click Clack Moo by Doreen Cronin
o This author shows a clear narrative structure with beginning, problem, solution,
and ending.
Dear Mr. Blueberry by Simon James
o This book is organized around a series of letters.
The Mystery of Eatum Hall by John Kelly
o A good example of the mystery genre and how it might be organized.
The Red Book by Barbara Lehman
o A good example of how illustrations should support text.
Courage by Bernar Waber
o An example of a poetic text concentrated on one concept- courage.
The Tortilla Factory by Gary Paulson
Fly Away Home by Eve Bunting
Sparking Voice
Voice is the writer's passion for the topic coming through loud and clear. It's what keeps us
turning the pages of a story long after bedtime. It's what makes us laugh or cry. Voice is what writers use
to assert their own way of looking at an idea.
o Train to Somewhere by Eve Bunting
o Historical fiction that tells the story of orphaned children looking for homes. The
main character Marianne tells her story by capturing all the fear, grief and hope
that these children most certainly felt.
o Diary of a Worm by Doreen Cronin
o A comical book about the life through an earthworm's writing!
o Yesterday I had the Blues by Jeron Ashford Frame
o Writing with voice means writing with emotion… this book is full of emotion as
described by a young boy who starts out the blues, but winds up with the greens…
o Steal Back the Mona Lisa! By Meghan McCarthy
o The Mighty Asparagus by V. Radunsky
o In November or The Relatives Came both by Cynthia Rylant
o The Widow's Broom by Chris VanAllsburg
o The Other Side by Jacqueline Woodson
Expanding Word Choice
When we explore word choice in the classroom, we focus on the parts of speech that writers use
to convey meaning—the nouns, verbs adjectives, adverbs, pronouns… and so on. But, word choice is
NOT about grammar. It's about carefully selecting descriptive words that create an image in the reader's
mind. The idea is to find books that give examples of descriptive and interesting words.
o Max's Words by Kate Banks
o A text about a little boy who discovers lots of really great words! A great
introduction to the concept of descriptive, juicy word choice
o Armadillo Tattletale
o The author relies heavily on extravagant uses of words to engage the reader and
create pictures of larger than life characters and places!
o Things that are Most in the World, Barrett
o Teaches about extreme adjectives or superlatives and is organized around a
predictable pattern.
o Lauren McGill's Pickle Museum by Jerdine Nolen
o Piggie Pie by Margie Pelatini
o A very funny book… could work for several traits, voice and ideas along with
word choice work for this one!
o These Hands by Hope Lynne Price
o Mud by Lyn Ray
Developing Sentence Fluency
The sentence fluency trait has two dimensions, the grammar that makes a group of words into a
good sentence and attention to variation in the way sentences can sound. The idea is to find books that
have varying sentence structures in a way that contributes to rhythm and flow. We can do this by teaching
our students to begin sentences in different ways, to combine sentences, and to write sentences of
different lengths.
o The Important Book by Margaret Wise Brown
o Featuring poetry that is created using a pattern… also useful in teaching main idea
and details
o Home Run: The Story of Babe Ruth by Robert Burleigh
o Many words and phrases that flow together with differing lengths and structures.
A good example of the beauty of language
o One Tiny Turtle by Nicola Davies
o Rap a Tap Tap: Here's Bojangles—Think of That by Leo and Diane Dillon
o Words that have rhythm!
o The Jazz Man by Karen Ehrhardt
o John Henry by Julius Lester
o Poetry Speaks to Children, Elise Paschen, Editor
o A Chair for my Mother by Vera B. Williams
Strengthening Conventions
Conventions should guide the reader through the text making it easy to read and understand. We
can help writers strengthen conventions by encouraging the correct spelling of words that matter and
using punctuation to enhance meaning. These picture books give examples of conventions such as asking
questions or dialogue that our students might emulate.
o Our Librarian Won't tell us Anything! By Toni Buzzeo
o This book holds many lessons including using all captials to emphasize key
words.
o Duck on a Bike by David Shannon
o So you Want to Be President? By Judith St. George
o A great model for using capital letters at the beginning of names… and questions.
o Eats, Shoots, and Leaves: Why Commas Really Do Make a Difference, by Lynne Truss
o How one tiny comma can change meaning in BIG ways!
o Alexander and the Terrible, Horrible, No Good, Very Bad Day by Judith Viorst
o Don't Let the Pigeon Drive the Bus, by Mo Willems
Spotlighting Presentation
Appearance or the visual appeal of pictures and words together in a book are at the heart
of this trait… These books were selected because they show strength in presentation that your
students might want to try with their own publications… whether it is through the interesting use
of white space, the choice of font, the style of the illustrations, or how the text and pictures are
laid out on the page… each book has visual appeal!
o I Will Never Not Ever Eat a Tomato by Lauren Child
o Good amalgam of media: drawings, photographs, and even fabric and wallpaper
swatches with type winding in and around the illustrations
o Alphabet Under Construction by Denise Fleming
o Giant Pandas by Gail Gibbons
o A great example of non-fiction visual elements, labels, diagrams, call-outs, mapts,
to reinforce the points she makes in the text
o Do Not Open This Book by Michaela Muntean
o This is a work in progress.. a jumble of words being assembled by a pig with a
bad case of writer's block!
o Knuffle Bunny by Mo Willems
o A great presentation of illustrations, photographs and text in a truly entertaining
story!