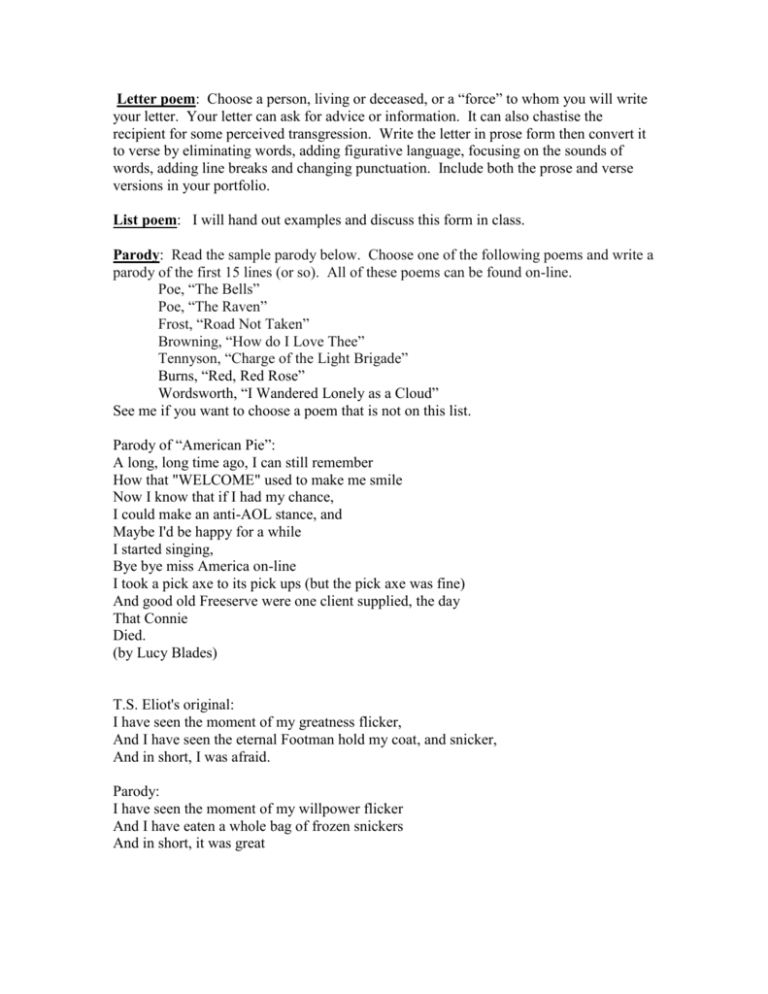 Letter poem: Choose a person, living or deceased, or a "force" to whom you will write
your letter. Your letter can ask for advice or information. It can also chastise the
recipient for some perceived transgression. Write the letter in prose form then convert it
to verse by eliminating words, adding figurative language, focusing on the sounds of
words, adding line breaks and changing punctuation. Include both the prose and verse
versions in your portfolio.
List poem: I will hand out examples and discuss this form in class.
Parody: Read the sample parody below. Choose one of the following poems and write a
parody of the first 15 lines (or so). All of these poems can be found on-line.
Poe, "The Bells"
Poe, "The Raven"
Frost, "Road Not Taken"
Browning, "How do I Love Thee"
Tennyson, "Charge of the Light Brigade"
Burns, "Red, Red Rose"
Wordsworth, "I Wandered Lonely as a Cloud"
See me if you want to choose a poem that is not on this list.
Parody of "American Pie":
A long, long time ago, I can still remember
How that "WELCOME" used to make me smile
Now I know that if I had my chance,
I could make an anti-AOL stance, and
Maybe I'd be happy for a while
I started singing,
Bye bye miss America on-line
I took a pick axe to its pick ups (but the pick axe was fine)
And good old Freeserve were one client supplied, the day
That Connie
Died.
(by Lucy Blades)
T.S. Eliot's original:
I have seen the moment of my greatness flicker,
And I have seen the eternal Footman hold my coat, and snicker,
And in short, I was afraid.
Parody:
I have seen the moment of my willpower flicker
And I have eaten a whole bag of frozen snickers
And in short, it was great
Senryu: (sounds like "SEND-you") like haiku poetry, except deals with human nature
and is always humorous. Write one poem composed of 3 senryu stanzas. The stanzas
must be linked by theme or image.
squinting
to read the sign
"optician"
- Alan Pizzarelli
the cheap kite
flying only when
he runs with it
- anonymous
looking for the shoes
of the visitor – the little boy
has them on
- Koka
Found poem: Use the prose passage that you chose in class. Experiment with
eliminating words (do not add any), repeating words, adding line breaks, changing the
order of words, and changing punctuation. When you are happy with the changes you've
made, add a title.
Speaker poem: Write a poem of at least 15 lines in 1st person. Choose a speaker: a
turtle turned on his back by kids, a major league outfielder, a boy who is proud of a
pocket knife he has stolen, Michael Jackson, Count Dracula's housecat, a toad eyeing a
fly, the ghost of a middle-aged man who died of a heart attack the day after he had had an
upsetting fight with his son, a centipede that has fallen in love with a butterfly (see me if
you have another good idea for a speaker)
photo poem: Find a photograph that has personal relevance. Write a narrative essay
about the photo using a lot of descriptive language to recreate the images with words.
Highlight the key words and rearrange them to create your poem.
Student example of a found poem:
Original text:
Rock music blares in a Manhattan classroom as an 11-year-old builds a website for video game enthusiasts
and a classmate solders LED lights and capacitors to a circuit board. In another room, students are
immersed in a life-size video game as they kneel beside a virtual river, sifting through the remains of ancient
civilizations.
What kid wouldn't love a school developed by video game designers?
Quest to Learn was designed to be different from the ground up. This complete reinvention of the typical
urban middle school downplays rote memorization in favor of collaborative learning, critical thinking and
imaginative exploration in an effort to change how today's students learn.
Source:
http://www.chicagotribune.com/news/education/ct-met-video-game-school-033020110329,0,2602945.story
"What's next?"
virtual river
virtual rock music
virtual rock
circuit board 11-year old
ground design
video remains
urban downplay
life-sized students
LED civilizations
quest capacitors
love as ancient
virtual imagination
Alabanza: In Praise of Local 100
by Martín Espada
for the 43 members of Hotel Employees and Restaurant Employees
Local 100, working at the Windows on the World restaurant, who lost
their lives in the attack on the World Trade Center
Alabanza. Praise the cook with the shaven head
and a tattoo on his shoulder that said Oye,
a blue-eyed Puerto Rican with people from Fajardo,
the harbor of pirates centuries ago.
Praise the lighthouse in Fajardo, candle
glimmering white to worship the dark saint of the sea.
Alabanza. Praise the cook's yellow Pirates cap
worn in the name of Roberto Clemente, his plane
that flamed into the ocean loaded with cans for Nicaragua,
for all the mouths chewing the ash of earthquakes.
Alabanza. Praise the kitchen radio, dial clicked
even before the dial on the oven, so that music and Spanish
rose before bread. Praise the bread. Alabanza.
Praise Manhattan from a hundred and seven flights up,
like Atlantis glimpsed through the windows of an ancient aquarium.
Praise the great windows where immigrants from the kitchen
could squint and almost see their world, hear the chant of nations:
Ecuador, México, Republica Dominicana,
Haiti, Yemen, Ghana, Bangladesh.
Alabanza. Praise the kitchen in the morning,
where the gas burned blue on every stove
and exhaust fans fired their diminutive propellers,
hands cracked eggs with quick thumbs
or sliced open cartons to build an altar of cans.
Alabanza. Praise the busboy's music, the chime-chime
of his dishes and silverware in the tub.
Alabanza. Praise the dish-dog, the dishwasher
who worked that morning because another dishwasher
could not stop coughing, or because he needed overtime
to pile the sacks of rice and beans for a family
floating away on some Caribbean island plagued by frogs.
Alabanza. Praise the waitress who heard the radio in the kitchen
and sang to herself about a man gone. Alabanza.
After the thunder wilder than thunder,
after the booming ice storm of glass from the great windows,
after the radio stopped singing like a tree full of terrified frogs,
after night burst the dam of day and flooded the kitchen,
for a time the stoves glowed in darkness like the lighthouse in
Fajardo,
like a cook's soul. Soul I say, even if the dead cannot tell us
about the bristles of God's beard because God has no face,
soul I say, to name the smoke-beings flung in constellations
across the night sky of this city and cities to come.
Alabanza I say, even if God has no face.
Alabanza. When the war began, from Manhattan to Kabul
two constellations of smoke rose and drifted to each other,
mingling in icy air, and one said with an Afghan tongue:
Teach me to dance. We have no music here.
And the other said with a Spanish tongue:
I will teach you. Music is all we have.
"Pas de Deux"
By Sean Thomas Dougherty
Do you Merengue to the marimba, Salsa to the zither,
Waltz to the wah wah co? Maybe you two
Tango the two step to the Mississippi Watusi? Mash the Potato,
holding onto the ladle as you belly up Break Out
in electric Boogaloo? Or do you put on your red shoes
nd Shock the Monkey, wear the carpet thin Running the Man
in perfect Funky Chicken? Do you Shinto on the roof
of a Pinto? Look spooky as you bless the Kabuki?
Or do you both swivel your hips, side by side Boot Scootin
Boogie, or Tush Push a Cajun Jive, a Cadger's Caper,
a Jockey's Jig Yale, Ma Navu listening to I'm going
back to Cali, Karim the Sota or polish up on your Pappa Joe
over kielbasa and kimchee? Maybe you go Skinny Dipping
with the Chelmsford Assembly while sipping martinis,
a last Night Cap through a Fan? Unhook the clasp pins
On Ms. Pike's Cockle Shells. O Row Well Ye Mariners
for the Sham Hareh Golem is Tango Poquito – do you Lindy Hop
Limbo to Rag Time? Or dress drag to Texas Cha-cha
All the way up to Contra? O Grinding the Green Corn,
O shimmery scaled Dragon Fan. Do you Stroll
in cerulean blue Cumbia and Mazurka the Morcamba
Bay Zenska Siptarska Igra Krozek Farmer's Quadrille?
Do you grind your Fandango? Do you Freak the Flamenco
on down to the Butterfly ground? Bumping Kinka
or Kpanlango? Takeda equal rights for Kenya, Zulu apartheid
to the beats of the Pharcyde? When one is caught in a Twist,
blame it on the Bossa Nova, my brother. For tonight
is Louisiana Saturday Night and the beer is iced Polka
with Cotton-Eyed Joe twiliring Tambourine Une Piassi Icic.
Do you let go your Scalps? Do you take turns leading?