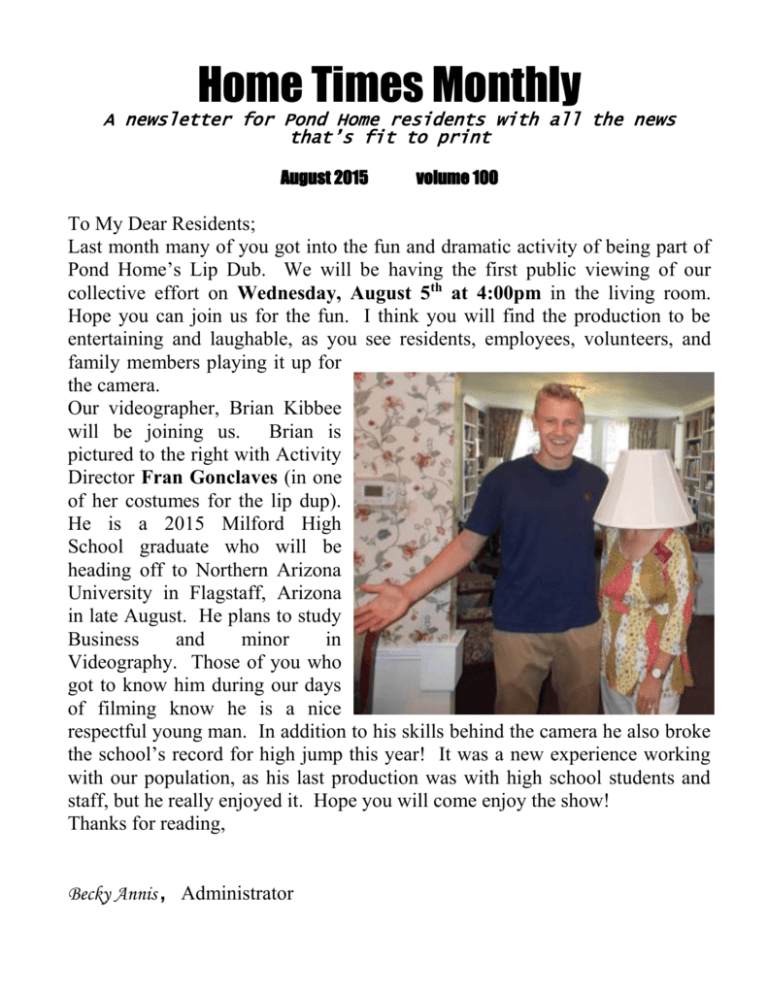 Home Times Monthly
A newsletter for Pond Home residents with all the news
that's fit to print
August 2015
volume 100
To My Dear Residents;
Last month many of you got into the fun and dramatic activity of being part of
Pond Home's Lip Dub. We will be having the first public viewing of our
collective effort on Wednesday, August 5th at 4:00pm in the living room.
Hope you can join us for the fun. I think you will find the production to be
entertaining and laughable, as you see residents, employees, volunteers, and
family members playing it up for
the camera.
Our videographer, Brian Kibbee
will be joining us. Brian is
pictured to the right with Activity
Director Fran Gonclaves (in one
of her costumes for the lip dup).
He is a 2015 Milford High
School graduate who will be
heading off to Northern Arizona
University in Flagstaff, Arizona
in late August. He plans to study
Business
and
minor
in
Videography. Those of you who
got to know him during our days
of filming know he is a nice
respectful young man. In addition to his skills behind the camera he also broke
the school's record for high jump this year! It was a new experience working
with our population, as his last production was with high school students and
staff, but he really enjoyed it. Hope you will come enjoy the show!
Thanks for reading,
Becky Annis, Administrator
Resident Spotlight
This month's spotlighted resident is
James Meranda, better known as
Jim or Jimmy. He has lived 69 of
his 74 years in Norwood where he
was born. His mom and dad lived in
South Boston, but his mother was
from Norwood and wanted "the old
time doctor" to deliver her baby
when the time came, so he was born
in Norwood, but lived in South
Boston. When he was five they
moved to Norwood in his mother's
parents' home. He was their only
child and this is the home he remained in until moving to Pond Home in May
of this year.
He attended Norwood public schools and graduated from Norfolk County
Agricultural High School where he studied horticulture in 1962. He did postgraduate work to learn greenhouse management. He worked at Wayside
Flower Shop in Walpole on the greenhouse side, until it closed in 1989. He
then went to work for Shaw's in Norwood, which was later Victory. He retired
in 2003.
His father passed away in 1989 and his mother in 1997. He managed all of the
maintenance of the home inside and out until last winter, when he found it to be
too much.
Jimmy has been a long time parishioner of St. Catherine of Sienna church in
Norwood, and a dedicated member of Norwood's Knights of Columbus. For
many years he was the Inside Guard for his K of C chapter. He enjoyed
bowling with the Knights' team. He also enjoyed participating in all of their
events, which included fund raisers and community events.
He has always enjoyed gardening and has great plans to help us with our
standing gardens next year. He used to have a large vegetable garden.
He keeps up on local news using his computer.
He has three first cousins who live in Delaware, Sheila, Maureen, and Kathy.
They all keep in touch with him and visit annually. He makes annual trips to
Delaware as well. His second cousin Ann lives in Norwood, in the house next
to the one he just sold.
He enjoys participating in the activities at Pond Home and always having ready
company. We are happy to have his positive and friendly presence here at
Pond Home and look forward to tapping his gardening skills.
Employee Spotlight
This month's highlighted employee is Maria Kelly Perez. She has
worked at Pond Home as a Certified Nursing Assistant since September 2011.
This is her second time at Pond Home as she had worked here in 2009-2010.
She was born and raised in the Dominican Republic. She is one of nine
children, having four brothers and four sisters. Two brothers still live in the
Dominican Republic, one brother lives in New York, one sister lives in Florida,
two sisters and a brother live in Puerto Rico, and finally her twin sister Martha
lives close by in Massachusetts, and works at Pond Home as a per diem CNA.
She first came to the United States in 1996 to help and visit Martha when
she had her first baby, Maria's niece. She stayed for three months on that visit
then returned to the Dominican Republic. In 1998 she made a second visit to
help Martha with her second
child, this time a boy.
While
visiting
in
Massachusetts she and Martha
went to church. On that visit she
met Hector Perez, who would
later become her husband. They
dated long distance for two years,
getting engaged on the day of her
nephew's christening. Two years
later they married and remain
happily so!
They live in Taunton along
with their two cats. The female
cat is named Sacha and the male
named Chicharito. Chicharito got
his name because once when
Maria and Hector were watching
soccer on television the cat got in front of the TV while the Mexican National
Team player Javier Hernandez, who is nicknamed Chicharito was playing. In
Mexican Spanish Chicharito means Little Pea!
Maria likes to take a walk each morning and go to church. She loves to
sing for the Lord.
She also likes Pond Home. She says it is the best place she has ever
worked. The staff and residents are all nice and the home has a good work
environment. She enjoys everyday here and is glad to be part of the Pond
Home family. We are glad to have her with us as well.
August Birthday
Be sure to wish these residents a happy birthday:
7th ~ Shirley Valukis
10th ~ Donald Brennan
14th ~ Carolyn Huyett
22nd ~ Jane Connelly
30th ~ Lucia Santini
Activity Highlights for August
On the 4th the ice cream truck will be making another visit to Blooming Corner
at 3:00pm
As previously promoted, on the 5th at 4pm our first public viewing of the Pond
Home Lip Dub
On the 6th Protestant Church Services will be held at 10:00am
Also on the 6th at 11:00am we will head to Sweat Beach for the Senior Center
picnic, always a popular event
On the 11th at 2:00pm Jessica, our intern will be doing Creative Workshop in
the Craft Room
Come experience Healing Horses at 11:00am in the front yard (under a shady
tree on the 12th
On the 13th Poetry with Fran Witham at 11am
Catholic Mass will take place at 10:30 in the living room on the 17th
On the 18th Arm chair travel will head to Italy with intern from Italy at 2:00 in
the living room
On the 20th we will have a Resident Art exhibit displaying art that was made by
the residents with the intern Jessica
Resident Council will take place on the 20th. Please join the meeting and share
what you love about Pond Home as well as what we can do to make things
even better.
On the 21st join us in saying farewell to intern Jessica who has been with us all
summer
On the 25th Doug Robinson entertains at 2:00 in the living room
We will be celebrating Maine on the 28th of the month – think lobsters and
blueberries!
On the 29th Flower arranging will take place at 3:00pm
Sunflowers & Pumpkins
Maintenance staff person Charlie Whitmarsh told me to remind everyone to
keep an eye out in the back of the building near the garage. He planted a small
crop of sunflowers that are doing well. They are a pretty sight to see. The
pumpkins he planted, which other years have produced pretty pumpkins for our
front porch are, unfortunately, not fairing as well.
You are cordially invited
to
the first public viewing
of
Pond Home's Lip Dub
Wednesday, August 5, 2015
4:00pm
In the living room
Please come prepared to giggle!