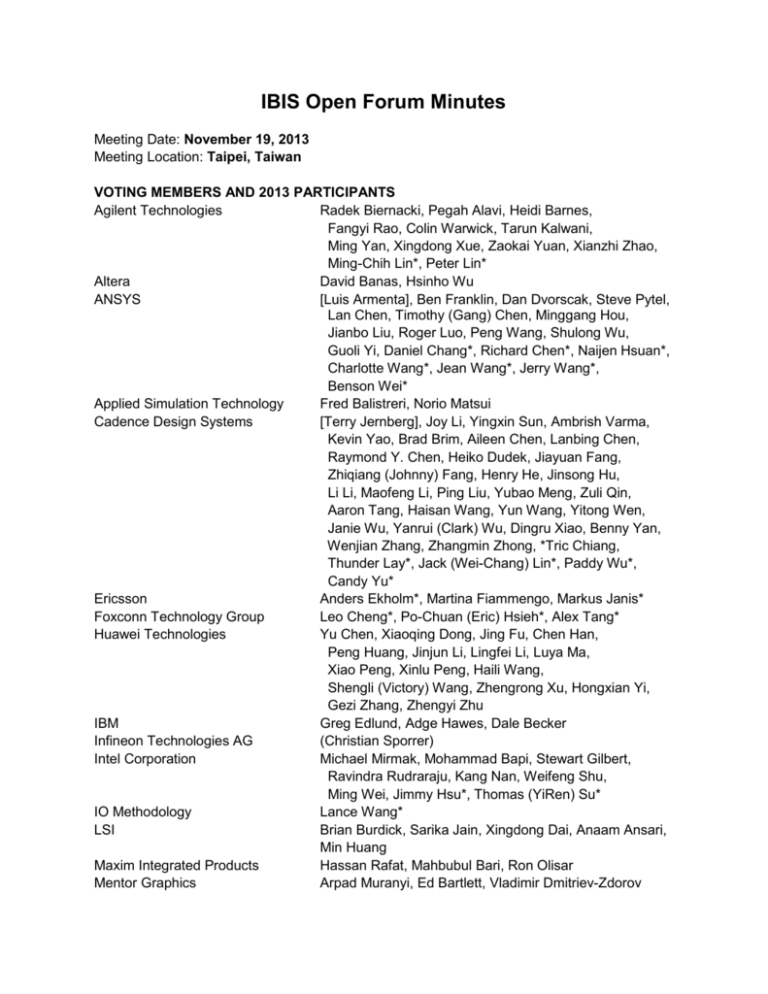 IBIS Open Forum Minutes
Meeting Date: November 19, 2013
Meeting Location: Taipei, Taiwan
VOTING MEMBERS AND 2013 PARTICIPANTS
Agilent Technologies
Radek Biernacki, Pegah Alavi, Heidi Barnes,
Fangyi Rao, Colin Warwick, Tarun Kalwani,
Ming Yan, Xingdong Xue, Zaokai Yuan, Xianzhi Zhao,
Ming-Chih Lin*, Peter Lin*
Altera
David Banas, Hsinho Wu
ANSYS
[Luis Armenta], Ben Franklin, Dan Dvorscak, Steve Pytel,
Lan Chen, Timothy (Gang) Chen, Minggang Hou,
Jianbo Liu, Roger Luo, Peng Wang, Shulong Wu,
Guoli Yi, Daniel Chang*, Richard Chen*, Naijen Hsuan*,
Charlotte Wang*, Jean Wang*, Jerry Wang*,
Benson Wei*
Applied Simulation Technology
Fred Balistreri, Norio Matsui
Cadence Design Systems
[Terry Jernberg], Joy Li, Yingxin Sun, Ambrish Varma,
Kevin Yao, Brad Brim, Aileen Chen, Lanbing Chen,
Raymond Y. Chen, Heiko Dudek, Jiayuan Fang,
Zhiqiang (Johnny) Fang, Henry He, Jinsong Hu,
Li Li, Maofeng Li, Ping Liu, Yubao Meng, Zuli Qin,
Aaron Tang, Haisan Wang, Yun Wang, Yitong Wen,
Janie Wu, Yanrui (Clark) Wu, Dingru Xiao, Benny Yan,
Wenjian Zhang, Zhangmin Zhong, *Tric Chiang,
Thunder Lay*, Jack (Wei-Chang) Lin*, Paddy Wu*,
Candy Yu*
Ericsson
Anders Ekholm*, Martina Fiammengo, Markus Janis*
Foxconn Technology Group
Leo Cheng*, Po-Chuan (Eric) Hsieh*, Alex Tang*
Huawei Technologies
Yu Chen, Xiaoqing Dong, Jing Fu, Chen Han,
Peng Huang, Jinjun Li, Lingfei Li, Luya Ma,
Xiao Peng, Xinlu Peng, Haili Wang,
Shengli (Victory) Wang, Zhengrong Xu, Hongxian Yi,
Gezi Zhang, Zhengyi Zhu
IBM
Greg Edlund, Adge Hawes, Dale Becker
Infineon Technologies AG
(Christian Sporrer)
Intel Corporation
Michael Mirmak, Mohammad Bapi, Stewart Gilbert,
Ravindra Rudraraju, Kang Nan, Weifeng Shu,
Ming Wei, Jimmy Hsu*, Thomas (YiRen) Su*
IO Methodology
Lance Wang*
LSI
Brian Burdick, Sarika Jain, Xingdong Dai, Anaam Ansari,
Min Huang
Maxim Integrated Products
Hassan Rafat, Mahbubul Bari, Ron Olisar
Mentor Graphics
Arpad Muranyi, Ed Bartlett, Vladimir Dmitriev-Zdorov
Micron Technology
Signal Integrity Software
Synopsys
Teraspeed Consulting Group
Toshiba
Xilinx
Zuken
OTHER PARTICIPANTS IN 2013
Accton Technology Group
ASE Group
ASUSTek Computer
AU Optronics Corp
Avant Technology
Bayside Design
Celestica
Chinese Electronics Technology
Company Institute #52 (CETC52)
Cisco Systems
Computer Simulation Technology
Compal Electronics
Contech
Coriant
Delta Networks
Eastwell
ECL Advantage
Etrain China
FiberHome Technologies Group
Freescale
Granite River Labs
H3C
Hewlett-Packard
Himax Technologies
Hisense
ILI Technology Corp
Inventec
KEI Systems
Lenovo
Marvell Technology Group
Mediatek
Micro-Star International
Randy Wolff
Walter Katz, Mike LaBonte, Mike Steinberger,
Todd Westerhoff
John Ellis, Ted Mido, Scott Wedge, Rinsha Reghunath,
Xuefeng Chen, Jinghua Huang, Yu Wang
Bob Ross, Tom Dagostino
(Yasumasa Kondo)
(Raymond Anderson)
Masaud Raeisi, Reinhard Remmert, Michael Schaeder,
Alfonso Gambuzza
Ching-Hwei Tsend*, Xian-Wei Wang*
Hink Chung*, Jarris Kuo*
Vincent Lu*
Jason Kuo*, Joe Shih*
Elvis Li, Linda Sun, Jyam Huang*, Enson Lee*
Elliot Nahas
Lei Liu, Fei Xue
Shujun Wei, Tianjiao Wu
Biao Chen, Feng Wu, Iris Zhao
Heiko Grubrich
Scott C.H. Li*
Zheng Tang
Bruce (Zhenshui) Qin
Skipper Liang*
Xuanjiang Shen, Xiuqing Ye
Thomas Iddings
Weichun Lu
Shengyao Wan, Xuanjun Xia
Jon Burnett
Vamshi Kandalla, Miki Takahashi
Lichen Li, Xiaoxiang Li
Yongjin Choi, Ting Zhu
Falco Chuang*, Lee Renee*, Austin Wang*, Josh Wu*
Aofeng Qian
Tieyan Chang*, Chia-Chen (Trevor) Wu*
Zhong Peng
Shinichi Maeda
John Lin*, Alan Sun*
Weizhe Li, Fang Lv, Banglong Qian, Yuyang Wang
Gerald Hsu*, Fandy Huang*
Ethan Huang*, Anthony Liang*, PeterTsai*, Cloud Tseng*
Molex
National Instruments
Nokia Siemens Networks
Novatek Microelectronics Corp
Nvidia
Open Silicon
Pegatron Corp
Qualcomm
QLogic
RDA Microelectronics
SAE
Semiconductor Manufacturing
International Corp.
Shanghai Microsystem and
Information Technology Institute
Shanghai United-Imaging
Spreadtrum Communications
Shanghai
Sunplus Technology
TechAmerica
Teledyne LeCroy
Teradyne
Test Research
Université de Brest
University of Illinois
VeriSilicon
VIA Labs
VIA Telecom
Vitesse Semiconductor
Winbond Electronics Corp
Zhejiang Uniview Technologies
ZTE Corporation
Davi Correia, Greg Fu, Satish
Lee Mohrmann
Xuhui (Helen) Chen, Gino Guo, Gang Zheng
Jasper Cheng*, Willy Lin*, Frank Pai*
Eric Hsu, David Chen*, Alan (Chia Yuan) Hsieh*,
MT Lin*, Chih Wei Tsai*
Norman Chang*
Lawrence Ting*
Scott Powers
James Zhou
Ke Cao
(Chris Denham)
Sheral Qi
Chi Xu
Xi Huang, Yuan Liu, Jirui Lu, Chun Yuan, Yi Zhao
Lily Dai, Steven Guo
Forest Hsu*, Yi-Tzeng Lin*
[(Chris Denham)]
Xuanfeng Wu, Ting Zhao
Raymond Yakura
Mike Wang*
Mihai Telescu
Tom Comberiate, José Schutt-Ainé, Xu Chen
Tina Xu
Sheng-Yuan Lee*
Jen-Hung (Eddie) Lin*, Jacky Liu*
Sirius Tsang
Albert (Cheng-Han) Lee*, Marko (Chien-Cheng) Lin*
Huanyang Chen, Fei Ye
Huifeng Chen, Fengling Gao, Tao Guo, Hui Jiang,
Zhi Zhou, Shunlin Zhu
In the list above, attendees at the meeting are indicated by *. Principal members or other
active members who have not attended are in parentheses. Participants who no longer are in
the organization are in square brackets.
UPCOMING MEETINGS
The bridge numbers for future IBIS teleconferences are as follows:
Date
November 22, 2013
December 6, 2013
Meeting Number
Meeting Password
Asian IBIS Summit - Yokohama – no telephone bridge
205 475 958
IBIS
For teleconference dial-in information, use the password at the following website:
https://ciscosales.webex.com/ciscosales/j.php?J=205475958
All teleconference meetings are 8:00 AM to 9:55 AM US Pacific Time. Meeting agendas are
typically distributed seven days before each Open Forum. Minutes are typically distributed
within seven days of the corresponding meeting. When calling into the meeting, follow the
prompts to enter the meeting ID. For new, local international dial-in numbers, please reference
the bridge numbers provided by Cisco Systems at the following link:
http://www.cisco.com/web/about/doing_business/conferencing/index.html
NOTE: "AR" = Action Required.
------------------------------------------------------------------------------------------------------------------------------WELCOME AND KEYNOTE COMMENTS
The Asian IBIS Summit took place on Tuesday, November 19, 2013 at the Sherwood Hotel in
Taipei. Approximately 64 people from 28 organizations attended.
The statements below summarize the material presented. More details are available through
the summit presentations posted online at:
http://www.eda.org/ibis/summits/nov13b/
Lance Wang convened the meeting and introduced Daniel Chang of ANSYS for his comments.
Daniel welcomed the attendees and thanked the IBIS Open Forum for their ongoing support of
the IBIS Summit series in the Republic of China.
Lance continued by thanking the co-sponsors: the major sponsor ANSYS and also the cosponsors Cadence Design Systems, Intel Corporation, IO Methodology, and Synopsys.
INTRODUCING IBIS 6.0
Michael Mirmak (Intel Corporation, USA)
[Presented by Lance Wang (IO Methodology, USA)]
Lance Wang noted that IBIS 6.0 was released September 20, 2013. Major additions focus on
IBIS-AMI including added support for redrivers and retimers and IBIS-ISS and Touchstone.
The document is now easier to read and use. Lance gave detailed examples of modeling a
mid-bus repeater. In IBIS 6.0, IBIS-ISS can be used to represent the complex analog buffer
behavior of an AMI model. Multiple files in different locations is now supported for AMI
models. Use of IBIS 6.0 improved analog modeling can help ensure model portability. Among
issues to resolve is improving IBIS package modeling. Package modeling formats are being
discussed with a target to include an update in the next major IBIS release. Developing an
IBISCHK6 syntax parser is a focus now.
IBIS SUMMARY DOCUMENTS
Bob Ross (Teraspeed Consulting Group, USA)
[Presented by Anders Ekholm (Ericsson, Sweden)]
Anders Elkholm presented information about several documents created by Bob Ross to
accompany the IBIS 6.0 specification release. IBIS 6.0 contains a keyword hierarchy tree in
section 3.1. Bob updated an unofficial hierarchy document from 2007 with information from
IBIS versions 5.1 and 6.0. Extra information in this document includes when items were added
at major versions. Bob also created an unofficial evolution document featuring updated
columns showing major version evolution, rules and changes evolution and significant
subparameter selections such as the *_type subparameter choices.
Anders also noted that Bob helped create four new summary tables in section 10.7 of the IBIS
6.0 specification. These tables include Usages, Types and Formats for Reserved Parameters
and Types for Format values. The summary information provides quick references for IBIS
and IBIS-AMI syntax. The documents are found on the IBIS website along with the IBIS 6.0
specification.
A comment was made that we hope the IBIS committee can provide some real examples, not
only the specification. Anders responded that this was a good idea. We now have some AMI
models as examples. We could add others as well. We hope the chip vendors can help as
well.
MODELING, EXTRACTION AND VERIFICATION OF VCSEL MODEL FOR IBIS AMI
Zhaokai Yuan (Agilent Technologies, PRC)
[Presented by Ming-Chih Lin (Agilent Technologies, ROC)]
Ming-Chih Lin began by introducing the various components of an optical Rx/Tx module. To
simulate an optical link, IBIS-AMI can be extended to model the optical channel. The entire
optical module is treated as a mid-channel repeater, and all optical behaviors are encapsulated
inside the optical model. Ming-Chih then described the basics of the Vertical Cavity Emitting
Laser (VCSEL). Ming-Chih went on to describe the principles of modeling the VCSEL's
performance versus thermal behavior. Measured curves of LI, VI and frequency response
were modeled using curve fitting algorithms. VCSEL model verification was then performed on
two different devices and a full optical link.
A question was asked about how to use this method for long distance transmission cases.
Ming-Chih responded that this method is for short distance clock transfer. Long distance transfer
will need to include more effects.
ANISOTROPIC SUBSTRATES VARIANCE FOR IBIS-AMI SIMULATION
Naijen Hsuan (ANSYS, ROC)
Naijen Hsuan presented that anisotropic substrate variance is a real physical issue that leads
to variation in channel characteristics for high speed SerDes channels. FR4 fiber weave
creates local dielectric constant variation leading to insertion loss variation and differential pair
skews. Varying the angle of the weave relative to the channel layout leads to variation in
differential insertion loss, phase and return loss. Naijen setup a Design of Experiments (DOE)
to look at optimizing an Rx CTLE while looking at sensitivities to anisotropic substrate
variance. Response surface modeling helped to look at a huge number of possible
combinations in order to find optimal solutions. A High Performance Computing (HPC) solution
also helped reduce the analysis time.
MORE ON IBIS MODELING FOR LOAD-DEPENDENT CURRENT-MODE DIFFERENTIAL
DRIVERS
Lance Wang (IO Methodology, USA)
Lance Wang presented a methodology for modeling load-dependent current-mode differential
pair buffers. These buffers are found increasingly often in GHz serial link designs, and
traditional IBIS buffer extraction methods are not accurate enough for modeling them. Lance
detailed an enhanced I-V and V-T extraction method. Correlation shows matched results
between IBIS and Spice. Lance summarized that two enhancements to IBIS would be useful
for these buffers. One enhancement would be to include Rref_diff/Cref_diff loads for regular
IBIS differential pair models. A second enhancement when modeling dynamic PLL current
mode buffers would be to include various I-V tables for different differential loads and a current
dependent C_comp value table.
A comment was made that these kinds of buffers use one side with pullup and one side with
pulldown for rising and falling transitions. Will this method give inaccurate results of P and N
pins that are not balanced? Lance responded that this is true. However, luckily, most of these
buffers are balanced.
AN ADVANCED BEHAVIORAL BUFFER MODEL WITH OVER-CLOCKING SOLUTION
Yingxin Sun and Raymond Y. Chen (Cadence Design Systems, USA)
[Presented by Thunder Lay (Cadence Design Systems, ROC)]
Thunder Lay began by describing the mechanisms related to overclocking of IBIS models. A
simulator that does not properly window V-T data will give incorrect results, sometimes
showing missing bits. V-T windowing works well for IBIS 4.2 models. However, for IBIS 5.0
models that include I-T data, using the same V-T windowing algorithm will cut off the pre-driver
current seen in the composite current I-T data. Thunder proposed an advanced over-clocking
solution, where a pre-driver stage was added to the driver stage. With this model, the
composite current could be broken into two portions, the contribution from the driver and the
contribution from the pre-driver. The proposed over-clocking solution could be implemented
into an advanced IBIS simulator to automatically handle the windowing of both V-T and I-T
data. With this solution, very good correlation was seen between IBIS and the original
transistor model for real SSO simulation, even under over-clocking scenarios.
COMBINED I-V TABLE CHECKING PROBLEM
Bob Ross*, Yingxin Sun** and Joy Li** (*Teraspeed Consulting Group, **Cadence Design
Systems, USA)
[Presented by Anders Ekholm (Ericsson, Sweden)]
Anders Ekholm began by describing BUG140, where unexpected non-monotonic warnings are
issued for combined I-V tables. There is no specification requirement that individual or
combined I-V tables be monotonic. Combined table checks were added to the IBIS parser
following BUG94. Non-monotonicity often occurs outside of normal simulation regions (clamp
regions) and is not a problem for simulation software. Anders walked through a simple
example to demonstrate how piecewise linear interpolation methods can cause nonmonotonicities when combining two data sets. Anders then showed two test case examples
from BUG140. The Quality task group discussed several options for fixes including using more
complicated SPLINE fitting algorithms. The final resolution was to change the warning to a
note.
IBIS MODEL FOR IO-SSO ANALYSIS
Thunder Lay and Jack W.C. Lin (Cadence Design Systems, ROC)
[Presented by Jack W.C. Lin (Cadence Design Systems, ROC)]
Jack W.C. Lin began by defining Simultaneous Switching outputs Noise (SSN). SSN impacts
timing and noise margin and becomes a bigger problem as voltages decrease and data rates
increase. Traditional SSN simulations can be pessimistic when the analysis excludes an ondie decoupling model or includes an estimated on-die decoupling model. An accurate RC or
distributed chip PDN model is needed for realistic power/ground noise analysis. Jack showed
a method of using [External Circuit] in IBIS 5.1 to incorporate on-die and package models into
the buffer. Jack then showed a case study of a DDR data byte lane including a power-aware
IBIS model, on-chip decoupling model and PCB and package S-parameters converted to
broadband-Spice models. Without a chip PDN model, SSN is overestimated. With an on-die
RC PDN model, the noise is underestimated. Using a distributed broadband model of the ondie PDN gave the most realistic results. Jack summarized that for tighter timing and noise
budgets in LPDDR3 or DDR4, system level SSN analysis is helpful for design margin
assessment.
CONCLUDING ITEMS
Lance Wang thanked the co-sponsors, presenters and attendees for their participation and
support. The meeting adjourned at 4:30 p.m.
NEXT MEETING
The Asian IBIS Summit – Yokohama will be held November 22, 2013. The next IBIS Open
Forum teleconference will be held December 6, 2013 from 8:00 to 10:00 a.m. US Pacific Time.
=======================================================================
NOTES
IBIS CHAIR: Michael Mirmak (916) 356-4261, Fax (916) 377-3788
michael.mirmak@intel.com
Data Center Platform Applications Engineering
Intel Corporation
FM5-239
1900 Prairie City Rd.,
Folsom, CA 95630
VICE CHAIR: Lance Wang (978) 633-3388
lwang@iometh.com
President/CEO, IO Methodology, Inc.
PO Box 2099
Acton, MA 01720
SECRETARY: Randy Wolff (208) 363-1764, Fax: (208) 368-3475
rrwolff@micron.com
Principal Engineer, Modeling Engineering Lead, Micron Technology, Inc.
8000 S. Federal Way
Mail Stop: 01-711
Boise, ID 83707-0006
LIBRARIAN: Anders Ekholm (46) 10 714 27 58, Fax: (46) 8 757 23 40
ibis-librarian@eda.org
Digital Modules Design, PDU Base Stations, Ericsson AB
BU Network
Färögatan 6
164 80 Stockholm, Sweden
WEBMASTER: Mike LaBonte
mikelabonte@eda.org
IBIS-AMI Modeling Specialist, Signal Integrity Software
6 Clock Tower Place
Maynard, MA 01754
POSTMASTER: Mike LaBonte
mikelabonte@eda.org
IBIS-AMI Modeling Specialist, Signal Integrity Software
6 Clock Tower Place
Maynard, MA 01754
This meeting was conducted in accordance with ANSI guidance.
The following e-mail addresses are used:
majordomo@eda.org
In the body, for the IBIS Open Forum Reflector:
subscribe ibis <your e-mail address>
In the body, for the IBIS Users' Group Reflector:
subscribe ibis-users <your e-mail address>
Help and other commands:
help
ibis-request@eda.org
To join, change, or drop from either or both:
IBIS Open Forum Reflector (ibis@eda.org)
IBIS Users' Group Reflector (ibis-users@eda.org)
State your request.
ibis-info@eda.org
To obtain general information about IBIS, to ask specific questions for individual
response, and to inquire about joining the IBIS Open Forum as a full Member.
ibis@eda.org
To send a message to the general IBIS Open Forum Reflector. This is used mostly for
IBIS Standardization business and future IBIS technical enhancements. Job posting
information is not permitted.
ibis-users@eda.org
To send a message to the IBIS Users' Group Reflector. This is used mostly for IBIS
clarification, current modeling issues, and general user concerns. Job posting
information is not permitted.
ibis-bug@eda.org
To report ibischk parser BUGs as well as tschk2 parser BUGs. The BUG Report Form
for ibischk resides along with reported BUGs at:
http://www.eda.org/ibis/bugs/ibischk/
http://www.eda.org/ibis/bugs/ibischk/bugform.txt
The BUG Report Form for tschk2 resides along with reported BUGs at:
http://www.eda.org/ibis/tschk_bugs/
http://www.eda.org/ibis/tschk_bugs/bugform.txt
icm-bug@eda.org
To report icmchk1 parser BUGs. The BUG Report Form resides along with reported
BUGs at:
http://www.eda.org/ibis/icm_bugs/
http://www.eda.org/ibis/icm_bugs/icm_bugform.txt
To report s2ibis, s2ibis2 and s2iplt bugs, use the Bug Report Forms which reside at:
http://www.eda.org/ibis/bugs/s2ibis/bugs2i.txt
http://www.eda.org/ibis/bugs/s2ibis2/bugs2i2.txt
http://www.eda.org/ibis/bugs/s2iplt/bugsplt.txt
Information on IBIS technical contents, IBIS participants and actual IBIS models are available
on the IBIS Home page:
http://www.eda.org/ibis
Check the IBIS file directory on eda.org for more information on previous discussions and
results:
http://www.eda.org/ibis/directory.html
Other trademarks, brands and names are the property of their respective owners.
IBIS – SAE STANDARDS BALLOT VOTING STATUS
I/O Buffer Information Specification Committee (IBIS)
Organization
Agilent Technologies
Altera
ANSYS
Applied Simulation Technology
Cadence Design Systems
Ericsson
Foxconn Technology Group
Huawei Technologies
IBM
Infineon Technologies AG
Intel Corp.
IO Methodology
LSI
Maxim Integrated Products
Mentor Graphics
Micron Technology
Signal Integrity Software
Synopsys
Teraspeed Consulting
Toshiba
Xilinx
Zuken
Interest
Category
User
Producer
User
User
User
Producer
Producer
Producer
Producer
Producer
Producer
User
Producer
Producer
User
Producer
User
User
General Interest
Producer
Producer
User
Standards
Ballot
Voting
Status
Active
Inactive
Active
Inactive
Active
Active
Inactive
Inactive
Inactive
Inactive
Active
Active
Inactive
Inactive
Inactive
Inactive
Inactive
Inactive
Inactive
Inactive
Inactive
Inactive
October
11, 2013
X
X
X
X
X
X
X
X
X
X
-
November
1, 2013
X
X
X
X
X
X
X
X
X
X
-
November
15, 2013
X
X
X
X
X
X
X
X
-
November
19, 2013
X
X
X
X
X
X
X
-
CRITERIA FOR MEMBER IN GOOD STANDING:

MUST ATTEND TWO CONSECUTIVE MEETINGS TO ESTABLISH VOTING MEMBERSHIP

MEMBERSHIP DUES CURRENT

MUST NOT MISS TWO CONSECUTIVE MEETINGS
INTEREST CATEGORIES ASSOCIATED WITH SAE BALLOT VOTING ARE:

USERS - MEMBERS THAT UTILIZE ELECTRONIC EQUIPMENT TO PROVIDE SERVICES TO AN END USER.

PRODUCERS - MEMBERS THAT SUPPLY ELECTRONIC EQUIPMENT.

GENERAL INTEREST - MEMBERS ARE NEITHER PRODUCERS NOR USERS. THIS CATEGORY INCLUDES, BUT IS NOT LIMITED TO,
GOVERNMENT, REGULATORY AGENCIES (STATE AND FEDERAL), RESEARCHERS, OTHER ORGANIZATIONS AND ASSOCIATIONS,
AND/OR CONSUMERS.