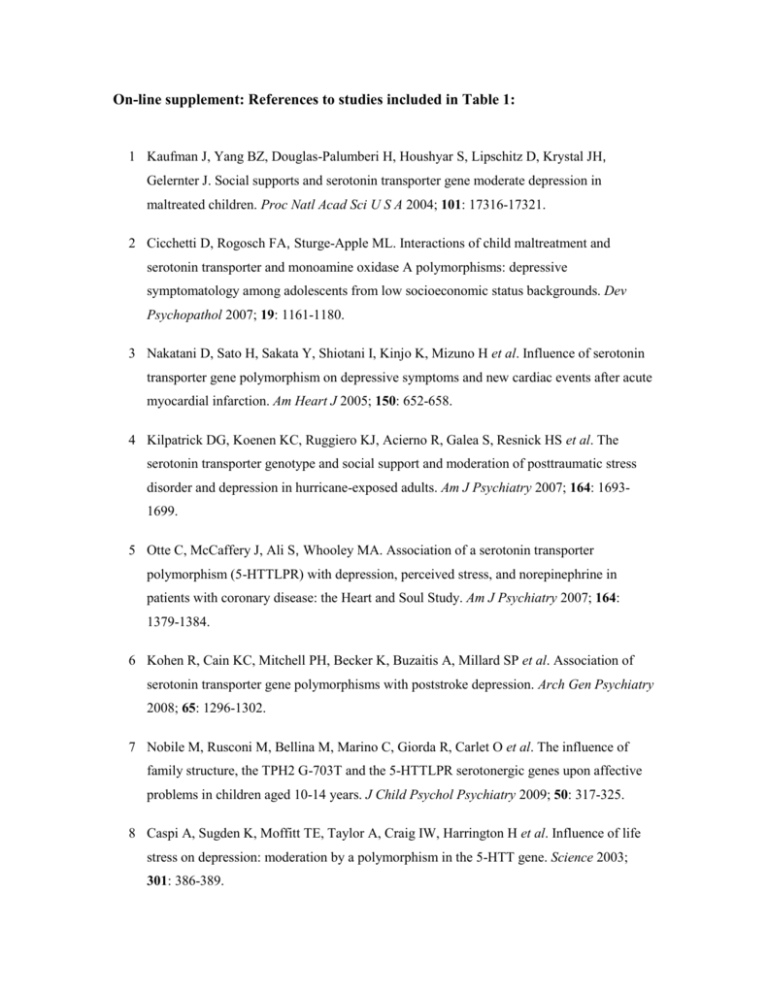 On-line supplement: References to studies included in Table 1:
1 Kaufman J, Yang BZ, Douglas-Palumberi H, Houshyar S, Lipschitz D, Krystal JH,
Gelernter J. Social supports and serotonin transporter gene moderate depression in
maltreated children. Proc Natl Acad Sci U S A 2004; 101: 17316-17321.
2 Cicchetti D, Rogosch FA, Sturge-Apple ML. Interactions of child maltreatment and
serotonin transporter and monoamine oxidase A polymorphisms: depressive
symptomatology among adolescents from low socioeconomic status backgrounds. Dev
Psychopathol 2007; 19: 1161-1180.
3 Nakatani D, Sato H, Sakata Y, Shiotani I, Kinjo K, Mizuno H et al. Influence of serotonin
transporter gene polymorphism on depressive symptoms and new cardiac events after acute
myocardial infarction. Am Heart J 2005; 150: 652-658.
4 Kilpatrick DG, Koenen KC, Ruggiero KJ, Acierno R, Galea S, Resnick HS et al. The
serotonin transporter genotype and social support and moderation of posttraumatic stress
disorder and depression in hurricane-exposed adults. Am J Psychiatry 2007; 164: 16931699.
5 Otte C, McCaffery J, Ali S, Whooley MA. Association of a serotonin transporter
polymorphism (5-HTTLPR) with depression, perceived stress, and norepinephrine in
patients with coronary disease: the Heart and Soul Study. Am J Psychiatry 2007; 164:
1379-1384.
6 Kohen R, Cain KC, Mitchell PH, Becker K, Buzaitis A, Millard SP et al. Association of
serotonin transporter gene polymorphisms with poststroke depression. Arch Gen Psychiatry
2008; 65: 1296-1302.
7 Nobile M, Rusconi M, Bellina M, Marino C, Giorda R, Carlet O et al. The influence of
family structure, the TPH2 G-703T and the 5-HTTLPR serotonergic genes upon affective
problems in children aged 10-14 years. J Child Psychol Psychiatry 2009; 50: 317-325.
8 Caspi A, Sugden K, Moffitt TE, Taylor A, Craig IW, Harrington H et al. Influence of life
stress on depression: moderation by a polymorphism in the 5-HTT gene. Science 2003;
301: 386-389.
9 Wilhelm K, Mitchell PB, Niven H, Finch A, Wedgwood L, Scimone A et al. Life events,
first depression onset and the serotonin transporter gene. Br J Psychiatry 2006; 188: 210215.
10 Kendler KS, Kuhn JW, Vittum J, Prescott CA, Riley B. The interaction of stressful life
events and a serotonin transporter polymorphism in the prediction of episodes of major
depression: a replication. Arch Gen Psychiatry 2005; 62: 529-535.
11 Sjoberg RL, Nilsson KW, Nordquist N, Ohrvik J, Leppert J, Lindstrom L, Oreland L.
Development of depression: sex and the interaction between environment and a promoter
polymorphism of the serotonin transporter gene. Int J Neuropsychopharmacol 2006; 9:
443-449.
12 Mandelli L, Serretti A, Marino E, Pirovano A, Calati R, Colombo C. Interaction between
serotonin transporter gene, catechol-O-methyltransferase gene and stressful life events in
mood disorders. Int J Neuropsychopharmacol 2007; 10: 437-447.
13 Scheid JM, Holzman CB, Jones N, Friderici KH, Nummy KA, Symonds LL et al.
Depressive symptoms in mid-pregnancy, lifetime stressors and the 5-HTTLPR genotype.
Genes Brain Behav 2007; 6: 453-464.
14 Zalsman G, Huang YY, Oquendo MA, Burke AK, Hu XZ, Brent DA et al. Association of a
Triallelic Serotonin Transporter Gene Promoter Region (5-HTTLPR) Polymorphism With
Stressful Life Events and Severity of Depression. Am J Psychiatry 2006; 163: 1588-1593.
15 Drachmann BJ, Bock C, Vinberg M, Werge T, Gether U, Vedel KL. Interaction between
genetic polymorphisms and stressful life events in first episode depression. J Affect Disord
2009;
16 Taylor SE, Way BM, Welch WT, Hilmert CJ, Lehman BJ, Eisenberger NI. Early family
environment, current adversity, the serotonin transporter promoter polymorphism, and
depressive symptomatology. Biol Psychiatry 2006; 60: 671-676.
17 Eley TC, Sugden K, Corsico A, Gregory AM, Sham P, McGuffin P et al. Geneenvironment interaction analysis of serotonin system markers with adolescent depression.
Mol Psychiatry 2004; 9: 908-915.
18 Gillespie NA, Whitfield JB, Williams B, Heath AC, Martin NG. The relationship between
stressful life events, the serotonin transporter (5-HTTLPR) genotype and major depression.
Psychol Med 2005; 35: 101-111.
19 Jacobs N, Kenis G, Peeters F, Derom C, Vlietinck R, van OJ. Stress-Related Negative
Affectivity and Genetically Altered Serotonin Transporter Function: Evidence of
Synergism in Shaping Risk of Depression. Arch Gen Psychiatry 2006; 63: 989-996.
20 Grabe HJ, Lange M, Wolff B, Volzke H, Lucht M, Freyberger HJ et al. Mental and
physical distress is modulated by a polymorphism in the 5-HT transporter gene interacting
with social stressors and chronic disease burden. Mol Psychiatry 2005; 10: 220-224.
21 Surtees PG, Wainwright NW, Willis-Owen SA, Luben R, Day NE, Flint J. Social
adversity, the serotonin transporter (5-HTTLPR) polymorphism and major depressive
disorder. Biol Psychiatry 2006; 59: 224-229.
22 Cervilla JA, Molina E, Rivera M, Torres-Gonzalez F, Bellon JA, Moreno B et al. The risk
for depression conferred by stressful life events is modified by variation at the serotonin
transporter 5HTTLPR genotype: evidence from the Spanish PREDICT-Gene cohort. Mol
Psychiatry 2007; 12: 748-755.
23 Brummett BH, Boyle SH, Siegler IC, Kuhn CM, shley-Koch A, Jonassaint CR et al.
Effects of environmental stress and gender on associations among symptoms of depression
and the serotonin transporter gene linked polymorphic region (5-HTTLPR). Behav Genet
2008; 38: 34-43.
24 Covault J, Tennen H, Armeli S, Conner TS, Herman AI, Cillessen AH, Kranzler HR.
Interactive effects of the serotonin transporter 5-HTTLPR polymorphism and stressful life
events on college student drinking and drug use. Biol Psychiatry 2007; 61: 609-616.
25 Kim JM, Stewart R, Kim SW, Yang SJ, Shin IS, Kim YH, Yoon JS. Interactions between
life stressors and susceptibility genes (5-HTTLPR and BDNF) on depression in Korean
elders. Biol Psychiatry 2007; 62: 423-428.
26 Aguilera M, Arias B, Wichers M, Barrantes-Vidal N, Moya J, Villa H et al. Early adversity
and 5-HTT/BDNF genes: new evidence of gene-environment interactions on depressive
symptoms in a general population. Psychol Med 2009; 1-8.
27 Chipman P, Jorm AF, Prior M, Sanson A, Smart D, Tan X, Easteal S. No interaction
between the serotonin transporter polymorphism (5-HTTLPR) and childhood adversity or
recent stressful life events on symptoms of depression: results from two community
surveys. Am J Med Genet B Neuropsychiatr Genet 2007; 144B: 561-565.
28 Dick DM, Plunkett J, Hamlin D, Nurnberger J, Jr., Kuperman S, Schuckit M et al.
Association analyses of the serotonin transporter gene with lifetime depression and alcohol
dependence in the Collaborative Study on the Genetics of Alcoholism (COGA) sample.
Psychiatr Genet 2007; 17: 35-38.
29 Chorbov VM, Lobos EA, Todorov AA, Heath AC, Botteron KN, Todd RD. Relationship of
5-HTTLPR genotypes and depression risk in the presence of trauma in a female twin
sample. Am J Med Genet B Neuropsychiatr Genet 2007; 144B: 830-833.
30 Lazary J, Lazary A, Gonda X, Benko A, Molnar E, Juhasz G, Bagdy G. New evidence for
the association of the serotonin transporter gene (SLC6A4) haplotypes, threatening life
events, and depressive phenotype. Biol Psychiatry 2008; 64: 498-504.
31 Wichers M, Kenis G, Jacobs N, Mengelers R, Derom C, Vlietinck R, van OJ. The BDNF
Val(66)Met x 5-HTTLPR x child adversity interaction and depressive symptoms: An
attempt at replication. Am J Med Genet B Neuropsychiatr Genet 2008; 147B: 120-123.
32 Power T, Stewart R, Ancelin ML, Jaussent I, Malafosse A, Ritchie K. 5-HTTLPR
genotype, stressful life events and late-life depression: No evidence of interaction in a
French population. Neurobiol Aging 2008;
33 Laucht M, Treutlein J, Blomeyer D, Buchmann AF, Schmid B, Becker K et al. Interaction
between the 5-HTTLPR serotonin transporter polymorphism and environmental adversity
for mood and anxiety psychopathology: evidence from a high-risk community sample of
young adults. Int J Neuropsychopharmacol 2009; 12: 737-747.
34 Zhang K, Xu Q, Xu Y, Yang H, Luo J, Sun Y et al. The combined effects of the 5HTTLPR and 5-HTR1A genes modulates the relationship between negative life events and
major depressive disorder in a Chinese population. J Affect Disord 2009; 114: 224-231.