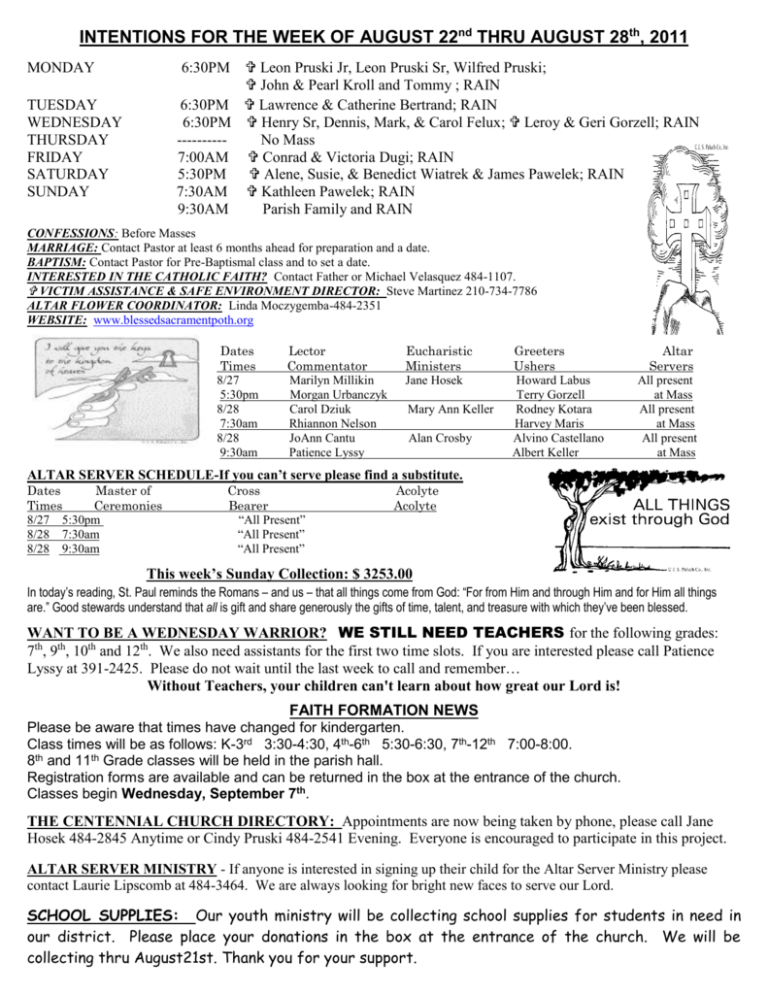 INTENTIONS FOR THE WEEK OF AUGUST 22nd THRU AUGUST 28th, 2011
 Leon Pruski Jr, Leon Pruski Sr, Wilfred Pruski;
 John & Pearl Kroll and Tommy ; RAIN
6:30PM  Lawrence & Catherine Bertrand; RAIN
6:30PM  Henry Sr, Dennis, Mark, & Carol Felux;  Leroy & Geri Gorzell; RAIN
---------No Mass
7:00AM  Conrad & Victoria Dugi; RAIN
5:30PM
 Alene, Susie, & Benedict Wiatrek & James Pawelek; RAIN
7:30AM  Kathleen Pawelek; RAIN
9:30AM
Parish Family and RAIN
MONDAY
6:30PM
TUESDAY
WEDNESDAY
THURSDAY
FRIDAY
SATURDAY
SUNDAY
CONFESSIONS: Before Masses
MARRIAGE: Contact Pastor at least 6 months ahead for preparation and a date.
BAPTISM: Contact Pastor for Pre-Baptismal class and to set a date.
INTERESTED IN THE CATHOLIC FAITH? Contact Father or Michael Velasquez 484-1107.
 VICTIM ASSISTANCE & SAFE ENVIRONMENT DIRECTOR: Steve Martinez 210-734-7786
ALTAR FLOWER COORDINATOR: Linda Moczygemba-484-2351
WEBSITE: www.blessedsacramentpoth.org
Dates
Times
8/27
5:30pm
8/28
7:30am
8/28
9:30am
Lector
Commentator
Marilyn Millikin
Morgan Urbanczyk
Carol Dziuk
Rhiannon Nelson
JoAnn Cantu
Patience Lyssy
Eucharistic
Ministers
Jane Hosek
Mary Ann Keller
Alan Crosby
Greeters
Ushers
Howard Labus
Terry Gorzell
Rodney Kotara
Harvey Maris
Alvino Castellano
Albert Keller
Altar
Servers
All present
at Mass
All present
at Mass
All present
at Mass
ALTAR SERVER SCHEDULE-If you can't serve please find a substitute.
Dates
Master of
Times
Ceremonies
8/27 5:30pm
8/28 7:30am
8/28 9:30am
Cross
Bearer
"All Present"
"All Present"
"All Present"
Acolyte
Acolyte
This week's Sunday Collection: $ 3253.00
In today's reading, St. Paul reminds the Romans – and us – that all things come from God: "For from Him and through Him and for Him all things
are." Good stewards understand that all is gift and share generously the gifts of time, talent, and treasure with which they've been blessed.
WANT TO BE A WEDNESDAY WARRIOR? WE STILL NEED TEACHERS for the following grades:
7th, 9th, 10th and 12th. We also need assistants for the first two time slots. If you are interested please call Patience
Lyssy at 391-2425. Please do not wait until the last week to call and remember…
Without Teachers, your children can't learn about how great our Lord is!
FAITH FORMATION NEWS
Please be aware that times have changed for kindergarten.
Class times will be as follows: K-3rd 3:30-4:30, 4th-6th 5:30-6:30, 7th-12th 7:00-8:00.
8th and 11th Grade classes will be held in the parish hall.
Registration forms are available and can be returned in the box at the entrance of the church.
Classes begin Wednesday, September 7th.
THE CENTENNIAL CHURCH DIRECTORY: Appointments are now being taken by phone, please call Jane
Hosek 484-2845 Anytime or Cindy Pruski 484-2541 Evening. Everyone is encouraged to participate in this project.
ALTAR SERVER MINISTRY - If anyone is interested in signing up their child for the Altar Server Ministry please
contact Laurie Lipscomb at 484-3464. We are always looking for bright new faces to serve our Lord.
SCHOOL SUPPLIES: Our youth ministry will be collecting school supplies for students in need in
our district. Please place your donations in the box at the entrance of the church. We will be
collecting thru August21st. Thank you for your support.
HELP NEEDED: Please contact the rectory if you are interested in becoming a commentator, lector, or usher. This
is a wonderful opportunity to lead a life of service to the church and grow more in your faith.
CDA Court Anna Poth News: Congratulations to Patience Lyssy, the lucky winner of this year's
quilt! Court Anna Poth would like to thank everyone who purchased tickets , the Knights of Columbus
for printing the raffle tickets and everyone who assisted with ticket sales. Thanks also to our
Quilting Committee: Margie Arnold, Jane Hosek, Marilyn Milikin, Rita Olenick and Ginger Zillman. A
total of $3,427.06 was raised by the quilt raffle with all proceeds to be donated to the church
fundraiser.
Discover the Riches of THE MASS - our parish will be running a 5-part series on the Mass, entitled, A Biblical Walk
Through the Mass. In this study which is for adults, you will come to know and understand the Mass like never
before. You will discover the rich meanings behind why we say what we say and do during Mass. The words and
gestures of the Mass will be seen in a new light, leading you to a richer, more positive worship experience. Come
join us on five Tuesdays beginning September 13 through October 11. To help defray the costs, a donation of $20
per person is suggested. To register contact Margie Crosby at 830-216-4271 or via e-mail at mcr401@aol.com
no later than September 4.
SAVE THE DATE: Poth Blessed Sacrament will have their next men's ACTS retreat September 22nd – 25th at El
Shaddai Retreat Center. Applications are available at the entrance of the church. Please call Michael Velasquez at
830-484-1107 home 210-544-8151 cell for additional information.
.
A PRAYER FOR RAIN: Father, You said whatsoever any two or more come together and agree and ask in Your
Son's name, it shall be given. We come to you, humbly, and ask that you bring down the rain to our parched lands.
Our farmers and ranchers need it desperately, as well as our firefighters. We ask this all in Jesus' name. Amen.
READINGS FOR THE WEEK
Monday: 1 Thes 1:1-5, 8b-10; Mt 23:13-22
Tuesday: 1 Thes 2:1-8; Mt 23:23-26
Wednesday: Rv 21:9b-14; Jn 1:45-51
Thursday: 1 Thes 3:7-13; Mt 24:42-51
Friday: 1 Thes 4:1-8; Mt 25:1-13
Saturday: 1 Thes 4:9-11; Mt 25:14-30
Sunday: Jer 20:7-9; Ps 63; Rom 12:1-2; Mt 16:21-27
SAINTS AND SPECIAL OBSERVANCES
Sunday: Twenty-first Sunday in Ordinary Time
Monday: The Queenship of the Blessed Virgin Mary
Tuesday: St. Rose of Lima
Wednesday: St. Bartholomew
Thursday: St. Louis of France; St. Joseph Calasanz
Saturday: St. Monica
PLEASE PRAY FOR THE FOLLOWING, THEY ARE IN NEED OF OUR IMMEDIATE PRAYERS.
LET US PRAY: May the Lord of Love and Mercy send the grace of healing and consolation upon all our sick in the Parish and
in our community, especially: Julian Mattes (8/10), Ed Ramey, Elvira Silva (6/2), Jerome Flieller (04/28), Dionicio
Hernandez (3/25) Mildred Kotara (3/17), Alvin Sekula (3/17), Betty Pawelek (3/3), Kyle Wiatrek . May He bless all who are
in need of strength. For this, we pray to the Lord. Lord hear our prayer. Please call the rectory to add or remove someone from
our list.
The Cursillos of Christianity of the Archdiocese of San Antonio (CCASA) invites Catholic men to attend our next
English Men's Cursillo in San Antonio. Sign up now! Thursday to Sunday September 15-18, 2011 Starts 6:00 PM
Thursday at Immaculate Heart of Mary downtown ALL Cursillistas & families are invited to the Closing Ceremonies
Sunday @ 5:00 PM Email saenglishcursillo@gmail.com or call 210-492-8788 for more information. Also visit
www.sa-cursillo.org. De Colores!!
KJT Benefit Raffle *** Only 200 Tickets will be sold***Need not be present to win.
Drawing to be held September 25, 2011 at 1:00 P.M. at the Blessed Sacrament Parish Hall in conjunction
with the Poth VFD BBQ Chicken Dinner Fundraiser. Proceeds to Benefit KJT Charities & Poth VFD.
Tickets can be purchased at L. Jansky's Service Center, Poth, Texas or by calling
830-484-3723/830-484-3412.
$5000.00 Saving Bond - Anonymous
$1600.00 value Rockport Stay-Liz and Don Hrna
$1000.00 Cruise
$1000.00 Savings Bond & Printing of tickets-Falls City National Bank
$800.00 Off set of new tires-Pruski's Floresville
$650.00 value 1 day Bay Fishing Guide Service for 2-Aaron Loomis
$500.00 Cash-Anonymous, Crawford Pharmacy
$500.00 ($250.00 Gift Certificate)-O'Malley's Tire Sales ($250.00 Gift Certificate)-L. Jansky Service Center
$500.00 Savings Bond & Printing of tickets-Wells Fargo Bank, Poth
$500.00 Savings Bond-First National Bank
$400.00 value Patio Set-Catholic Life Insurance Branch #88
$400.00 value BarBQ Pit-Felux Metal Works (Gary Felux)
$365.00 Outdoor Family Portrait Session- Erin Homann Photography
$349.00 value Mantis Tiller-Ken's Farm Part (Ken & Peggy Scheffler)
$200.00 Cash-Communication Systems Int'l (Roger Lyssy, Carl Lyssy, & Daryl Moses), Longhorn K Ranch, Discovey Custom Homes (Les &
Jennifer Miller), Us Compactors Rental (Terry & Christine Gawlik), EZ Stop Floresville (Chris Pipes), Ladies and Men's ACTS
$200.00 value Flat Iron-Fantastic Sams-Carrie Bongiovi
$200.00 value Ruger 10/22-RB -.22 LR Shot Gun-Jake & Sandy Powell
$200.00 (8-$25 Gift Certificates)-L Jansky Service Center, Tetco, Wiatrek's Meat Market
$200.00 (2-$100 Gift Certificates)-Lyssy & Eckel,
$200.00 value Consultation, Examination, & 5 Treatments-Zager Chiropractic
$150.00 (6-$25 Gift Certificates)-Kolodziej Produce
$150.00 Medina Ag Products for lawn & garden-On the Farm Inc.
$150.00 value 10 square bales of Alfalfa-Jim & Laurette Yanta
$125.00 value Galvanized Electric Tailgate Feeder-Farm Bureau Insurance (Garrett & Amy Wiatrek)
$125.00 value Carne Guisada Dinner for 20-Montez Family Catering
$119.00 value vehicle detail and wax-Richardson Bros
$108.00 value 2 Cases Penzoil 10w30 Motor Oil-Golden West Oil Company
$100.00 Cash-Hosek Properties (Jonathan & Justin Hosek), Little Pirates Learning Center, In memory of Jane Bolf by family, Thomas Moy & Sons
Water Well Drilling, Rain Maker Irrigation (Denny & Joy Wiatrek), Frank Nieschwietz Ent, L & L Mini Storage (Jeff & Lisa Pollok), Lyssy &
Labus Custom Homes, In memory of Edmund & Bina Kotzur, Chetski's Garden Fresh Hot Sauce-Chester & Evelyn Laskowski, Frank M. Tejeda
Texas State Veterans Home, In memory of Jerome Labus, Kosciusko Hall, Erasmo & Ophelia Flores, Lipscomb Plumbing, Vinyard Funeral Home,
In memory of Faye & Howard Poth (Kim & Dean Poth), In memory of Bob Poth (Mr & Mrs Robert Vontur), Sylvia Keller & Delbert, KJT #81, In
Memory of Allen Collins, Calvin & Georgia Albert, Madalyn Polasek
$100.00 Mastercard Gift Card-Randolph Brooks Federal Credit Union and Mark & Laurie Sekula
$100.00 Gift Certificate-HEB
$100.00 (2-$50 Gift Certificates to HEB)- Ervin & Joan Laskowski
$100.00 (4-$25 Gift Certificates)-Mega Antiques (Brenda Dziuk), Farmer's Gin (Albert & Betty Faktor), Circle G, Kolodziej's-Lois Kolodziej,
Paisleys on the Plaza-Lois Kolodziej, Sisters, Cow Camp, Lee Roy's One Stop, Poth Food-Mart
$75.00 Cash-In memory of Luke Pollok
$75.00 value Red Oak Tree-Drylands Landscaping (Michael Pearish)
$60.00 Cash-In memory of "Lelo" & Susie Guevara, and Daniel & Luisa Flores (A & A Guevara Family)
$50.00 Cash-Anonymous, In memory of Herman Kieke (Mrs. Herman Kieke), Selfia's Beauty Salon, Falls City Milling, Marisol's, Kotara Farms,
Kotara Manufacturing, First National Insurance (Ken Semlinger), Mr & Mrs Alvino Castellano, Jr
$50.00 Gift Certificate-Cooper's Garden Place, Pruski's Market-Adkins,Tx
$50.00 (2-$25 Gift Certificates)-Sonic, Pollok's, Trail Riders Steak House, Pruski's Kosciusko, Pfeil Home & Garden, Olan Mills, Pleasanton's
Eagle Lanes Bowling Alley, Shorty's, Palace Cafe
$50.00 value Gun Cleaning Box & 2 gun socks-Bear mountain Gun Shop
$40.00 Gift Cerificate-White House Cafe
$40.00 value Oil & Lube-Richardson Bros
$30.00 value ½ hour massage-Whispering Hills Day Spa
$30.00 value Mini-Facial-Whispering Hills Day Spa
$30.00 Gift Certificate-Flower Basket
$25.00 Cash-Edward Pawlik & Son Water Well, Michael & Mary Baumann
$25.00 Gift Certificate-Floresville Flower Shop, Wal-Mart, Ruffled Feathers, Jack's Café, China Garden Restraunt-Pleasanton,
T's by D (Diane Wiatrek)
$25.00 value-10 Zumba Classes-Christina Bourne,
$20.00 Cash-Tommy Richardson , $20.00 Gift Certificate-Pizza Hut, Throw Quilt & Pillow-Rita, Jane, Margie, Marilyn, Gas Grill-Smith
Propane & Flieller Insurance Agency, 3 month membership to Triple E Fitness-Debo Eckel, Gruene Mansion Inn One Night Stay-Gruene
Mansion , 2 Large Entry Vases-Angell Flooring, 2 Pallets of Grass-Ross & Nan Leger, Large Decorative Wreath-Farmers Gin (Albert & Betty
Faktor), Olive Wood Statue of Jesus Carrying Cross-Anonymous, Texas Style Wood Ice Chest on Stand-Roy & Dolores Cruz, 2 Oak TreesLyssy Family, 3 Adirondack Chairs, 2 adults & 1 small-Larry, Elaine, & Dominik Jansky, Adirondack Bench-Melvin & Sara Dallmeyer,
Printing of Winner Boards-Kroll & Cole Construction & Consulting, 2 Gift Certificates-Oil change, car wash, vacuum-Ancira Ford, Barbed
Wire & Horseshoe Crosses – David & Wanda Hellum, Card Table & Chairs-Farmers Gin (Albert & Betty Faktor) Pampered Chief Mini Loaf
Pan-Sophie Duran, 4 coupons for free pizza-Dominoes, 75 Piece Ratchet & Socket Set-AutoZone, Goodie Gift Basket-Fred & Billie Radsky,
Ornamental Cross-Friends & Co, 3 Sets of Crochet Doilies-Josie Swientek, Skill Saw - Dittmar Lumber Corporation, Gift Certificate-Sno Cone
(Mr. Fish), 4-Piece Ornamental Party Set – Floresville Nursing Home, Up to 50% off Cleaning - City Cleaners, Pearl/Crystal/Sterling Silver
Rosary- Natural Creations (Julia Schneider), Multi-colored Crystal Necklace & Earring Set- Natural Creations (Julia Schneider), Pirate Bling
Rhinestone Kid's Dress and Adult Cap-Tiger Bling (Kim Wiatrek)
BLESSED SACRAMENT PARISH FUND RAISER WINNERS!!!!
1st Ticket Drawn - $500.00 Savings Bond – Elizabeth Moy
Every 10th ticket wins $100.00 Gift Certificate
10th Ticket-Henry & Otilia Montez
180th Ticket-Linda & Nestor Palacios
th
20 Ticket-Falls City Girls
190th Ticket-Clarence & Gladys Dziuk
30th Ticket-Jeff & Cynthia Kruse
210th Ticket-John & Arlene Kroll
th
40 Ticket-Don & Liz Hrna
220th Ticket-Benito & Lydia Garcia
50th Ticket-Clarence Dziuk
230th Ticket-Wilfred & Pat Lowak
th
60 Ticket-Gerald Brown
240th Ticket-Bill & Marilyn Millikin
th
70 Ticket-Henry & Tammy Felux
250th Ticket-Brock Dugi
80th Ticket-Lois Kolodziej
260th Ticket-Michael Baumann
th
90 Ticket- Albert & Veronica Lyssy
270th Ticket-Maggie Jarzombek
110th Ticket- Curtis & Pat Lyssy
280th Ticket-SV & Genevieve Pruski
th
120 Ticket- Ervin & Darlene Moczygemba
290th Ticket-Macario DeLaZerda & Sally Coronado
130th Ticket- Mike Jarzombek
310th Ticket-John Olenick
th
140 Ticket- Les Miller
320th Ticket-Darrell & Elaine Labus
150th Ticket- Albert Chilek
330th Ticket-Mr & Mrs David Wiatrek
th
160 Ticket-Gerald Dziuk
340thTicket-Joe & Diane Lucio
170th Ticket-Bob & Bonnie Heep
Every 100th ticket wins $1000 Savings Bond
100th Ticket-Jim Acker
200th Ticket-Richard & Vivian Janek
300th ticket-$1000.00 Cruise-John Olenick
348th ticket-$500.00 Savings Bond-Keith & Lorelei Rodgers
349th ticket-$500.00 Credit/Tires & Mounting-Robert & Ruth Vontur
350th ticket-$5,000 Savings Bond-Gertrude Eckel
Catholic Daughters Quilt-Patience Lyssy; Rockport Stay-Dorothy Wiatrek; BarBQ Pit- Kenny Pruski;
Bay Fishing Guide-Rick Felux; Ticket 350: Greg Dunn; City Cleaners, Pirate Bling, & Sno Zone: Claire Kerby;
Red Oak Tree: Ginger Zillmann; Flat Iron: Jennifer Moczygemba; Sno Zone, Three Piece Crochet Dollies,
Ornamental Cross: Jennifer Wiatrek; Rosary & Barbed Wire Cross: Rosemary Kotara; Adirondack Bench: Sharon
Bordowsky; Rugar 10/22 RB 22 Rifle and Gun Cleaning Box: LeeRoy Reininger; Card Table with Chairs and
Large Decorative Wreath: Wanda Wanning; $800.00 set of new tires: Howard Raabe; Mantis Tiller: Ida Schneider;
Medina Ag Products: Dana Moczygemba; Carne Guisada Dinner: Dana Moczygemba; 75 piece Ralchet & Socket
Set and Skilshaw Circular Saw: LeeRoy Reininger; 10 square bales of alfalfa: Garrett & Amy Wiatrek; 2 Pallets of
Grass: Jennifer Wiatrek; Holland Gas Grill: Joy Wiatrek Goodie Basket, Triple E Fitness, Zumba Classes: Lillian
Simmons; 3 Adirondack Chairs: Delores Cruz; China Garden Restaurant and Eagle Lanes Bowling: Claire Kerby;
Richardson Brothers vehicle detail & wax & 2 cases Penzoil Motoroil: Paula Gorzell; Patio Set: Rita Olinick;
Galvanized Electric Tailgate Deer Feeder: Christine Gawlik; Olive Wood Statue of Jesus: Jennifer Wiatrek;
Gruene Mansion Inn: Eric Albert; 2 piece set of Doilies, Multi colored Jewrly set, and Horseshoe cross: Linda
Ramey; Family Portrait: Gerry Pruski; 3 piece set of doilies, 4 piece party serving set, pampered chef loaf pan:
Lillian Simmons; Framed religious art and 2 large entry vases: Lucy Martinez; Oak Tree: Ginger Zillmann and
Darlene Beurtnagel: Throw Quilt and Pillow: Dana Moczygemba; Zager Chiropractic: Dana Moczygemba
CONGRATULATIONS TO ALL OUR WINNERS!