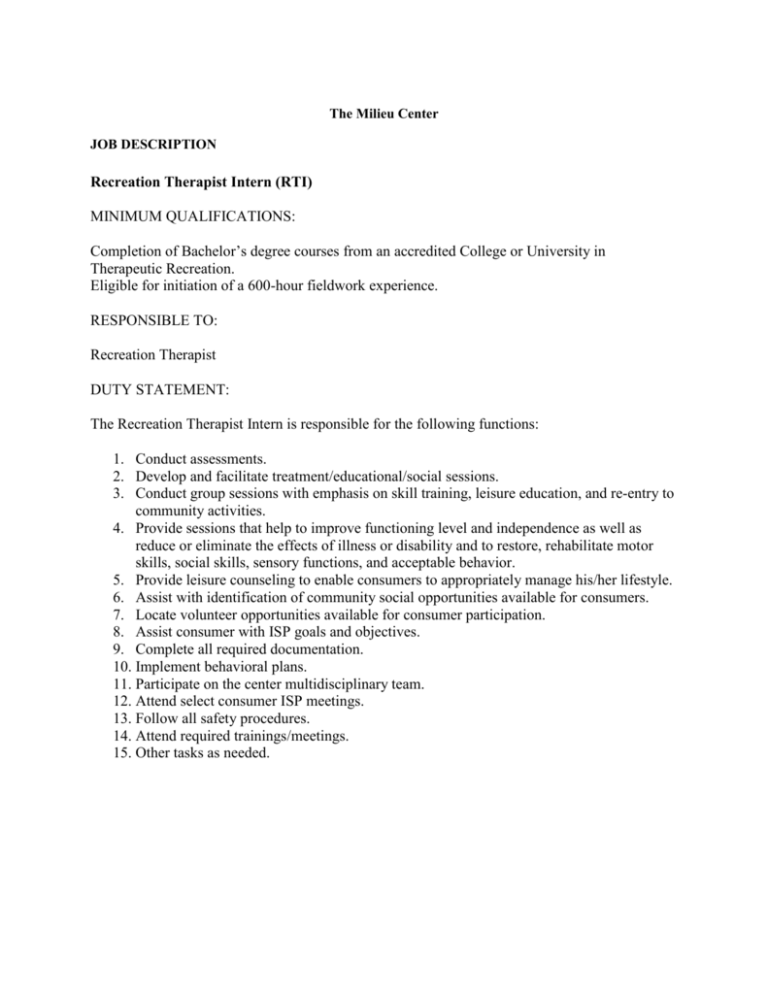 The Milieu Center
JOB DESCRIPTION
Recreation Therapist Intern (RTI)
MINIMUM QUALIFICATIONS:
Completion of Bachelor's degree courses from an accredited College or University in
Therapeutic Recreation.
Eligible for initiation of a 600-hour fieldwork experience.
RESPONSIBLE TO:
Recreation Therapist
DUTY STATEMENT:
The Recreation Therapist Intern is responsible for the following functions:
1. Conduct assessments.
2. Develop and facilitate treatment/educational/social sessions.
3. Conduct group sessions with emphasis on skill training, leisure education, and re-entry to
community activities.
4. Provide sessions that help to improve functioning level and independence as well as
reduce or eliminate the effects of illness or disability and to restore, rehabilitate motor
skills, social skills, sensory functions, and acceptable behavior.
5. Provide leisure counseling to enable consumers to appropriately manage his/her lifestyle.
6. Assist with identification of community social opportunities available for consumers.
7. Locate volunteer opportunities available for consumer participation.
8. Assist consumer with ISP goals and objectives.
9. Complete all required documentation.
10. Implement behavioral plans.
11. Participate on the center multidisciplinary team.
12. Attend select consumer ISP meetings.
13. Follow all safety procedures.
14. Attend required trainings/meetings.
15. Other tasks as needed.