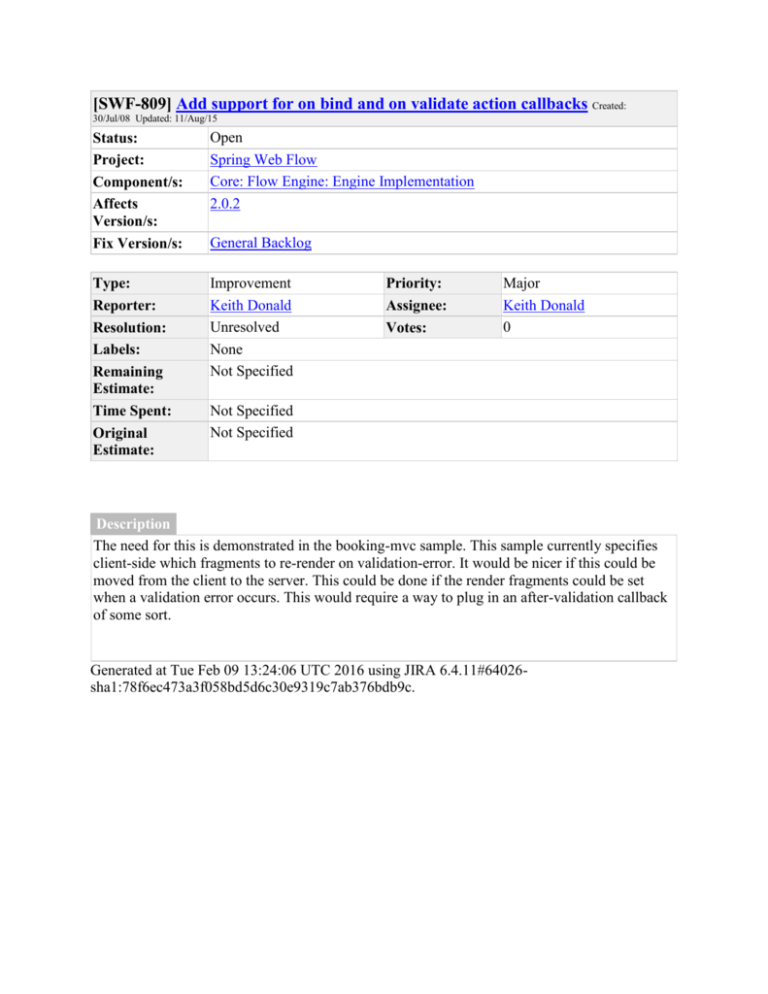 [SWF-809] Add support for on bind and on validate action callbacks Created:
30/Jul/08 Updated: 11/Aug/15
Status:
Project:
Component/s:
Affects
Version/s:
Fix Version/s:
Open
Spring Web Flow
Core: Flow Engine: Engine Implementation
2.0.2
Type:
Reporter:
Resolution:
Labels:
Remaining
Estimate:
Time Spent:
Original
Estimate:
Improvement
Keith Donald
Unresolved
None
Not Specified
General Backlog
Priority:
Assignee:
Votes:
Major
Keith Donald
0
Not Specified
Not Specified
Description
The need for this is demonstrated in the booking-mvc sample. This sample currently specifies
client-side which fragments to re-render on validation-error. It would be nicer if this could be
moved from the client to the server. This could be done if the render fragments could be set
when a validation error occurs. This would require a way to plug in an after-validation callback
of some sort.
Generated at Tue Feb 09 13:24:06 UTC 2016 using JIRA 6.4.11#64026sha1:78f6ec473a3f058bd5d6c30e9319c7ab376bdb9c.