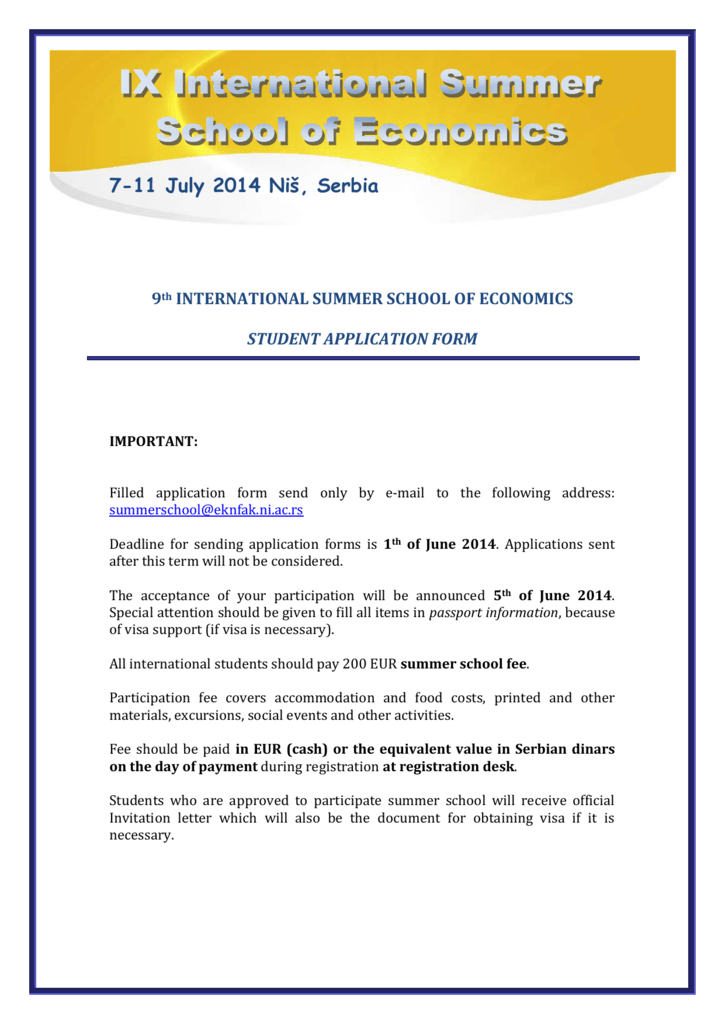 7-11 July 2014 Niš, Serbia
9th INTERNATIONAL SUMMER SCHOOL OF ECONOMICS
STUDENT APPLICATION FORM
IMPORTANT:
Filled application form send only by e-mail to the following address:
[email protected]
Deadline for sending application forms is 1th of June 2014. Applications sent
after this term will not be considered.
The acceptance of your participation will be announced 5th of June 2014.
Special attention should be given to fill all items in passport information, because
of visa support (if visa is necessary).
All international students should pay 200 EUR summer school fee.
Participation fee covers accommodation and food costs, printed and other
materials, excursions, social events and other activities.
Fee should be paid in EUR (cash) or the equivalent value in Serbian dinars
on the day of payment during registration at registration desk.
Students who are approved to participate summer school will receive official
Invitation letter which will also be the document for obtaining visa if it is
necessary.
Note: Please write your names in Latin script, as they appear on your international
passport. This spelling will be used in all documents and publications for the event.
I.
PERSONAL
Full Name (Latin Block Letters):
First
Middle or Patronymic
Surname
Full Name (in Native Alphabet):
First
Middle or Patronymic
Address:
Country:
Telephone:
Fax:
E-mail:
Gender:
II.
PASSPORT INFORMATION
Passport Number:
Place of Issue:
Date of Issue:
Date of Expire:
Birthday (Day/Month/Year):
Citizenship:
Place of Birth:
Country:
III.
ACADEMIC AFFILIATION
University:
Faculty/Department:
Year of Study:
Surname
IV.
MOTIVATION
Have you participated in similar international summer schools before?
Yes
No
If yes, please list year(s), location(s), and details of the school(s) you have
attended:
Please write your motivation for taking part in international summer school of
economics:
V.
DOMESTIC ARRANGEMENTS
Are you vegetarian?
Do you eat pork?
Any other special requirements?
Thank you for your time!