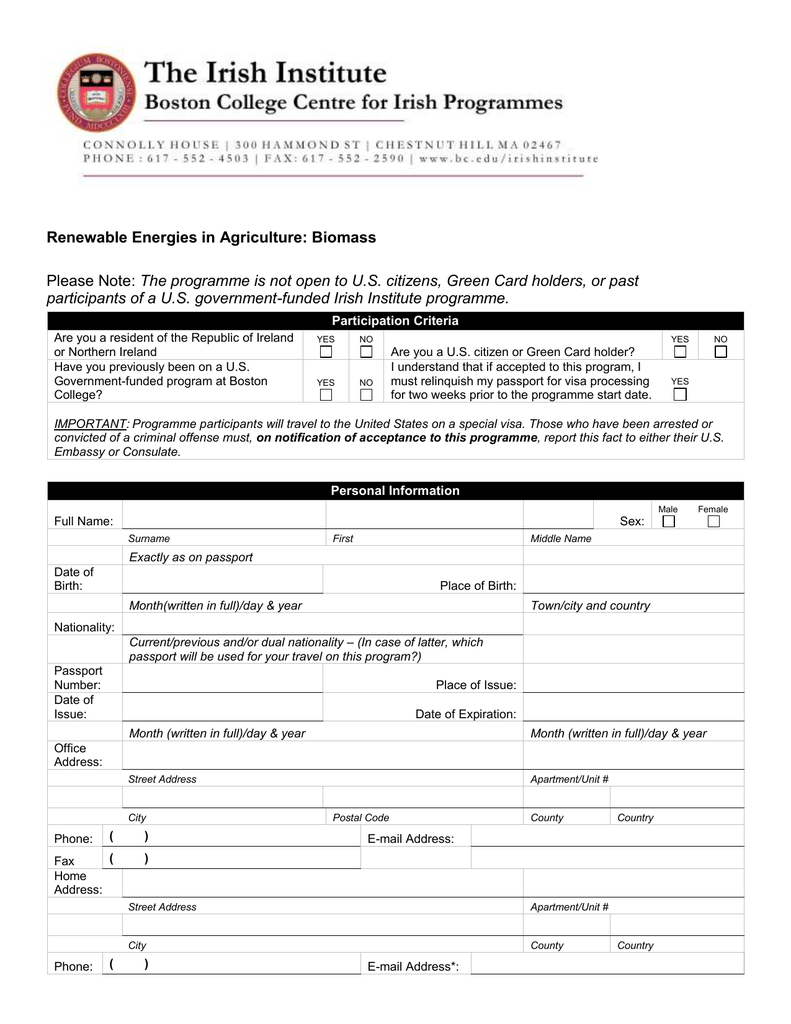 Renewable Energies in Agriculture: Biomass
Please Note: The programme is not open to U.S. citizens, Green Card holders, or past
participants of a U.S. government-funded Irish Institute programme.
Participation Criteria
Are you a resident of the Republic of Ireland
or Northern Ireland
Have you previously been on a U.S.
Government-funded program at Boston
College?
YES
YES
NO
NO
YES
Are you a U.S. citizen or Green Card holder?
I understand that if accepted to this program, I
must relinquish my passport for visa processing
for two weeks prior to the programme start date.
NO
YES
IMPORTANT: Programme participants will travel to the United States on a special visa. Those who have been arrested or
convicted of a criminal offense must, on notification of acceptance to this programme, report this fact to either their U.S.
Embassy or Consulate.
Personal Information
Male
Full Name:
Female
Sex:
Surname
First
Middle Name
Exactly as on passport
Date of
Birth:
Place of Birth:
Month(written in full)/day & year
Town/city and country
Nationality:
Current/previous and/or dual nationality – (In case of latter, which
passport will be used for your travel on this program?)
Passport
Number:
Date of
Issue:
Place of Issue:
Date of Expiration:
Month (written in full)/day & year
Month (written in full)/day & year
Street Address
Apartment/Unit #
Office
Address:
City
Phone:
(
)
Fax
Home
Address:
(
)
Phone:
(
Postal Code
County
E-mail Address:
Street Address
Apartment/Unit #
City
County
)
Country
E-mail Address*:
Country
(
)
(
)
Fax
Mobile:
*NOTE: Please include a personal email address in addition to your work address as all communication and correspondence
with regard to the application and, if selected, the program, will be electronic.
Preferred Mailing Address:
Office
Home
Work History
Present Position:
exact title, organization & start date of current position
Brief Description of
Job Responsibilities:
Previous
Professional
Experience:
Dates followed by positions – most recent first
Academic and Professional Training
University:
Address:
YES
From:
To:
University:
Degree:
Address:
YES
From:
NO
Did you graduate?
To:
NO
Did you graduate?
Other:
Degree:
Address:
YES
From:
To:
Publications or Professional
Memberships:
Did you graduate?
NO
Degree:
Interests (Professional and Personal):
Medical, Physical and Dietary Considerations
(Please include allergies or food restrictions, including vegetarianism; existing health conditions, any physical conditions to be
considered with regard to access to transportation, accommodation etc.)
Previous US Travel
Previous U.S. Travel
Purpose of travel (vacation/business), dates and places visited – most recent first
How did you hear about the program?
Through an Irish Institute participant:
If so, please name the person
Other:
Please give details
Brief Professional Biography
This biography of your professional background will be used as a briefing document for meeting hosts, seminar faculty,
special guests, and your fellow participants. Please use complete sentences and paragraphs, avoid acronyms or terms that
will be unfamiliar to those outside your organization, field, or country, and refer to yourself in the third person (i.e. Ms Smith is
Regional Director for…) Describe your current role and expand about your past employment or relevant experience in the
field (you do not have to list every position). The inclusion of educational background is optional.
Please keep the bio between 150-250 words.
Please email this form and your cover letter of interest to:
Ms. Thea Gilien
Head of Programmes
Boston College – Ireland (Dublin)
Tel. 01-614-7450
Email: [email protected]
* Please note that applications that do not include a cover letter will not be reviewed.