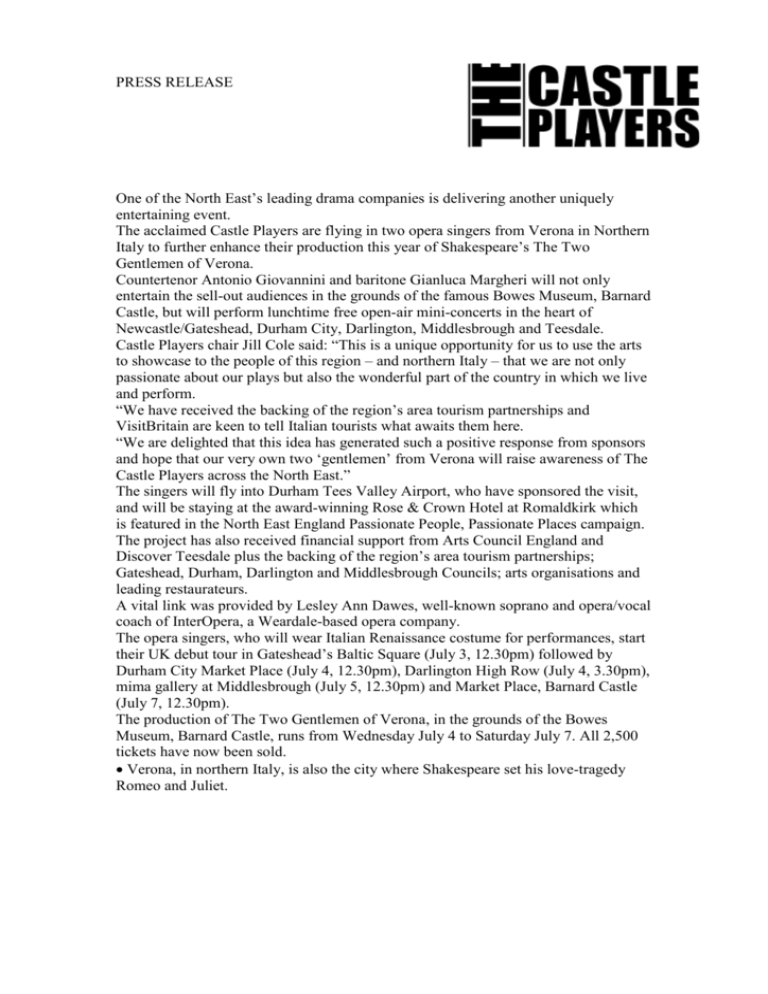 PRESS RELEASE
One of the North East's leading drama companies is delivering another uniquely
entertaining event.
The acclaimed Castle Players are flying in two opera singers from Verona in Northern
Italy to further enhance their production this year of Shakespeare's The Two
Gentlemen of Verona.
Countertenor Antonio Giovannini and baritone Gianluca Margheri will not only
entertain the sell-out audiences in the grounds of the famous Bowes Museum, Barnard
Castle, but will perform lunchtime free open-air mini-concerts in the heart of
Newcastle/Gateshead, Durham City, Darlington, Middlesbrough and Teesdale.
Castle Players chair Jill Cole said: "This is a unique opportunity for us to use the arts
to showcase to the people of this region – and northern Italy – that we are not only
passionate about our plays but also the wonderful part of the country in which we live
and perform.
"We have received the backing of the region's area tourism partnerships and
VisitBritain are keen to tell Italian tourists what awaits them here.
"We are delighted that this idea has generated such a positive response from sponsors
and hope that our very own two 'gentlemen' from Verona will raise awareness of The
Castle Players across the North East."
The singers will fly into Durham Tees Valley Airport, who have sponsored the visit,
and will be staying at the award-winning Rose & Crown Hotel at Romaldkirk which
is featured in the North East England Passionate People, Passionate Places campaign.
The project has also received financial support from Arts Council England and
Discover Teesdale plus the backing of the region's area tourism partnerships;
Gateshead, Durham, Darlington and Middlesbrough Councils; arts organisations and
leading restaurateurs.
A vital link was provided by Lesley Ann Dawes, well-known soprano and opera/vocal
coach of InterOpera, a Weardale-based opera company.
The opera singers, who will wear Italian Renaissance costume for performances, start
their UK debut tour in Gateshead's Baltic Square (July 3, 12.30pm) followed by
Durham City Market Place (July 4, 12.30pm), Darlington High Row (July 4, 3.30pm),
mima gallery at Middlesbrough (July 5, 12.30pm) and Market Place, Barnard Castle
(July 7, 12.30pm).
The production of The Two Gentlemen of Verona, in the grounds of the Bowes
Museum, Barnard Castle, runs from Wednesday July 4 to Saturday July 7. All 2,500
tickets have now been sold.
 Verona, in northern Italy, is also the city where Shakespeare set his love-tragedy
Romeo and Juliet.
PRESS RELEASE
Antonio Giovannini
Born in Florence in 1980, Antonio Giovannini began his music studies as a pianist,
under the tuition of Maestro Mealli.
He studied voice with Silva Bossa and gained a first class degree with honours in
languages and foreign literature from the University of Florence.
Antonio began his singing career as boy soprano with the Youth Choir in Fiesole
(Italy), making his debut as boy soloist at the Teatro Comunale, Florence in productions
of Macbeth, Brundibar, The Little Sweep and The Magic Flute.
In 1999, he made his debut as principal soloist in the first performance of Eliogabalo
(Cavalli) at the Teatro San Domenico di Crema. He sang St John in the Caldara St John Passion at the
Monteverdi festival in Cremona and in Venice; the role of Grifone in the first modern production of
Vivaldi's Orlando finto Pazzo, and he returned to Venice for further recitals of Baroque music.
He made his debut at the Teatro Regio, Turin, as vocal soloist in the ballet Io Giacomo Casanova with
choreography by Karol Armitage.
In 2002, he sang in a concert of contemporary music at the Teatro San Carlo, Naples, which later went
to the Olympic theatre, Rome and the Matastasio Theatre in Prato. Other roles include soloist in The
Conversion of St Agostino and The Chichester Psalms (Bernstein).
Antonio won the Citta Lirica Opera Studio competition which brought him the
role of Oberon in Britten's A Midsummer Night's Dream in Pisa, Lucca and Livorno.
He has appeared in many cathedrals and churches in Rome and Naples, singing
Te Deum (Charpentier), Stabat Mater (Pergolesi) alongside oratorios of Carissimi and many other
sacred works.
For NHK television, he appeared singing Archadelt madrigals in an historical reconstruction of the
1600s in the Palazzo Madama. He recently made his debut at La Scala, Milan in Il Dissoluto Assolto
by Corghi.
Future engagements include Monteverdi's L'Orfeo at the Monteverdi Festival, Cremona.
Gianluca Margheri
Following theatre and pianoforte studies, Gianluca Margheri studied voice at the
Fiesole School of Music, where he appeared as baritone soloist in Mozart's Coronation
Mass and the Faure Requiem.
He took part in the opera season of the Cities of Opera in Lucca, Torre del Lago, Pisa
and Livorno and sang in a recording of Handel's Deidamia with The Baroque Group.
With the Toscanini Foundation of Busseto he participated in a production of Verdi's
Traviata by Zeffirelli, conducted by Placido Domingo.
Following a first class degree in Music Theatre in Florence, he studied at the renowned Cherubini
Conservatory in Florence.
In Dec 2001, he took part in the first modern production of Cantate Morale e Sprituali by Perti in Pisa.
Following a specialist opera studies course at the Boito Conservatory, Parma, he sang the role of Figaro
and later, the Count in Mozart's Marriage of Figaro in a series of semi-staged performances in the Orto
Opera Summer Festival (2003) and also at the Teatro Regio in Parma. Later that season, he sang in the
Zabajone Musicale (Banchieri).
In the 2003-4 season, he sang the role of Marchese (Traviata) in Pisa, Lucca and Livorno and, in the
same theatres, the role of Demetrius in Britten's Midsummer Night's Dream.
In April 2004 he sang the Count in Mozart's Figaro, in Fidenza and, a year later, the role of Roberto
Devereux in Miranda's Elizabeth 1 el ultimo baile in Santander at the Palacio de Festivales, later
touring to major Spanish theatres.
In 2006, following further performances of this work in Spain, he sang in Rossini's La Cambiale di
Matrimonio (Arezzo) in the Festival Galuppi and sang the role of Masetto in Mozart's Don Giovanni,
in Brazil and in Italy (Adria).
Forthcoming performances include Giordano's La Cena delle beffe (Prato); Dido and Aeneas and
Maderna's Satyricon in Pisa, Livorno and Lucca.
PRESS RELEASE
The Castle Players – contact details
Jill Cole, Chair:
01833 631838; 07802 603008
Andrew Harrison, Press contact:
01833 630573;
David Kelly, concert tour liaison:
01833 641215; 07711 958258
Images of Antonio Giovannini and Gianluca Margheri are available on The Castle
Players website on www.castleplayers.org.uk. Click on The Two Gentlemen of
Verona in the left sidebar and you'll find the link to the pictures at the bottom of that
page.