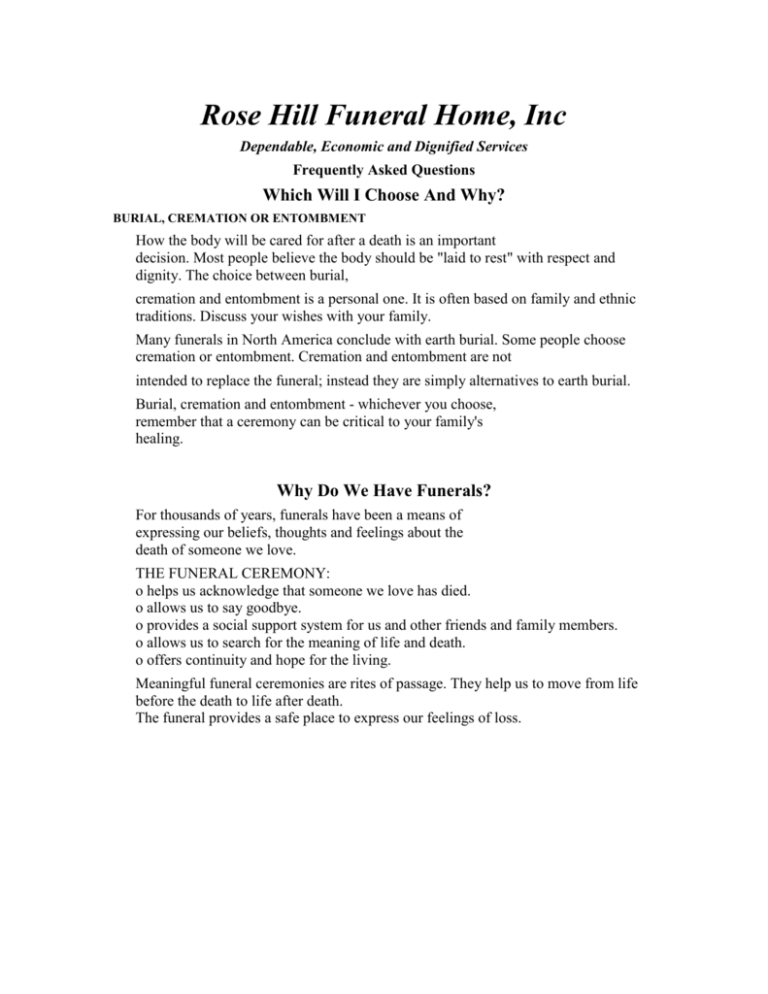 Rose Hill Funeral Home, Inc
Dependable, Economic and Dignified Services
Frequently Asked Questions
Which Will I Choose And Why?
BURIAL, CREMATION OR ENTOMBMENT
How the body will be cared for after a death is an important
decision. Most people believe the body should be "laid to rest" with respect and
dignity. The choice between burial,
cremation and entombment is a personal one. It is often based on family and ethnic
traditions. Discuss your wishes with your family.
Many funerals in North America conclude with earth burial. Some people choose
cremation or entombment. Cremation and entombment are not
intended to replace the funeral; instead they are simply alternatives to earth burial.
Burial, cremation and entombment - whichever you choose,
remember that a ceremony can be critical to your family's
healing.
Why Do We Have Funerals?
For thousands of years, funerals have been a means of
expressing our beliefs, thoughts and feelings about the
death of someone we love.
THE FUNERAL CEREMONY:
o helps us acknowledge that someone we love has died.
o allows us to say goodbye.
o provides a social support system for us and other friends and family members.
o allows us to search for the meaning of life and death.
o offers continuity and hope for the living.
Meaningful funeral ceremonies are rites of passage. They help us to move from life
before the death to life after death.
The funeral provides a safe place to express our feelings of loss.
The Value of the Funeral
Acknowledges that a life has been lived.
Allows people to remember and honor their loved one in a special way.
Serves as central gathering place for family and friends to give emotional and
physical support to one another.
Provides the final closure for the bereaved.
Initiates the grieving process.
Confirms the reality and finality of death.
Encourages mourners to face the pain of their loss and express their thoughts and
feelings.
Helps survivors to better cope with their grief and enables them to move forward with
their lives.
What is a Casket?
A casket is something more than metal and wood and silk.
It is an expression of human emotions in a tangible form.
It is a token of love and affection, of inexpressible regret.
It is a reflection of the beauty of a life well lived, of the warmth of a personality gone
too soon.
It is a symbol of the transition from despair to faith, from sorrow to abiding peace.
How Will I Heal After This Loss ?
THE SIX NEEDS OF MOURNING
Mourners have special needs they must tend-to if, over time and support of others,
they are to heal.
1. Acknowledge the reality of death.
2. Embrace the pain of the loss.
3. Remember the person who died.
4. Develop a new self-identity.
5. Search for the meaning in life and death.
6. Continue to receive support from others.
Funerals help us to meet these six needs. Funerals are the beginning of our healing.
Ten Freedoms For Creating Meaningful Funeral Ceremonies.
1. You have the freedom to make use of ritual.
2. You have the freedom to plan a funeral that will meet the unique needs of your family.
3. You have the freedom to ask friends and family members to be involved in the funeral.
4. You .have the freedom to view the body before and during the funeral.
5. You have the freedom to embrace your pain during the funeral.
6. You have the freedom to plan a funeral that will reflect your spirituality.
7. You have the freedom to search for the meaning before, during and after the funeral.
8. You have the freedom to make use of memory during the funeral.
9. You have the freedom to be tolerant of your physical and emotional limits.
10. You have the freedom to move toward your grief and heal.
Why Might We Want To Prearrange A Funeral?
ADVANCE FUNERAL PLANNING
Many people are choosing to arrange their funerals before the need arises. Prearranging a funeral often provides peace of mind for both individuals and their
families.
Some decisions you can make now include:
o Type of service that fits your needs and those of your family.
o Selection of service elements, such as music or readings.
o Choice of casket and/or urn, as well as other items.
o Pre-funding of the funeral.
Leave your family some flexibility in planning a service that will be meaningful to
them when the time comes. Ask your funeral director for more information on prearranging a funeral.
SOCIAL SECURITY BENEFITS
Who can receive benefits ?
When you die, certain members of your family may be eligible for benefits on your
Social Security record if you earned enough credits while you were working
Family members who can collect benefits include:

A widow or widower who is 60 or older.

A widow or widower who is 50 or older and disabled.

A widow or widower at any age if she or he is caring for a child under age
16 or a disabled child who is receiving Social Security benefits.

Children if they are unmarried and
- under age 18
-under age 19 but in an elementary or secondary school as a full
time student; or
-age 18 or older and severely disabled (the disability must have
started before age 22); and

Your parents, if they were dependent on you for at least half of their
support.
What is the maximum lump sum death benefit paid by Social Security ?
$255.00
What do I need to take to the Social Security office to facilitate receiving
Social Security benefits ?

Marriage license.

Children's birth certificates.

Proof of widows's / widower's age if 62 or older.

Social Security number.

Total wages paid on W-2 form or schedule "C" for preceding year.

Death certificate.
When will I begin receiving benefits ?
It usually requires about three months for a widow / widower to start receiving
Social Security benefits.
VETERANS BENEFITS AND SERVICES
What is the VA Burial Allowance ?
A VA burial allowance is a partial reimbursement of an eligible veteran's burial
and funeral cost when the cause of death is not service related,the reimbursement
is generally described as two payments: (1) a burial and funeral expense
allowance, and (2) a plot internment allowance.
Who Is Eligible ?

Any veteran of the Army, Marine Corp, Navy or Air force who has been
discharged under honorable conditions.

In addition, at least one of the following conditions must be met:

The veteran died because of a service-related disability OR

The veteran was receiving VA pension or compensation at the time of
death OR

The veteran was entitled to receive VA pension or compensation but
decided not to reduce his / her retirement or disability pay OR

The veteran dies in a VA hospital or while in a nursing home under VA
contract.
How much does the VA pay ?
Service-related death- VA will pay $2,000.00
Non service-related death- VA will pay up to $300.00 toward burial and funeral
expense and a $300.00 plot internment allowance.