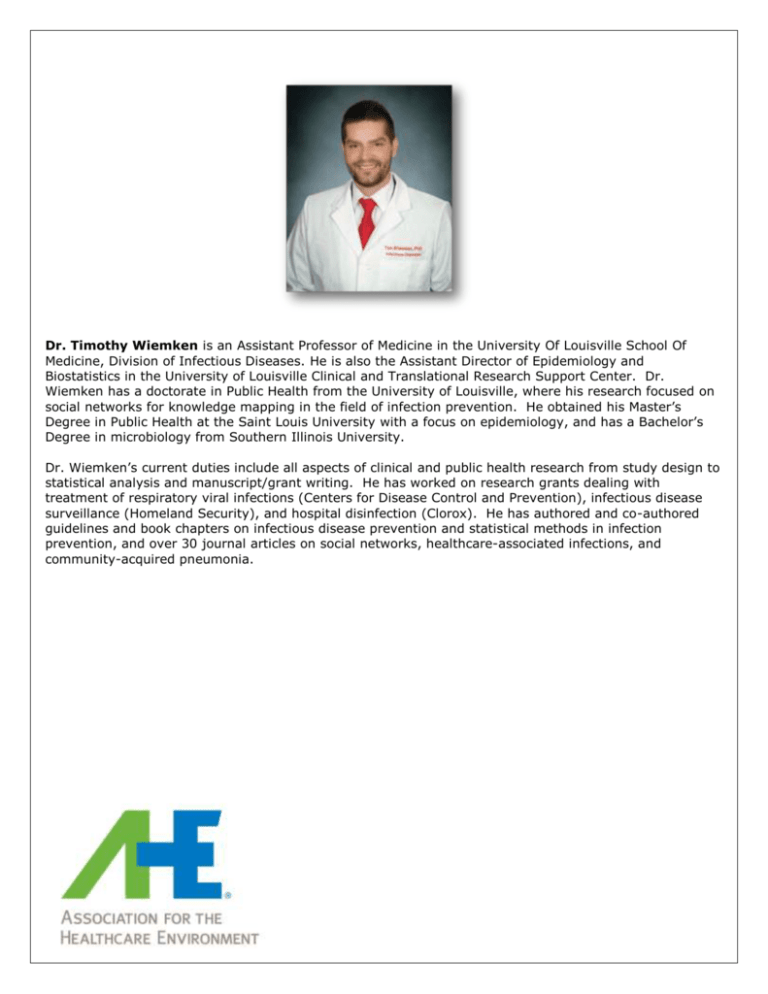 Dr. Timothy Wiemken is an Assistant Professor of Medicine in the University Of Louisville School Of
Medicine, Division of Infectious Diseases. He is also the Assistant Director of Epidemiology and
Biostatistics in the University of Louisville Clinical and Translational Research Support Center. Dr.
Wiemken has a doctorate in Public Health from the University of Louisville, where his research focused on
social networks for knowledge mapping in the field of infection prevention. He obtained his Master's
Degree in Public Health at the Saint Louis University with a focus on epidemiology, and has a Bachelor's
Degree in microbiology from Southern Illinois University.
Dr. Wiemken's current duties include all aspects of clinical and public health research from study design to
statistical analysis and manuscript/grant writing. He has worked on research grants dealing with
treatment of respiratory viral infections (Centers for Disease Control and Prevention), infectious disease
surveillance (Homeland Security), and hospital disinfection (Clorox). He has authored and co-authored
guidelines and book chapters on infectious disease prevention and statistical methods in infection
prevention, and over 30 journal articles on social networks, healthcare-associated infections, and
community-acquired pneumonia.