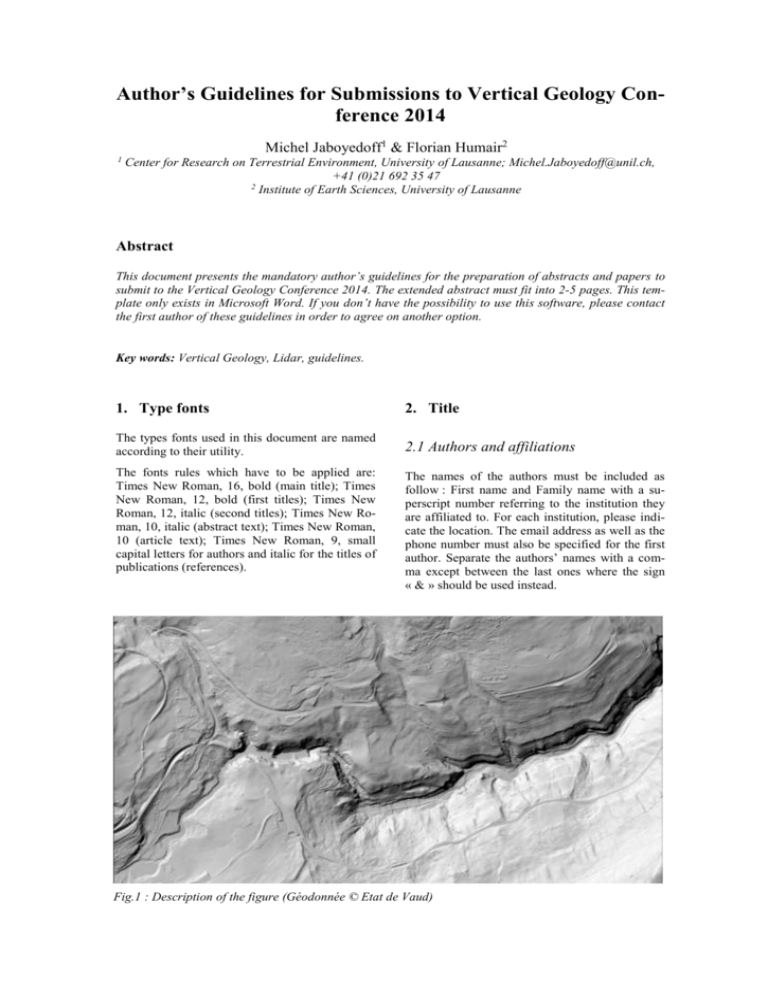 Author's Guidelines for Submissions to Vertical Geology Conference 2014
Michel Jaboyedoff1 & Florian Humair2
1
Center for Research on Terrestrial Environment, University of Lausanne; Michel.Jaboyedoff@unil.ch,
+41 (0)21 692 35 47
2
Institute of Earth Sciences, University of Lausanne
Abstract
This document presents the mandatory author's guidelines for the preparation of abstracts and papers to
submit to the Vertical Geology Conference 2014. The extended abstract must fit into 2-5 pages. This template only exists in Microsoft Word. If you don't have the possibility to use this software, please contact
the first author of these guidelines in order to agree on another option.
Key words: Vertical Geology, Lidar, guidelines.
1. Type fonts
2. Title
The types fonts used in this document are named
according to their utility.
2.1 Authors and affiliations
The fonts rules which have to be applied are:
Times New Roman, 16, bold (main title); Times
New Roman, 12, bold (first titles); Times New
Roman, 12, italic (second titles); Times New Roman, 10, italic (abstract text); Times New Roman,
10 (article text); Times New Roman, 9, small
capital letters for authors and italic for the titles of
publications (references).
The names of the authors must be included as
follow : First name and Family name with a superscript number referring to the institution they
are affiliated to. For each institution, please indicate the location. The email address as well as the
phone number must also be specified for the first
author. Separate the authors' names with a comma except between the last ones where the sign
« & » should be used instead.
Fig.1 : Description of the figure (Géodonnée © Etat de Vaud)
2.2 Abstract and key words
The abstract must contain approximately 300
words. The type font is predefined. Please choose
between 3 to 6 key words representative of your
paper.
3. Body of Text
The type font of the text as well as the two headings levels are predefined. Figures can be inserted
either on the width of one column (figure 2) or on
the width of two columns (figure 1). Figures
must be in black&white or in greyscale. When
referred in the text, the complete word « figure »
should appear.
Equations should be numbered consecutively
throughout the paper. The equation number is
enclosed in parentheses and placed flush right:
T
2T T
  ( z, t ) 2 
v z (t )
t
z
z
(1)
4. References
References should be cited in the text as (JABOYEDOFF, 2012). If there are two authors please
separate the names by a « & » sign, as in (HUMAIR & MATASCI, 2013). In the case of more than
two authors, indicate only the first author's name
followed by et al., as in (PEDRAZZINI et al., 2010)
The author's names have to be written in small
capital letters.
Fig. 2 : Description of the figure
References should be listed in alphabetical order
at the end of the paper following the format presented below.
JABOYEDOFF, M., OPPIKOFFER, T., ABELLÁN, A., DERRON, M.-H., LOYE, A., METZGER, R. & PEDRAZZINI, A.
(2012) : Use of LIDAR in landslide investigations : a
review. Nat Hazards, 61, 5-28.
Acknowledgements: with this format, persons or
institutions can be thanked.
References
SAINTOT, A., HENDERSON, I. & DERRON, M.-H. (2011) :
Inheritance of ductile and brittle structures in the development of large rock slope instabilities: example
from western Norway. In: Jaboyedoff, M. (Ed.) Slope
Tectonics. Geological Society, London, Special Publications 351, 27-78.