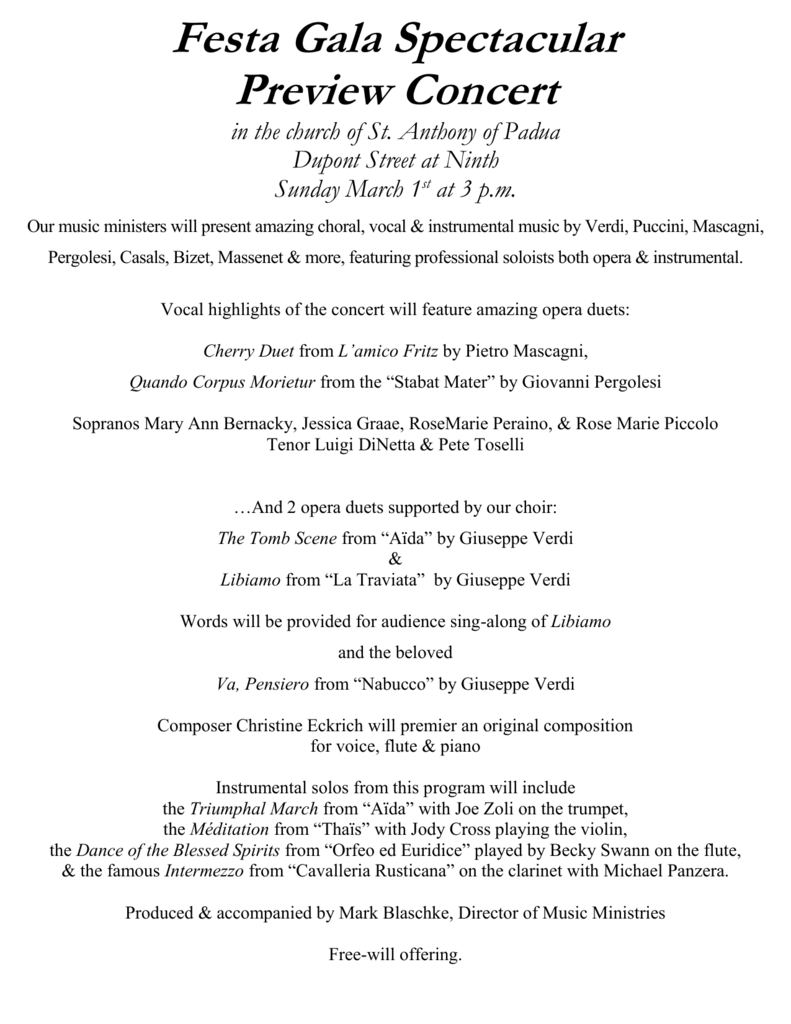 Festa Gala Spectacular
Preview Concert
in the church of St. Anthony of Padua
Dupont Street at Ninth
Sunday March 1st at 3 p.m.
Our music ministers will present amazing choral, vocal & instrumental music by Verdi, Puccini, Mascagni,
Pergolesi, Casals, Bizet, Massenet & more, featuring professional soloists both opera & instrumental.
Vocal highlights of the concert will feature amazing opera duets:
Cherry Duet from L'amico Fritz by Pietro Mascagni,
Quando Corpus Morietur from the "Stabat Mater" by Giovanni Pergolesi
Sopranos Mary Ann Bernacky, Jessica Graae, RoseMarie Peraino, & Rose Marie Piccolo
Tenor Luigi DiNetta & Pete Toselli
…And 2 opera duets supported by our choir:
The Tomb Scene from "Aïda" by Giuseppe Verdi
&
Libiamo from "La Traviata" by Giuseppe Verdi
Words will be provided for audience sing-along of Libiamo
and the beloved
Va, Pensiero from "Nabucco" by Giuseppe Verdi
Composer Christine Eckrich will premier an original composition
for voice, flute & piano
Instrumental solos from this program will include
the Triumphal March from "Aïda" with Joe Zoli on the trumpet,
the Méditation from "Thaïs" with Jody Cross playing the violin,
the Dance of the Blessed Spirits from "Orfeo ed Euridice" played by Becky Swann on the flute,
& the famous Intermezzo from "Cavalleria Rusticana" on the clarinet with Michael Panzera.
Produced & accompanied by Mark Blaschke, Director of Music Ministries
Free-will offering.