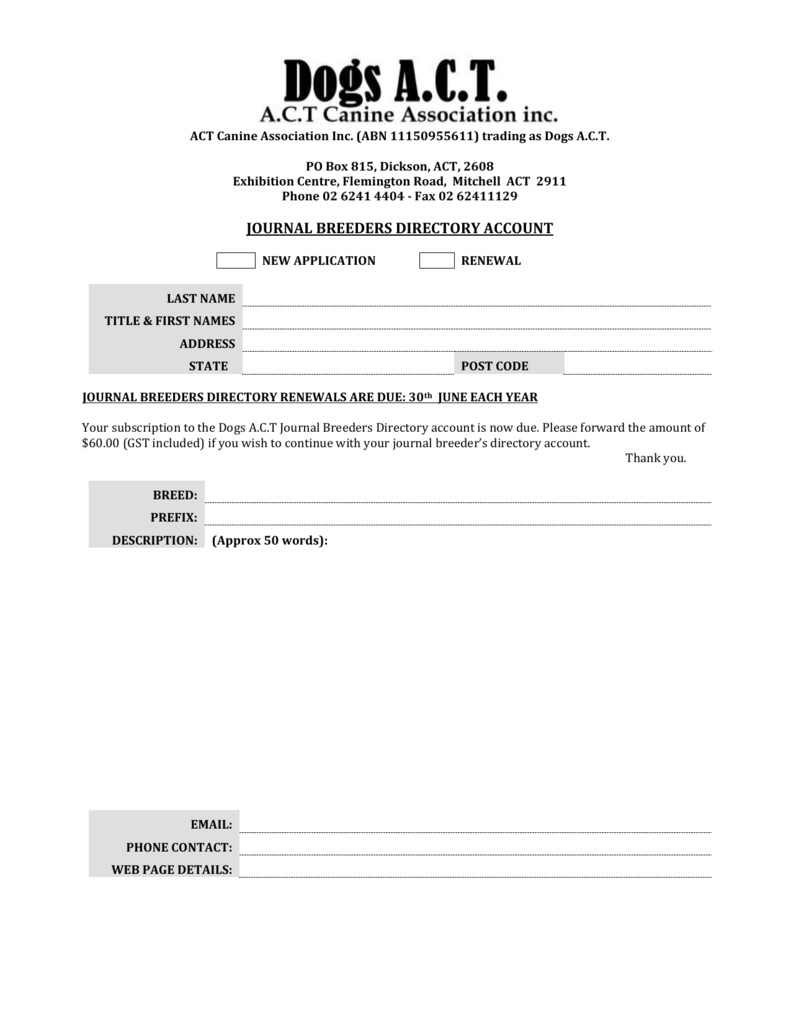 ACT Canine Association Inc. (ABN 11150955611) trading as Dogs A.C.T.
PO Box 815, Dickson, ACT, 2608
Exhibition Centre, Flemington Road, Mitchell ACT 2911
Phone 02 6241 4404 - Fax 02 62411129
JOURNAL BREEDERS DIRECTORY ACCOUNT
NEW APPLICATION
RENEWAL
LAST NAME
TITLE & FIRST NAMES
ADDRESS
STATE
POST CODE
JOURNAL BREEDERS DIRECTORY RENEWALS ARE DUE: 30th JUNE EACH YEAR
Your subscription to the Dogs A.C.T Journal Breeders Directory account is now due. Please forward the amount of
$60.00 (GST included) if you wish to continue with your journal breeder's directory account.
Thank you.
BREED:
PREFIX:
DESCRIPTION:
(Approx 50 words):
EMAIL:
PHONE CONTACT:
WEB PAGE DETAILS:
IMPORTANT:
For information about the journal ad detail visit
http://www.dogsact.org.au/Forms/Draft_example_Breeders_Directory.pdf
or view a recent Dogs A.C.T Journal
Please ensure that all forms of contact (phone, email, web) are correct as the information as given above will appear
against your prefix on the breeder's directory.
Dogs A.C.T takes no responsibility for any error on your behalf.
Print name/s:
Signature/s
Date:
CREDIT CARD PAYMENT (please do not use AMEX or DINERS cards).
MASTERCARD
VISA
DEBIT CARD
Cardholders Name:
(As per details on the card)
Card Number:
Expiry Date:
/
(Please print clearly – thank you.)
Card Verify Code
(3 Digit number on rear of card.)
Amount:
A flat fee of $1.00 for services paid to credit card provider will apply.
Signature:
Important information: Effective from 1 July 2009 a flat fee of $1.00
for services paid to card provider will apply.
OFFICE USE ONLY:
Enclosed Subscription For Dogs ACT Journal Breeders Directory
Amount Enclosed - $
Date Paid: .............................................................................