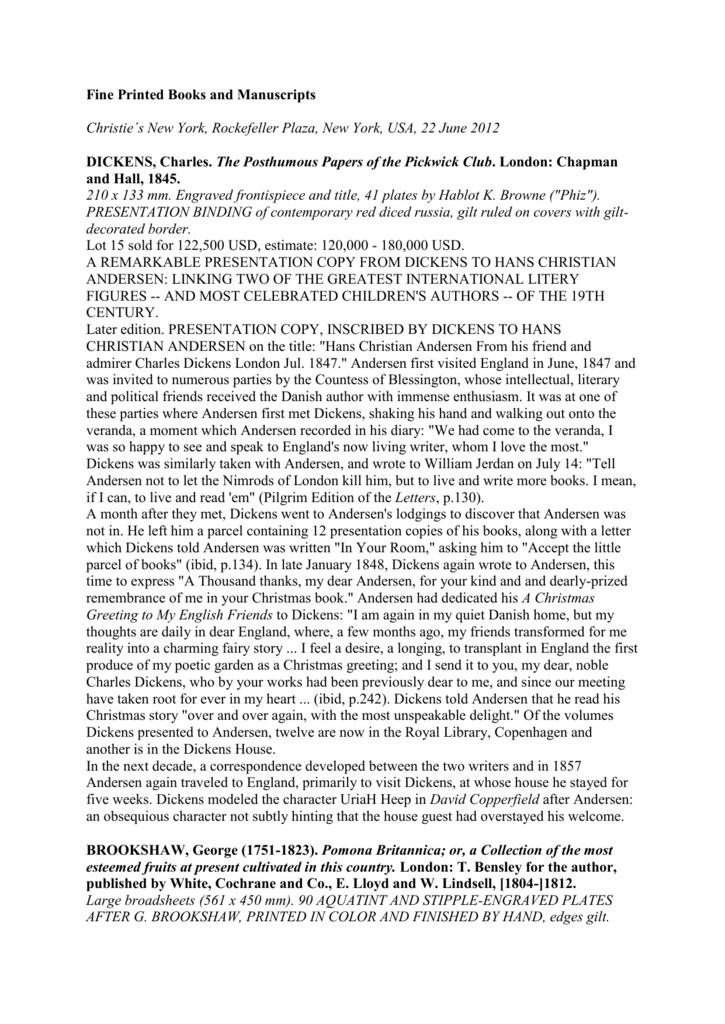 Fine Printed Books and Manuscripts
Christie´s New York, Rockefeller Plaza, New York, USA, 22 June 2012
DICKENS, Charles. The Posthumous Papers of the Pickwick Club. London: Chapman
and Hall, 1845.
210 x 133 mm. Engraved frontispiece and title, 41 plates by Hablot K. Browne ("Phiz").
PRESENTATION BINDING of contemporary red diced russia, gilt ruled on covers with giltdecorated border.
Lot 15 sold for 122,500 USD, estimate: 120,000 - 180,000 USD.
A REMARKABLE PRESENTATION COPY FROM DICKENS TO HANS CHRISTIAN
ANDERSEN: LINKING TWO OF THE GREATEST INTERNATIONAL LITERY
FIGURES -- AND MOST CELEBRATED CHILDREN'S AUTHORS -- OF THE 19TH
CENTURY.
Later edition. PRESENTATION COPY, INSCRIBED BY DICKENS TO HANS
CHRISTIAN ANDERSEN on the title: "Hans Christian Andersen From his friend and
admirer Charles Dickens London Jul. 1847." Andersen first visited England in June, 1847 and
was invited to numerous parties by the Countess of Blessington, whose intellectual, literary
and political friends received the Danish author with immense enthusiasm. It was at one of
these parties where Andersen first met Dickens, shaking his hand and walking out onto the
veranda, a moment which Andersen recorded in his diary: "We had come to the veranda, I
was so happy to see and speak to England's now living writer, whom I love the most."
Dickens was similarly taken with Andersen, and wrote to William Jerdan on July 14: "Tell
Andersen not to let the Nimrods of London kill him, but to live and write more books. I mean,
if I can, to live and read 'em" (Pilgrim Edition of the Letters, p.130).
A month after they met, Dickens went to Andersen's lodgings to discover that Andersen was
not in. He left him a parcel containing 12 presentation copies of his books, along with a letter
which Dickens told Andersen was written "In Your Room," asking him to "Accept the little
parcel of books" (ibid, p.134). In late January 1848, Dickens again wrote to Andersen, this
time to express "A Thousand thanks, my dear Andersen, for your kind and and dearly-prized
remembrance of me in your Christmas book." Andersen had dedicated his A Christmas
Greeting to My English Friends to Dickens: "I am again in my quiet Danish home, but my
thoughts are daily in dear England, where, a few months ago, my friends transformed for me
reality into a charming fairy story ... I feel a desire, a longing, to transplant in England the first
produce of my poetic garden as a Christmas greeting; and I send it to you, my dear, noble
Charles Dickens, who by your works had been previously dear to me, and since our meeting
have taken root for ever in my heart ... (ibid, p.242). Dickens told Andersen that he read his
Christmas story "over and over again, with the most unspeakable delight." Of the volumes
Dickens presented to Andersen, twelve are now in the Royal Library, Copenhagen and
another is in the Dickens House.
In the next decade, a correspondence developed between the two writers and in 1857
Andersen again traveled to England, primarily to visit Dickens, at whose house he stayed for
five weeks. Dickens modeled the character UriaH Heep in David Copperfield after Andersen:
an obsequious character not subtly hinting that the house guest had overstayed his welcome.
BROOKSHAW, George (1751-1823). Pomona Britannica; or, a Collection of the most
esteemed fruits at present cultivated in this country. London: T. Bensley for the author,
published by White, Cochrane and Co., E. Lloyd and W. Lindsell, [1804-]1812.
Large broadsheets (561 x 450 mm). 90 AQUATINT AND STIPPLE-ENGRAVED PLATES
AFTER G. BROOKSHAW, PRINTED IN COLOR AND FINISHED BY HAND, edges gilt.
Lot 75 sold for 110,500 USD, estimate: 80,000 - 120,000 USD.
KINGSBOROUGH, Edward King, Viscount (1795-1837). Antiquities of Mexico:
comprising facsimiles of ancient Mexican paintings and hieroglyphics... together with the
monuments of New Spain, by M. Dupaix... [ the drawings on stone by A. Aglio.] London:
[vols. I-VII], 1830, and Henry G. Bohn [vols. VIII-IX], 1848.
9 volumes, 396 x 340 mm. 741 plates (in volumes I-IV), mostly by Augustine Aglio,
comprising 587 FINELY HAND-COLORED LITHOGRAPHS, 154 uncolored lithographs
including 127 chalk lithographs on mounted India paper, 13 folding plates and 2 folding
tables in text volumes V and VI. 19th-century red morocco gilt wide gilt roll-tooled border
around a central coat-of-arms, gilt edges.
Lot 125 sold for 110,500 USD, estimate: 60,000 - 80,000 USD.