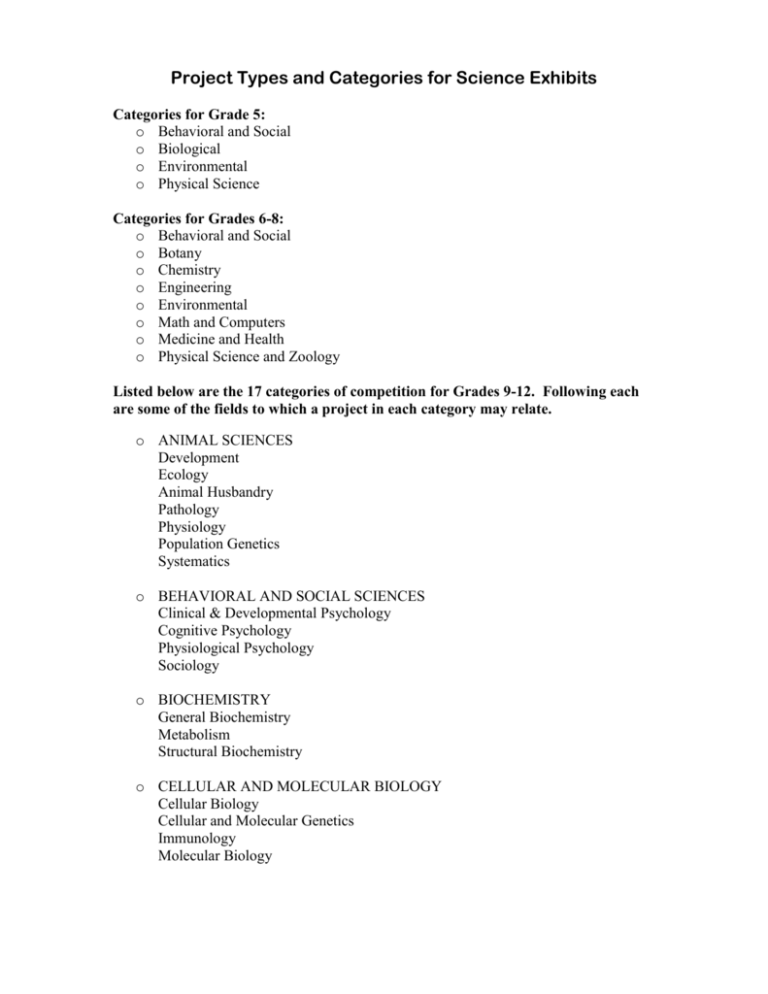 Project Types and Categories for Science Exhibits
Categories for Grade 5:
o Behavioral and Social
o Biological
o Environmental
o Physical Science
Categories for Grades 6-8:
o Behavioral and Social
o Botany
o Chemistry
o Engineering
o Environmental
o Math and Computers
o Medicine and Health
o Physical Science and Zoology
Listed below are the 17 categories of competition for Grades 9-12. Following each
are some of the fields to which a project in each category may relate.
o ANIMAL SCIENCES
Development
Ecology
Animal Husbandry
Pathology
Physiology
Population Genetics
Systematics
o BEHAVIORAL AND SOCIAL SCIENCES
Clinical & Developmental Psychology
Cognitive Psychology
Physiological Psychology
Sociology
o BIOCHEMISTRY
General Biochemistry
Metabolism
Structural Biochemistry
o CELLULAR AND MOLECULAR BIOLOGY
Cellular Biology
Cellular and Molecular Genetics
Immunology
Molecular Biology
o CHEMISTRY
Analytical Chemistry
Inorganic Chemistry
Organic Chemistry
Physical Chemistry
General Chemistry
o COMPUTER SCIENCE
Algorithms, Data Bases
Artificial Intelligence
Networking and Communications
Computational Science, Computer Graphics
Software Engineering, Programming Languages
Computer System, Operating System
o EARTH & PLANETARY SCIENCE
Climatology, Weather
Geochemistry, Mineralogy
Paleontology
Geophysics
Planetary Science
Tectonics
o ENGINEERING: Electrical & Mechanical
Electrical Engineering, Computer Engineering, Controls
Mechanical Engineering
Thermodynamics, Solar
Robotics
o ENGINEERING: Materials and Bioengineering
Bioengineering
Civil Engineering, Construction Engineering
Chemical Engineering
Industrial Engineering, Processing
Material Science
o ENERGY & TRANSPORTATION
Aerospace and Aeronautical Engineering, Aerodynamics
Alternative Fuels
Fossil Fuel Energy
Vehicle Development
Renewable Energies
o ENVIRONMENTAL SCIENCES
Air Pollution and Air Quality
Soil Contamination and Soil Quality
Water Pollution and Water Quality
o ENVIRONMENTAL MANAGEMENT
Bioremediation
Ecosystems Management
Environmental Engineering
Land Resource Management, Forestry
Recycling, Waste Management
o MATHEMATICAL SCIENCES
Algebra
Analysis
Applied Mathematics
Geometry
Probability and Statistics
o MEDICINE & HEALTH SCIENCES
Disease Diagnosis and Treatment
Epidemiology
Genetics
Molecular Biology of Diseases
Physiology and Pathophysiology
o MICROBIOLOGY
Antibiotics, Antimicrobials
Bacteriology
Microbial Genetics
Virology
o PHYSICS AND ASTRONOMY
Astronomy
Atoms, Molecules, Solids
Biological Physics
Instrumentation and Electronics
Magnetics and Electromagnetics
Nuclear and Particle Physics
Optics, Lasers, Masers
Theoretical Physics, Theoretical or Computational Astronomy
o PLANT SCIENCES
Agriculture/Agronomy
Development
Ecology
Genetics
Photosynthesis
Plant Physiology (Molecular, Cellular, Organismal)
Plant Systematics, Evolution
NOTE: The Science Fair Committee reserves the right to combine projects into
other categories if there are not enough exhibits to make up a competitive class.