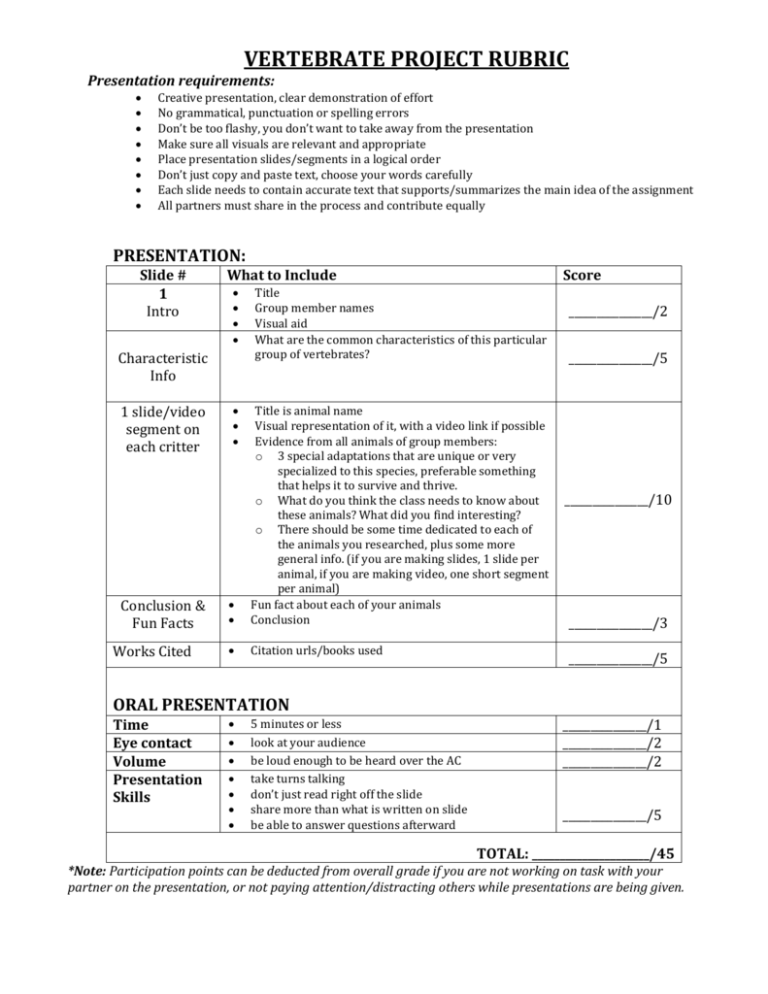 VERTEBRATE PROJECT RUBRIC
Presentation requirements:








Creative presentation, clear demonstration of effort
No grammatical, punctuation or spelling errors
Don't be too flashy, you don't want to take away from the presentation
Make sure all visuals are relevant and appropriate
Place presentation slides/segments in a logical order
Don't just copy and paste text, choose your words carefully
Each slide needs to contain accurate text that supports/summarizes the main idea of the assignment
All partners must share in the process and contribute equally
PRESENTATION:
Slide #
1
Intro
What to Include




Characteristic
Info
1 slide/video
segment on
each critter
Conclusion &
Fun Facts
Works Cited



Score
Title
Group member names
Visual aid
What are the common characteristics of this particular
group of vertebrates?


Title is animal name
Visual representation of it, with a video link if possible
Evidence from all animals of group members:
o 3 special adaptations that are unique or very
specialized to this species, preferable something
that helps it to survive and thrive.
o What do you think the class needs to know about
these animals? What did you find interesting?
o There should be some time dedicated to each of
the animals you researched, plus some more
general info. (if you are making slides, 1 slide per
animal, if you are making video, one short segment
per animal)
Fun fact about each of your animals
Conclusion

Citation urls/books used
_______________/2
_______________/5
_______________/10
_______________/3
_______________/5
ORAL PRESENTATION
Time
Eye contact
Volume
Presentation
Skills







5 minutes or less
look at your audience
be loud enough to be heard over the AC
take turns talking
don't just read right off the slide
share more than what is written on slide
be able to answer questions afterward
_______________/1
_______________/2
_______________/2
_______________/5
TOTAL: _____________________/45
*Note: Participation points can be deducted from overall grade if you are not working on task with your
partner on the presentation, or not paying attention/distracting others while presentations are being given.