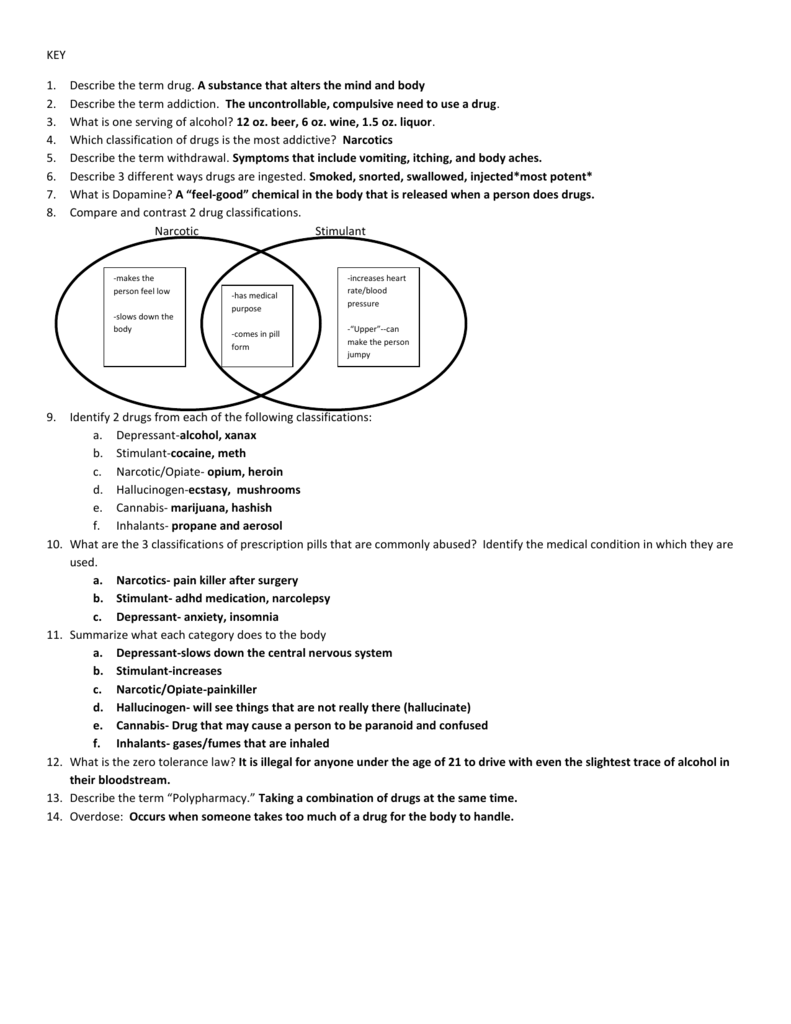 KEY
1.
2.
3.
4.
5.
6.
7.
8.
Describe the term drug. A substance that alters the mind and body
Describe the term addiction. The uncontrollable, compulsive need to use a drug.
What is one serving of alcohol? 12 oz. beer, 6 oz. wine, 1.5 oz. liquor.
Which classification of drugs is the most addictive? Narcotics
Describe the term withdrawal. Symptoms that include vomiting, itching, and body aches.
Describe 3 different ways drugs are ingested. Smoked, snorted, swallowed, injected*most potent*
What is Dopamine? A "feel-good" chemical in the body that is released when a person does drugs.
Compare and contrast 2 drug classifications.
Narcotic
Stimulant
-makes the
person feel low
-slows down the
body
9.
10.
11.
12.
13.
14.
-has medical
purpose
-comes in pill
form
-increases heart
rate/blood
pressure
-"Upper"--can
make the person
jumpy
Identify 2 drugs from each of the following classifications:
a. Depressant-alcohol, xanax
b. Stimulant-cocaine, meth
c. Narcotic/Opiate- opium, heroin
d. Hallucinogen-ecstasy, mushrooms
e. Cannabis- marijuana, hashish
f. Inhalants- propane and aerosol
What are the 3 classifications of prescription pills that are commonly abused? Identify the medical condition in which they are
used.
a. Narcotics- pain killer after surgery
b. Stimulant- adhd medication, narcolepsy
c. Depressant- anxiety, insomnia
Summarize what each category does to the body
a. Depressant-slows down the central nervous system
b. Stimulant-increases
c. Narcotic/Opiate-painkiller
d. Hallucinogen- will see things that are not really there (hallucinate)
e. Cannabis- Drug that may cause a person to be paranoid and confused
f. Inhalants- gases/fumes that are inhaled
What is the zero tolerance law? It is illegal for anyone under the age of 21 to drive with even the slightest trace of alcohol in
their bloodstream.
Describe the term "Polypharmacy." Taking a combination of drugs at the same time.
Overdose: Occurs when someone takes too much of a drug for the body to handle.