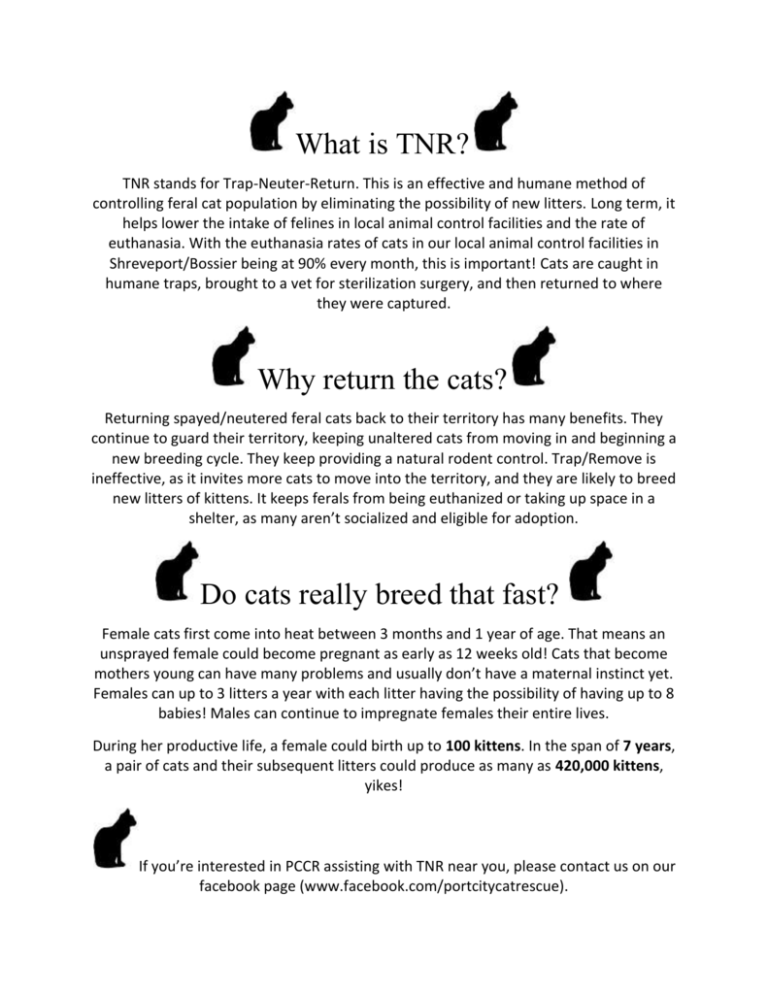 What is TNR?
TNR stands for Trap-Neuter-Return. This is an effective and humane method of
controlling feral cat population by eliminating the possibility of new litters. Long term, it
helps lower the intake of felines in local animal control facilities and the rate of
euthanasia. With the euthanasia rates of cats in our local animal control facilities in
Shreveport/Bossier being at 90% every month, this is important! Cats are caught in
humane traps, brought to a vet for sterilization surgery, and then returned to where
they were captured.
Why return the cats?
Returning spayed/neutered feral cats back to their territory has many benefits. They
continue to guard their territory, keeping unaltered cats from moving in and beginning a
new breeding cycle. They keep providing a natural rodent control. Trap/Remove is
ineffective, as it invites more cats to move into the territory, and they are likely to breed
new litters of kittens. It keeps ferals from being euthanized or taking up space in a
shelter, as many aren't socialized and eligible for adoption.
Do cats really breed that fast?
Female cats first come into heat between 3 months and 1 year of age. That means an
unsprayed female could become pregnant as early as 12 weeks old! Cats that become
mothers young can have many problems and usually don't have a maternal instinct yet.
Females can up to 3 litters a year with each litter having the possibility of having up to 8
babies! Males can continue to impregnate females their entire lives.
During her productive life, a female could birth up to 100 kittens. In the span of 7 years,
a pair of cats and their subsequent litters could produce as many as 420,000 kittens,
yikes!
If you're interested in PCCR assisting with TNR near you, please contact us on our
facebook page (www.facebook.com/portcitycatrescue).