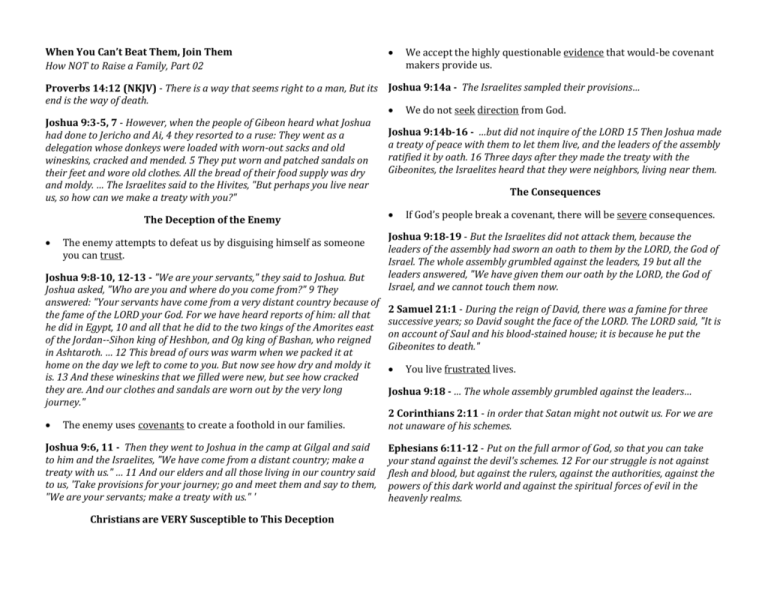 When You Can't Beat Them, Join Them
How NOT to Raise a Family, Part 02

We accept the highly questionable evidence that would-be covenant
makers provide us.
Proverbs 14:12 (NKJV) - There is a way that seems right to a man, But its Joshua 9:14a - The Israelites sampled their provisions…
end is the way of death.
 We do not seek direction from God.
Joshua 9:3-5, 7 - However, when the people of Gibeon heard what Joshua
Joshua 9:14b-16 - …but did not inquire of the LORD 15 Then Joshua made
had done to Jericho and Ai, 4 they resorted to a ruse: They went as a
a treaty of peace with them to let them live, and the leaders of the assembly
delegation whose donkeys were loaded with worn-out sacks and old
ratified it by oath. 16 Three days after they made the treaty with the
wineskins, cracked and mended. 5 They put worn and patched sandals on
Gibeonites, the Israelites heard that they were neighbors, living near them.
their feet and wore old clothes. All the bread of their food supply was dry
and moldy. … The Israelites said to the Hivites, "But perhaps you live near
The Consequences
us, so how can we make a treaty with you?"
The Deception of the Enemy

The enemy attempts to defeat us by disguising himself as someone
you can trust.
Joshua 9:8-10, 12-13 - "We are your servants," they said to Joshua. But
Joshua asked, "Who are you and where do you come from?" 9 They
answered: "Your servants have come from a very distant country because of
the fame of the LORD your God. For we have heard reports of him: all that
he did in Egypt, 10 and all that he did to the two kings of the Amorites east
of the Jordan--Sihon king of Heshbon, and Og king of Bashan, who reigned
in Ashtaroth. … 12 This bread of ours was warm when we packed it at
home on the day we left to come to you. But now see how dry and moldy it
is. 13 And these wineskins that we filled were new, but see how cracked
they are. And our clothes and sandals are worn out by the very long
journey."

The enemy uses covenants to create a foothold in our families.
Joshua 9:6, 11 - Then they went to Joshua in the camp at Gilgal and said
to him and the Israelites, "We have come from a distant country; make a
treaty with us." … 11 And our elders and all those living in our country said
to us, 'Take provisions for your journey; go and meet them and say to them,
"We are your servants; make a treaty with us." '
Christians are VERY Susceptible to This Deception

If God's people break a covenant, there will be severe consequences.
Joshua 9:18-19 - But the Israelites did not attack them, because the
leaders of the assembly had sworn an oath to them by the LORD, the God of
Israel. The whole assembly grumbled against the leaders, 19 but all the
leaders answered, "We have given them our oath by the LORD, the God of
Israel, and we cannot touch them now.
2 Samuel 21:1 - During the reign of David, there was a famine for three
successive years; so David sought the face of the LORD. The LORD said, "It is
on account of Saul and his blood-stained house; it is because he put the
Gibeonites to death."

You live frustrated lives.
Joshua 9:18 - … The whole assembly grumbled against the leaders…
2 Corinthians 2:11 - in order that Satan might not outwit us. For we are
not unaware of his schemes.
Ephesians 6:11-12 - Put on the full armor of God, so that you can take
your stand against the devil's schemes. 12 For our struggle is not against
flesh and blood, but against the rulers, against the authorities, against the
powers of this dark world and against the spiritual forces of evil in the
heavenly realms.