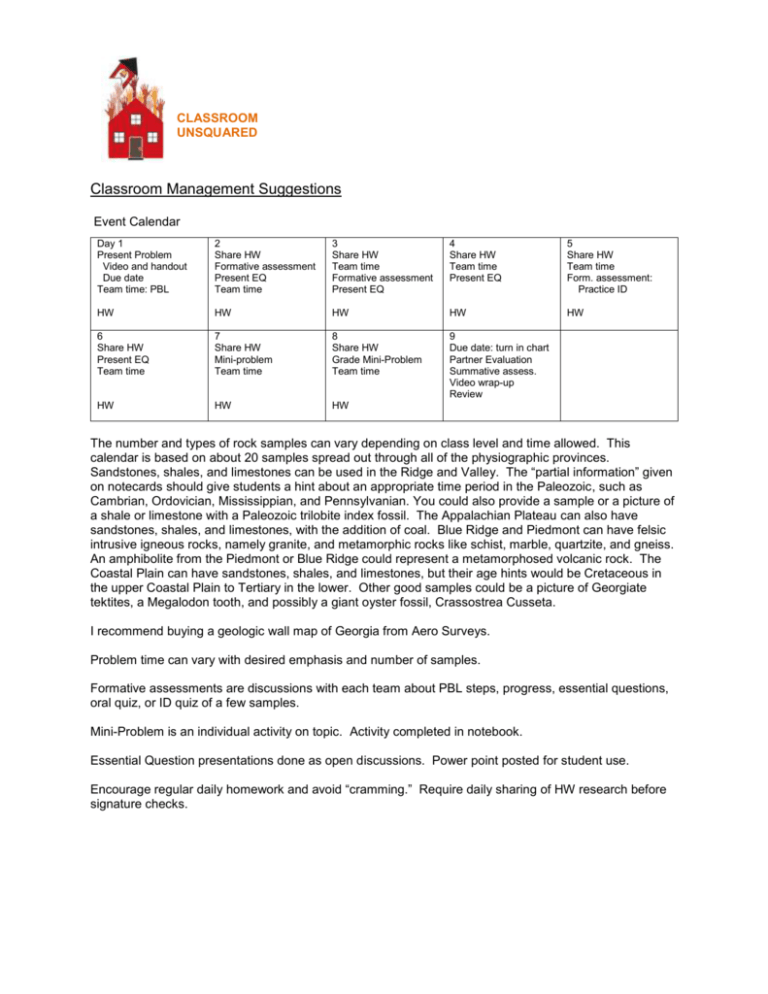 CLASSROOM
UNSQUARED
Classroom Management Suggestions
Event Calendar
Day 1
Present Problem
Video and handout
Due date
Team time: PBL
2
Share HW
Formative assessment
Present EQ
Team time
3
Share HW
Team time
Formative assessment
Present EQ
4
Share HW
Team time
Present EQ
5
Share HW
Team time
Form. assessment:
Practice ID
HW
HW
HW
HW
HW
6
Share HW
Present EQ
Team time
7
Share HW
Mini-problem
Team time
8
Share HW
Grade Mini-Problem
Team time
9
Due date: turn in chart
Partner Evaluation
Summative assess.
Video wrap-up
Review
HW
HW
HW
The number and types of rock samples can vary depending on class level and time allowed. This
calendar is based on about 20 samples spread out through all of the physiographic provinces.
Sandstones, shales, and limestones can be used in the Ridge and Valley. The "partial information" given
on notecards should give students a hint about an appropriate time period in the Paleozoic, such as
Cambrian, Ordovician, Mississippian, and Pennsylvanian. You could also provide a sample or a picture of
a shale or limestone with a Paleozoic trilobite index fossil. The Appalachian Plateau can also have
sandstones, shales, and limestones, with the addition of coal. Blue Ridge and Piedmont can have felsic
intrusive igneous rocks, namely granite, and metamorphic rocks like schist, marble, quartzite, and gneiss.
An amphibolite from the Piedmont or Blue Ridge could represent a metamorphosed volcanic rock. The
Coastal Plain can have sandstones, shales, and limestones, but their age hints would be Cretaceous in
the upper Coastal Plain to Tertiary in the lower. Other good samples could be a picture of Georgiate
tektites, a Megalodon tooth, and possibly a giant oyster fossil, Crassostrea Cusseta.
I recommend buying a geologic wall map of Georgia from Aero Surveys.
Problem time can vary with desired emphasis and number of samples.
Formative assessments are discussions with each team about PBL steps, progress, essential questions,
oral quiz, or ID quiz of a few samples.
Mini-Problem is an individual activity on topic. Activity completed in notebook.
Essential Question presentations done as open discussions. Power point posted for student use.
Encourage regular daily homework and avoid "cramming." Require daily sharing of HW research before
signature checks.