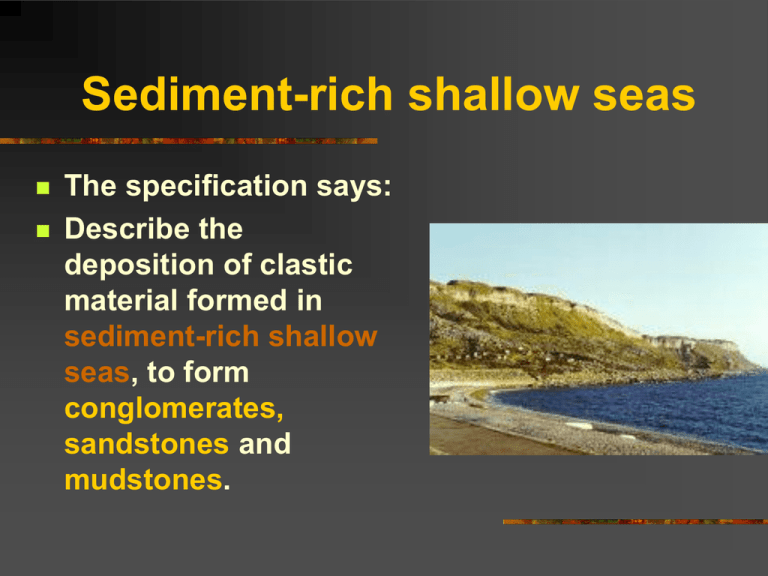 Sediment-rich shallow seas


The specification says:
Describe the
deposition of clastic
material formed in
sediment-rich shallow
seas, to form
conglomerates,
sandstones and
mudstones.
Conglomerate







Coarse grained > 2mm.
Very poorly sorted.
Rounded clasts.
Poor sorting suggests what?
Rounded clasts suggests what?
Clast size suggests what?
Suggest environments of shallow
sea deposition.




Inter tidal.
There are other high energy
environments that can form
conglomerates.
What could the conglomerates
contain that would indicate that
they are marine?
Marine fossils.
Sandstones.







Sandstones are clastic rocks
with medium (sand) sized
clasts (1/16th – 2 mm).
What does this tell you about
the energy of the environment?
Medium/moderate energy.
What does it tell you about the
depth of the water?
Shallow/medium depth.
So what part of the ocean
would you find sandstones
forming?
Inter tidal/just
offshore/continental shelf.
Sandstones





There are other medium
energy environments that
can form sandstones.
What could the
sandstones contain that
would indicate that they
are marine?
Marine fossils.
As you can see typically
beach sands have ripples.
How will these be
preserved in the
sandstones?
Cross-laminations.
Mudstone




The constituents of these rocks are varied:
"Rock Flour" comes from glacial erosion or abrasion by
running water or wind.
New "Clay Minerals" can be produced by chemical
weathering of feldspars and ferromagnesian minerals.
Such fine grained sediments settle out only in low energy
environments which exist in:



estuaries
or in the oceans beneath the wave base.
As the original mud deposit has water squeezed out it
changes to a sticky compact clay and then to a hard
mudstone or laminated shale.
Distribution of Sediments




As you move from the
beach offshore the
depth of water
increases.
Once below "wave
base" then there is
much less energy.
Further out again as
depth increases the
energy decreases.
Therefore the
sediments get finer.