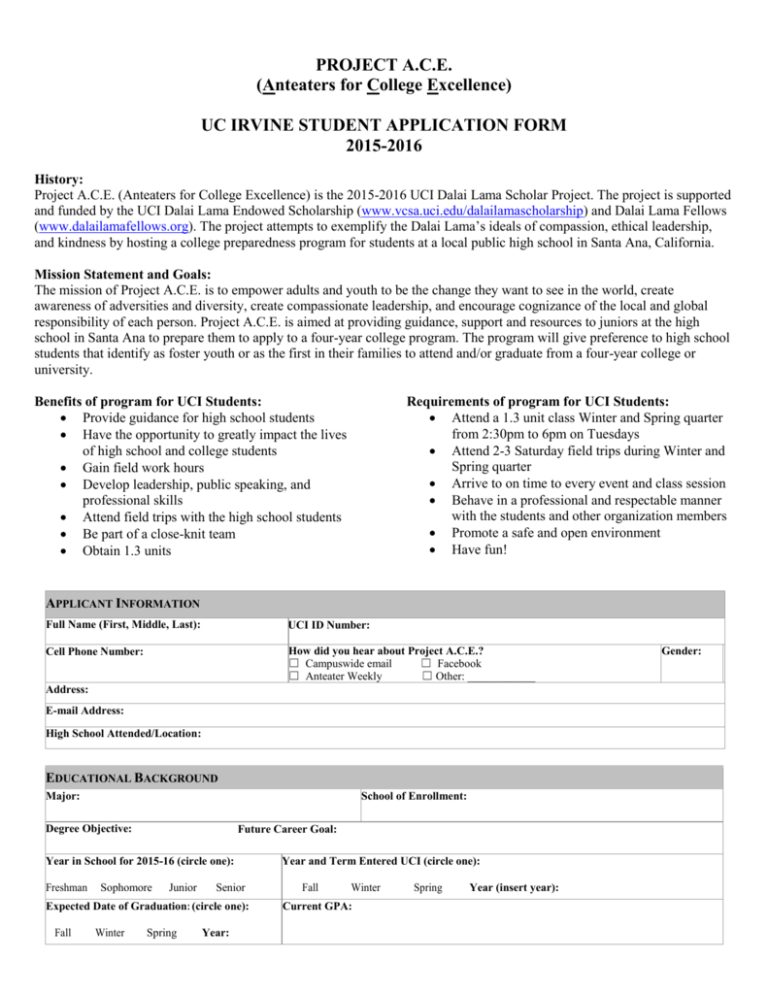 PROJECT A.C.E.
(Anteaters for College Excellence)
UC IRVINE STUDENT APPLICATION FORM
2015-2016
History:
Project A.C.E. (Anteaters for College Excellence) is the 2015-2016 UCI Dalai Lama Scholar Project. The project is supported
and funded by the UCI Dalai Lama Endowed Scholarship (www.vcsa.uci.edu/dalailamascholarship) and Dalai Lama Fellows
(www.dalailamafellows.org). The project attempts to exemplify the Dalai Lama's ideals of compassion, ethical leadership,
and kindness by hosting a college preparedness program for students at a local public high school in Santa Ana, California.
Mission Statement and Goals:
The mission of Project A.C.E. is to empower adults and youth to be the change they want to see in the world, create
awareness of adversities and diversity, create compassionate leadership, and encourage cognizance of the local and global
responsibility of each person. Project A.C.E. is aimed at providing guidance, support and resources to juniors at the high
school in Santa Ana to prepare them to apply to a four-year college program. The program will give preference to high school
students that identify as foster youth or as the first in their families to attend and/or graduate from a four-year college or
university.
Benefits of program for UCI Students:
 Provide guidance for high school students
 Have the opportunity to greatly impact the lives
of high school and college students
 Gain field work hours
 Develop leadership, public speaking, and
professional skills
 Attend field trips with the high school students
 Be part of a close-knit team
 Obtain 1.3 units
Requirements of program for UCI Students:
 Attend a 1.3 unit class Winter and Spring quarter
from 2:30pm to 6pm on Tuesdays
 Attend 2-3 Saturday field trips during Winter and
Spring quarter
 Arrive to on time to every event and class session
 Behave in a professional and respectable manner
with the students and other organization members
 Promote a safe and open environment
 Have fun!
APPLICANT INFORMATION
Full Name (First, Middle, Last):
UCI ID Number:
Cell Phone Number:
How did you hear about Project A.C.E.?
☐ Campuswide email
☐ Facebook
☐ Anteater Weekly
☐ Other: ____________
Address:
E-mail Address:
High School Attended/Location:
EDUCATIONAL BACKGROUND
Major:
School of Enrollment:
Degree Objective:
Future Career Goal:
Year in School for 2015-16 (circle one):
Freshman
Sophomore
Junior
Senior
Expected Date of Graduation: (circle one):
Fall
Winter
Spring
Year:
Year and Term Entered UCI (circle one):
Fall
Winter
Current GPA:
Spring
Year (insert year):
Gender:
COLLEGES OR UNIVERSITIES ATTENDED (OTHER THAN UCI OR WRITE "NOT APPLICABLE")
College
Units Completed
Dates of Attendance
GPA
ADDITIONAL INFORMATION
Activities and
Involvements for
Winter and Spring
2016:
What are your
hobbies, interests,
etc?
Do you have a
vehicle?
Yes
No Other:________________
Would you be willing to provide rides to Yes No Other:________________
outreach sessions at the high school in (this will not impact application status)
Santa Ana?
SHORT ESSAY QUESTIONS
Please answer BOTH of the following questions on the following page in 300 words or less (for each question):
1. Why would you like to participate in this program?
2. What special skills and qualities do you have that would make you a good mentor?
INTERVIEW AVAILABILITY (WEEK 8)
Monday
Tuesday
Wednesday
Thursday
Friday
APPLICATION CHECKLIST




Application Form
Resume (please attach)
Short Essay Questions (please attach)
Please sign and date here to confirm that all information in this form is true:_____________________________________________________________
APPLICATION SUBMISSION INFORMATION
Deadline for submission is November 13, 2015 by 5:00 p.m. Please submit the application to [email protected]
with all of the required attachments. Or you may drop off your completed application at 405 Aldrich Hall. You will
receive confirmation of your application being received within 48 hours of the submission deadline. If you have any
questions, please contact the program at [email protected] For more information about Project A.C.E., please
visit http://sites.uci.edu/projectace. Thank you.