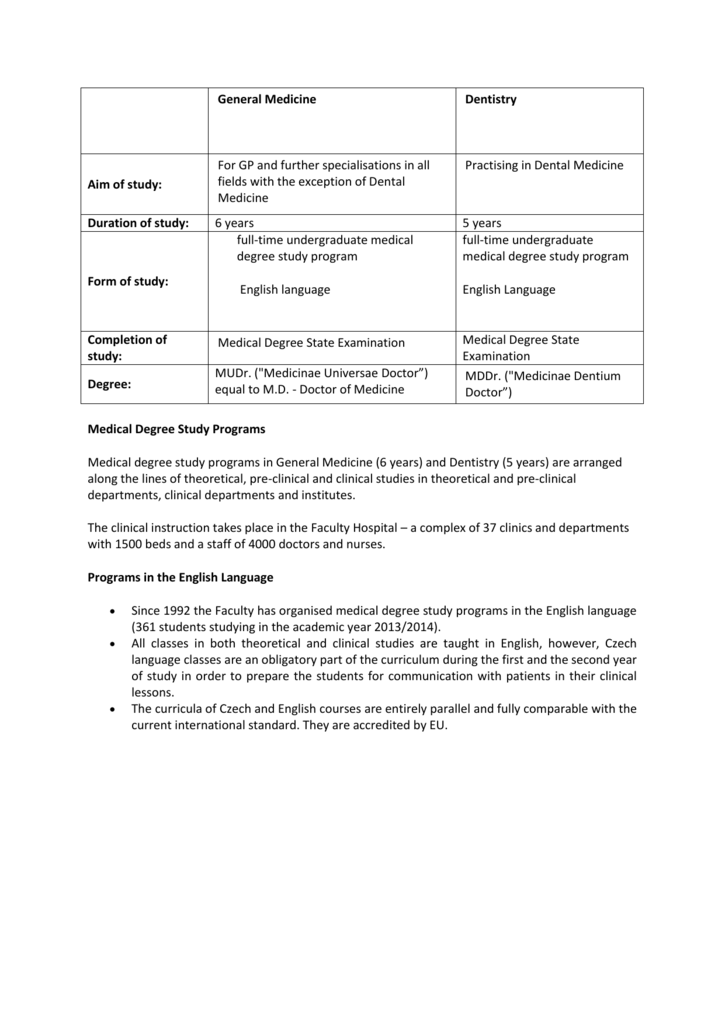 Aim of study:
Duration of study:
Form of study:
General Medicine
Dentistry
For GP and further specialisations in all
fields with the exception of Dental
Medicine
Practising in Dental Medicine
6 years
full-time undergraduate medical
degree study program
5 years
full-time undergraduate
medical degree study program
English language
Completion of
study:
Medical Degree State Examination
Degree:
MUDr. ("Medicinae Universae Doctor")
equal to M.D. - Doctor of Medicine
English Language
Medical Degree State
Examination
MDDr. ("Medicinae Dentium
Doctor")
Medical Degree Study Programs
Medical degree study programs in General Medicine (6 years) and Dentistry (5 years) are arranged
along the lines of theoretical, pre-clinical and clinical studies in theoretical and pre-clinical
departments, clinical departments and institutes.
The clinical instruction takes place in the Faculty Hospital – a complex of 37 clinics and departments
with 1500 beds and a staff of 4000 doctors and nurses.
Programs in the English Language



Since 1992 the Faculty has organised medical degree study programs in the English language
(361 students studying in the academic year 2013/2014).
All classes in both theoretical and clinical studies are taught in English, however, Czech
language classes are an obligatory part of the curriculum during the first and the second year
of study in order to prepare the students for communication with patients in their clinical
lessons.
The curricula of Czech and English courses are entirely parallel and fully comparable with the
current international standard. They are accredited by EU.
Terms of the Entrance Examination




Entrance exams for the academic year 2014/2015 take place in Dublin Mid May when a
representative from the University will visit
Students use the IFY as a preparation course for the entrance exam
Entrance examination (held in English) is based on:
Written test (multiple choice) of the applicant´s knowledge of science in
1. Chemistry (25 questions)
2. Biology (25 questions)
3. Physics or Mathematics (10 questions)
(alternatives, according to individual preference)


written test duration is 2 hours and 30 minutes
a short oral interview oriented towards personality and motivation of the applicant is also
held in Dublin
Utilities for the examination:
 IT IS NOT ALLOWED to use any dictionary or tables
 ONLY A CALCULATOR is needed
Tuition Fees


The net annual tuition fees for English programs for entry in October 2015 were fixed by the Faculty
at a rate of:
310.000,- CZK for General Medicine program
340.000,- CZK for Dentistry program
Upon the condition that it will be paid by the October 25, 2015 in full.