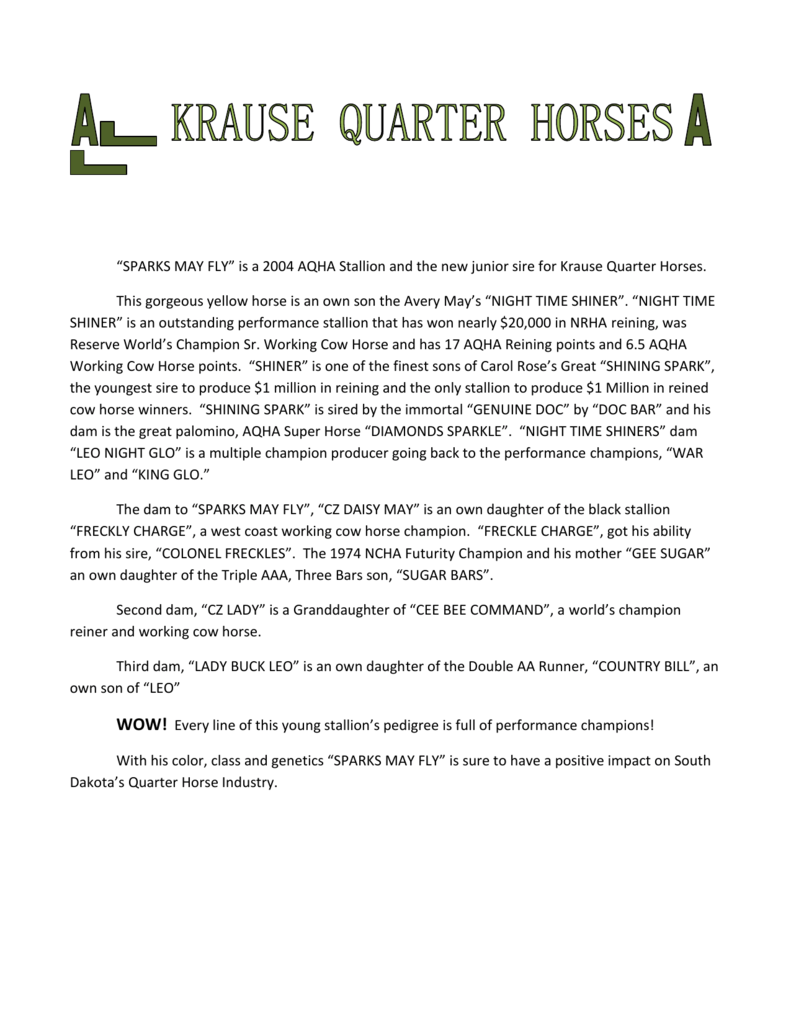 "SPARKS MAY FLY" is a 2004 AQHA Stallion and the new junior sire for Krause Quarter Horses.
This gorgeous yellow horse is an own son the Avery May's "NIGHT TIME SHINER". "NIGHT TIME
SHINER" is an outstanding performance stallion that has won nearly $20,000 in NRHA reining, was
Reserve World's Champion Sr. Working Cow Horse and has 17 AQHA Reining points and 6.5 AQHA
Working Cow Horse points. "SHINER" is one of the finest sons of Carol Rose's Great "SHINING SPARK",
the youngest sire to produce $1 million in reining and the only stallion to produce $1 Million in reined
cow horse winners. "SHINING SPARK" is sired by the immortal "GENUINE DOC" by "DOC BAR" and his
dam is the great palomino, AQHA Super Horse "DIAMONDS SPARKLE". "NIGHT TIME SHINERS" dam
"LEO NIGHT GLO" is a multiple champion producer going back to the performance champions, "WAR
LEO" and "KING GLO."
The dam to "SPARKS MAY FLY", "CZ DAISY MAY" is an own daughter of the black stallion
"FRECKLY CHARGE", a west coast working cow horse champion. "FRECKLE CHARGE", got his ability
from his sire, "COLONEL FRECKLES". The 1974 NCHA Futurity Champion and his mother "GEE SUGAR"
an own daughter of the Triple AAA, Three Bars son, "SUGAR BARS".
Second dam, "CZ LADY" is a Granddaughter of "CEE BEE COMMAND", a world's champion
reiner and working cow horse.
Third dam, "LADY BUCK LEO" is an own daughter of the Double AA Runner, "COUNTRY BILL", an
own son of "LEO"
WOW! Every line of this young stallion's pedigree is full of performance champions!
With his color, class and genetics "SPARKS MAY FLY" is sure to have a positive impact on South
Dakota's Quarter Horse Industry.