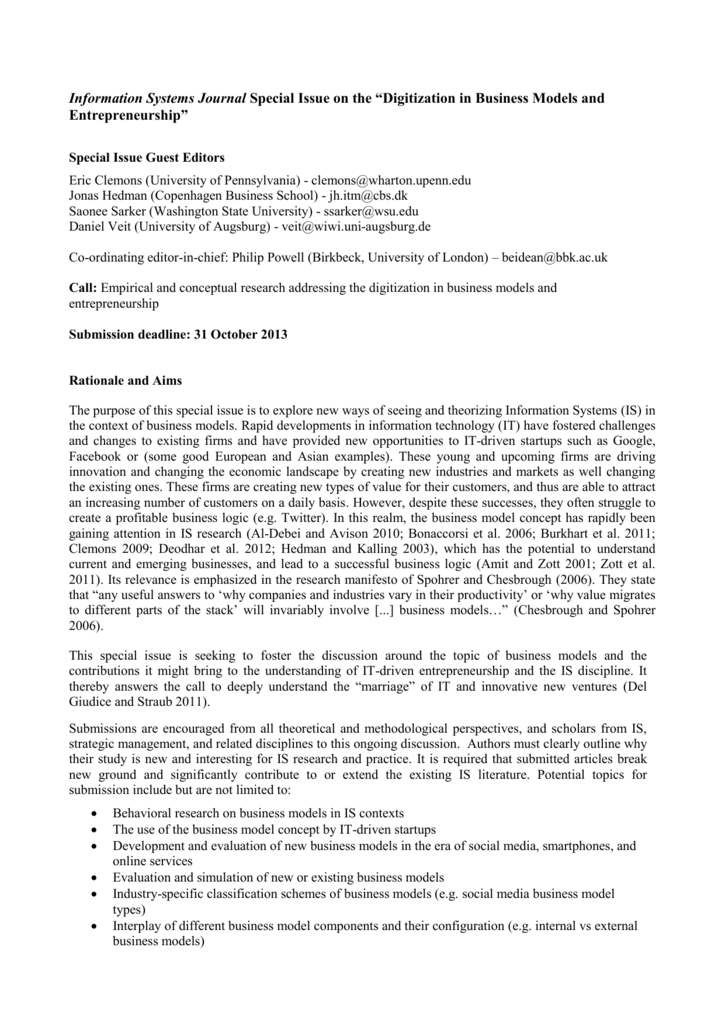 Information Systems Journal Special Issue on the "Digitization in Business Models and
Entrepreneurship"
Special Issue Guest Editors
Eric Clemons (University of Pennsylvania) - [email protected]
Jonas Hedman (Copenhagen Business School) - [email protected]
Saonee Sarker (Washington State University) - [email protected]
Daniel Veit (University of Augsburg) - [email protected]
Co-ordinating editor-in-chief: Philip Powell (Birkbeck, University of London) – [email protected]
Call: Empirical and conceptual research addressing the digitization in business models and
entrepreneurship
Submission deadline: 31 October 2013
Rationale and Aims
The purpose of this special issue is to explore new ways of seeing and theorizing Information Systems (IS) in
the context of business models. Rapid developments in information technology (IT) have fostered challenges
and changes to existing firms and have provided new opportunities to IT-driven startups such as Google,
Facebook or (some good European and Asian examples). These young and upcoming firms are driving
innovation and changing the economic landscape by creating new industries and markets as well changing
the existing ones. These firms are creating new types of value for their customers, and thus are able to attract
an increasing number of customers on a daily basis. However, despite these successes, they often struggle to
create a profitable business logic (e.g. Twitter). In this realm, the business model concept has rapidly been
gaining attention in IS research (Al-Debei and Avison 2010; Bonaccorsi et al. 2006; Burkhart et al. 2011;
Clemons 2009; Deodhar et al. 2012; Hedman and Kalling 2003), which has the potential to understand
current and emerging businesses, and lead to a successful business logic (Amit and Zott 2001; Zott et al.
2011). Its relevance is emphasized in the research manifesto of Spohrer and Chesbrough (2006). They state
that "any useful answers to 'why companies and industries vary in their productivity' or 'why value migrates
to different parts of the stack' will invariably involve [...] business models…" (Chesbrough and Spohrer
2006).
This special issue is seeking to foster the discussion around the topic of business models and the
contributions it might bring to the understanding of IT-driven entrepreneurship and the IS discipline. It
thereby answers the call to deeply understand the "marriage" of IT and innovative new ventures (Del
Giudice and Straub 2011).
Submissions are encouraged from all theoretical and methodological perspectives, and scholars from IS,
strategic management, and related disciplines to this ongoing discussion. Authors must clearly outline why
their study is new and interesting for IS research and practice. It is required that submitted articles break
new ground and significantly contribute to or extend the existing IS literature. Potential topics for
submission include but are not limited to:






Behavioral research on business models in IS contexts
The use of the business model concept by IT-driven startups
Development and evaluation of new business models in the era of social media, smartphones, and
online services
Evaluation and simulation of new or existing business models
Industry-specific classification schemes of business models (e.g. social media business model
types)
Interplay of different business model components and their configuration (e.g. internal vs external
business models)
Page 2







Development of tools and languages for the description and simulation of business models
Impacts of new developments in IT on business models
Innovation of business models through IT
Understanding the business model changes of software companies switching from on premise to
cloud products and services
Interrelationships of 'fit' between IT, organization, business model, and performance
The decision and strategy making in IT startups
The impacts of management team IT education in entrepreneurial ventures
Submission
Manuscripts should not normally exceed 7000 words and should be submitted online.
The final deadline for submissions is October 31, 2013. All submissions will be peer-reviewed according to
the standards of the ISJ. The deadlines are fixed and no extensions will be possible. Submissions for the
full papers must be made to the ISJ's Manuscript Central Account: http://mc.manuscriptcentral.com/isj,
where you should select the Special Issue as the submission type.
Author guidelines are available at 'author guidelines' at http://www.blackwellpublishing.com/journals/isj/.
Timeline
Full initial paper submission deadline: 31 October 2013
First review deadline: 31 January 2014
Revised paper submission deadline: (if required) 31 March 2014
Second review deadline: 16 May 2014
Camera-ready paper submission deadline: 30 June 2014
Early submissions are welcome and will be put into the review process straightaway.
Sources
Al-Debei, M. M., and Avison, D. 2010. "Developing a Unified Framework of the Business Model Concept," European
Journal of Information Systems (19:3), pp. 359–376.
Amit, R., and Zott, C. 2001. "Value Creation in E-Business," Strategic Management Journal (22:6-7), pp. 493–520.
Bonaccorsi, A., Giannangeli, S., and Rossi, C. 2006. "Entry Strategies Under Competing Standards: Hybrid Business
Models in the Open Source Software Industry," Management Science (52:7), pp. 1085–1098.
Burkhart, T., Krumeich, J., Werth, D., and Loos, P. 2011. "Analyzing the Business Model Concept — A
Comprehensive Classification of Literature," ICIS 2011 Proceedings.
Chesbrough, H., and Spohrer, J. 2006. "A Research Manifesto for Services Science," Communications of the ACM
(49:7), pp. 35–40.
Clemons, E. K. 2009. "Business Models for Monetizing Internet Applications and Web Sites: Experience, Theory, and
Predictions," Journal of Management Information Systems (26:2), pp. 15–41.
Deodhar, S. J., Saxena, K. B. C., Gupta, R. K., and Ruohonen, M. 2012. "Strategies for Software-Based Hybrid
Business Models," The Journal of Strategic Information Systems.
Del Giudice, M., and Straub, D. 2011. "IT and Entrepreneurism: An On-Again, Off-Again Love Affair or a Marriage?,"
MIS Quarterly (35:4), p. III–VII.
Hedman, J., and Kalling, T. 2003. "The Business Model Concept: Theoretical Underpinnings and Empirical
Illustrations," European Journal of Information Systems (12:1), pp. 49–59.
Zott, C., Amit, R., and Massa, L. 2011. "The Business Model: Recent Developments and Future Research," Journal of
Management (38:1), pp. 375–414.