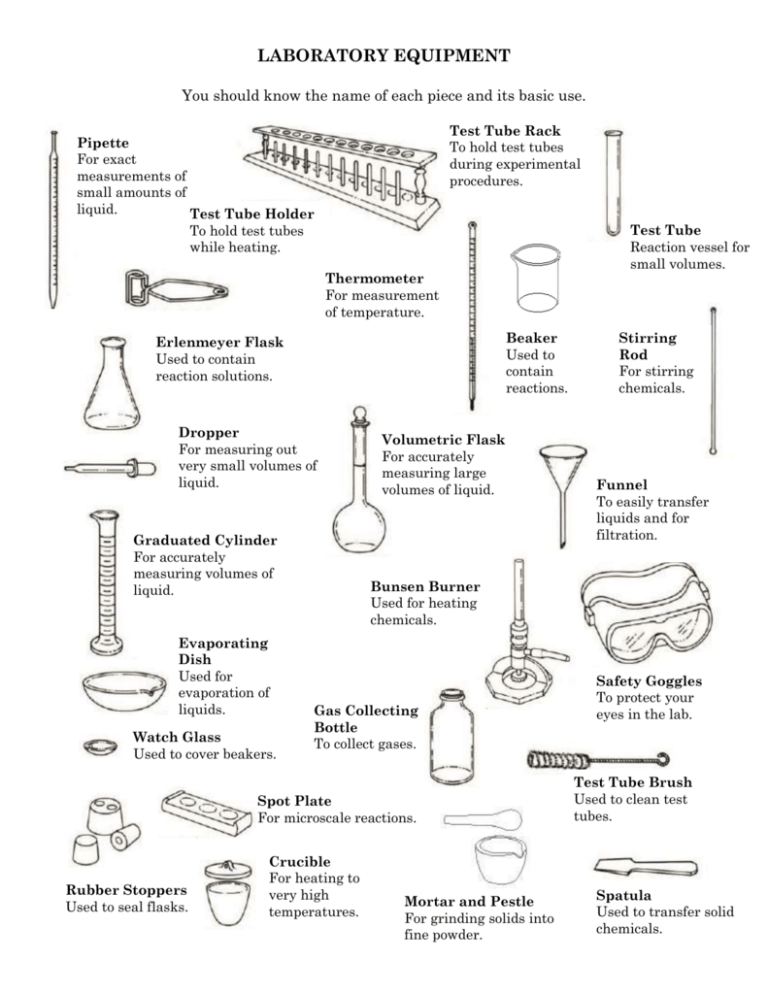 LABORATORY EQUIPMENT
You should know the name of each piece and its basic use.
Test Tube Rack
To hold test tubes
during experimental
procedures.
Pipette
For exact
measurements of
small amounts of
liquid.
Test Tube Holder
Test Tube
Reaction vessel for
small volumes.
To hold test tubes
while heating.
Thermometer
For measurement
of temperature.
Beaker
Used to
contain
reactions.
Erlenmeyer Flask
Used to contain
reaction solutions.
Dropper
For measuring out
very small volumes of
liquid.
Graduated Cylinder
For accurately
measuring volumes of
liquid.
Evaporating
Dish
Used for
evaporation of
liquids.
Watch Glass
Used to cover beakers.
Volumetric Flask
For accurately
measuring large
volumes of liquid.
Funnel
To easily transfer
liquids and for
filtration.
Bunsen Burner
Used for heating
chemicals.
Gas Collecting
Bottle
To collect gases.
Spot Plate
For microscale reactions.
Rubber Stoppers
Used to seal flasks.
Stirring
Rod
For stirring
chemicals.
Crucible
For heating to
very high
temperatures.
Mortar and Pestle
For grinding solids into
fine powder.
Safety Goggles
To protect your
eyes in the lab.
Test Tube Brush
Used to clean test
tubes.
Spatula
Used to transfer solid
chemicals.