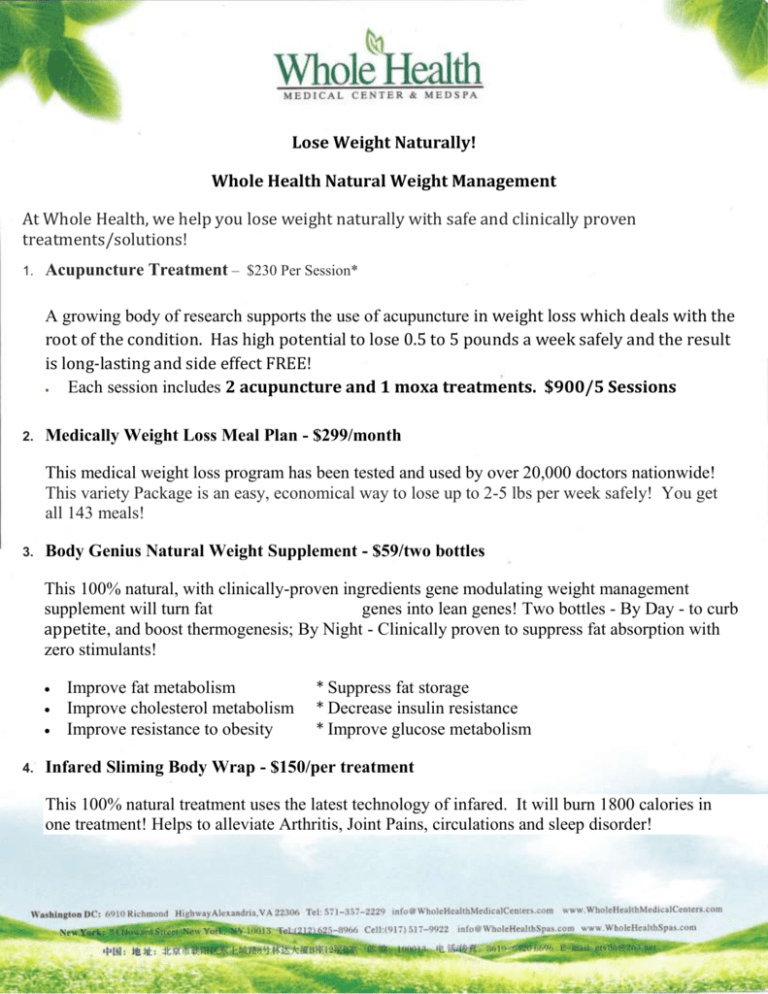 Lose Weight Naturally!
Whole Health Natural Weight Management
At Whole Health, we help you lose weight naturally with safe and clinically proven
treatments/solutions!
1.
Acupuncture Treatment – $230 Per Session*
A growing body of research supports the use of acupuncture in weight loss which deals with the
root of the condition. Has high potential to lose 0.5 to 5 pounds a week safely and the result
is long-lasting and side effect FREE!

Each session includes 2 acupuncture and 1 moxa treatments. $900/5 Sessions
2.
Medically Weight Loss Meal Plan - $299/month
This medical weight loss program has been tested and used by over 20,000 doctors nationwide!
This variety Package is an easy, economical way to lose up to 2-5 lbs per week safely! You get
all 143 meals!
3.
Body Genius Natural Weight Supplement - $59/two bottles
This 100% natural, with clinically-proven ingredients gene modulating weight management
supplement will turn fat
genes into lean genes! Two bottles - By Day - to curb
appetite, and boost thermogenesis; By Night - Clinically proven to suppress fat absorption with
zero stimulants!



4.
Improve fat metabolism
Improve cholesterol metabolism
Improve resistance to obesity
* Suppress fat storage
* Decrease insulin resistance
* Improve glucose metabolism
Infared Sliming Body Wrap - $150/per treatment
This 100% natural treatment uses the latest technology of infared. It will burn 1800 calories in
one treatment! Helps to alleviate Arthritis, Joint Pains, circulations and sleep disorder!