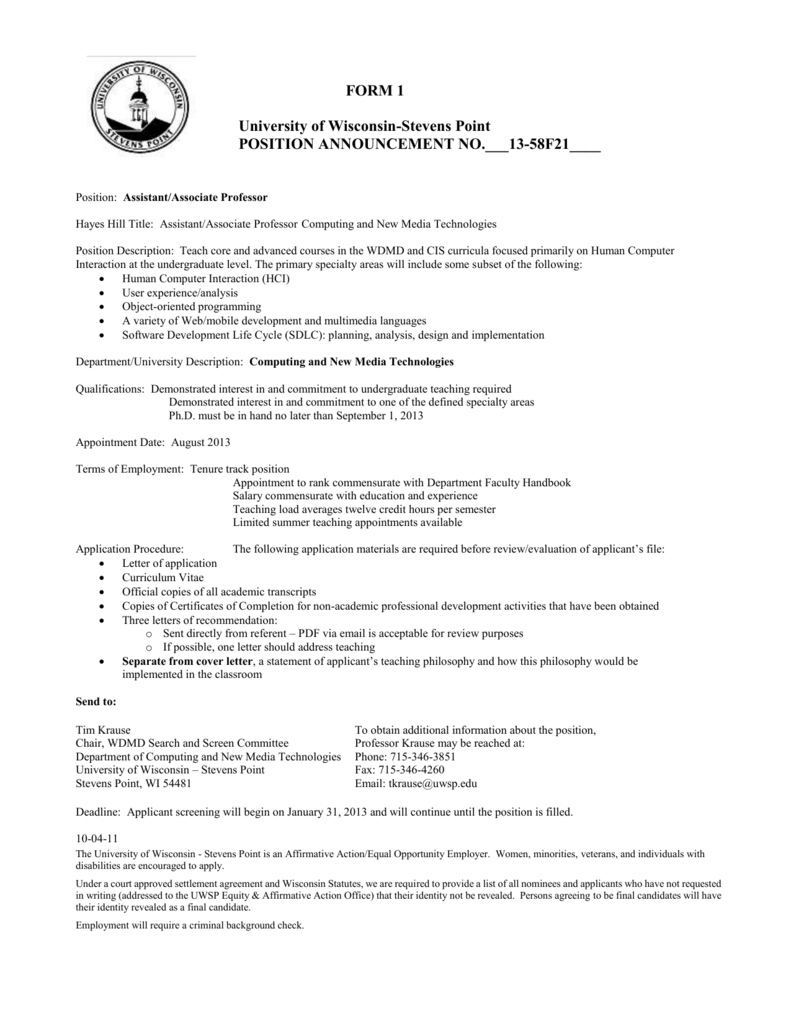 FORM 1
University of Wisconsin-Stevens Point
POSITION ANNOUNCEMENT NO.___13-58F21____
Position: Assistant/Associate Professor
Hayes Hill Title: Assistant/Associate Professor Computing and New Media Technologies
Position Description: Teach core and advanced courses in the WDMD and CIS curricula focused primarily on Human Computer
Interaction at the undergraduate level. The primary specialty areas will include some subset of the following:

Human Computer Interaction (HCI)

User experience/analysis

Object-oriented programming

A variety of Web/mobile development and multimedia languages

Software Development Life Cycle (SDLC): planning, analysis, design and implementation
Department/University Description: Computing and New Media Technologies
Qualifications: Demonstrated interest in and commitment to undergraduate teaching required
Demonstrated interest in and commitment to one of the defined specialty areas
Ph.D. must be in hand no later than September 1, 2013
Appointment Date: August 2013
Terms of Employment: Tenure track position
Appointment to rank commensurate with Department Faculty Handbook
Salary commensurate with education and experience
Teaching load averages twelve credit hours per semester
Limited summer teaching appointments available
Application Procedure:
The following application materials are required before review/evaluation of applicant's file:

Letter of application

Curriculum Vitae

Official copies of all academic transcripts

Copies of Certificates of Completion for non-academic professional development activities that have been obtained

Three letters of recommendation:
o Sent directly from referent – PDF via email is acceptable for review purposes
o If possible, one letter should address teaching

Separate from cover letter, a statement of applicant's teaching philosophy and how this philosophy would be
implemented in the classroom
Send to:
Tim Krause
Chair, WDMD Search and Screen Committee
Department of Computing and New Media Technologies
University of Wisconsin – Stevens Point
Stevens Point, WI 54481
To obtain additional information about the position,
Professor Krause may be reached at:
Phone: 715-346-3851
Fax: 715-346-4260
Email: [email protected]
Deadline: Applicant screening will begin on January 31, 2013 and will continue until the position is filled.
10-04-11
The University of Wisconsin - Stevens Point is an Affirmative Action/Equal Opportunity Employer. Women, minorities, veterans, and individuals with
disabilities are encouraged to apply.
Under a court approved settlement agreement and Wisconsin Statutes, we are required to provide a list of all nominees and applicants who have not requested
in writing (addressed to the UWSP Equity & Affirmative Action Office) that their identity not be revealed. Persons agreeing to be final candidates will have
their identity revealed as a final candidate.
Employment will require a criminal background check.
About Our Department.
About Our Home Town.
The focus and emphasis of our core WDMD curriculum is on
problem solving and the study of human computer interaction
with supporting work in web design and programming,
multimedia authoring, and digital media creation.
Students are required to complete a capstone course that
places them on consulting teams assigned to a real-world client to
solve the client's real-world problem.
We have an active AITP Student Chapter that provides
out-of-class experiences and professional development through
regular monthly meetings, career fairs, programming contests,
site tours, and attendance at the AITP National Collegiate
Conference.
We have technology equipped classrooms, and strong
support from Information Technology for classroom/laboratory
space. Visit our website at www.uwsp.edu/cnmt .
Stevens Point is located near the geographical center of the
state, along the banks of the scenic Wisconsin River.
In pioneer days, this was the Gateway to the Pinery, where
sawmills whined as they chewed logs from northern forests
into rough lumber for use in building houses as far south as St.
Louis.
By the early 1870s, more than a decade after the city had
been incorporated, the railroad arrived. About the same time
Stevens Point was designated as the new seat of government
for Portage County. The little brewery on Water Street was
thriving [and still is]. The latter part of the nineteenth century
brought our paper mills and the development of agriculture
followed by the addition of several agri-business firms and the
emergence of the Golden Sands as a major national producer
of vegetables.
Today, the world headquarters for Sentry Insurance, with
its 2,500 employees, has the largest payroll in the area. It is
followed by the University of Wisconsin-Stevens Point.
The diversity of businesses, industries and services has
provided a balance in the local economy as well as a strong
shield against recessions for people throughout the area.
The cultural life of Portage County is enhanced by the $4
million county library in downtown Stevens Point and several
satellite facilities in nearby villages. The Central Wisconsin
Symphony, City Band, Community Theater and the historic
downtown district, adjacent Stevens Point's mall, are
important civic and cultural attractions.
Health care delivery is available in several local clinics
plus the 144-bed St. Michael's Hospital. The Marshfield
Clinic, about 35 miles to the west, is highly acclaimed for its
diagnostic and treatment services.
Recreation opportunities abound in area lakes and city and
county parks. There are three golf courses in the immediate
Stevens Point metropolitan area, including Sentry World
Sports Center that also has indoor fitness/tennis facilities. An
extensive YMCA program supports the entire community.
See our website: www.ci.stevens-point.wi.us
About Our University.
The University of Wisconsin-Stevens Point is the only
Bachelor Degree-granting institution in the north central part of
the state.
Founded in 1894 as a teacher-training institution, UWSP now
offers 54 undergraduate majors and confers Master's Degrees in
12 disciplines.
The enrollment surpasses 8,500 students. There are more
than 400 faculty, 210 academic staff and 350 support staff
members.
UWSP is in the fore-front of providing computing and
networking resources to faculty, students and staff, and has as its
stated technology vision that Information Technology is one of
the basic elements in UWSP's educational fabric, that this
technology will be distributed to where people do their normal
work, and that the technical aspects of this environment will be
transparent to the non-technical user.
A 200-acre nature preserve and lake compliment the
well-landscaped campus with its large flower gardens.
UWSP is one of the state's largest undergraduate liberal arts
schools; it has academic colleges in letters and science, natural
resources, professional studies, and fine arts and
communications.
Visit our website www.uwsp.edu for more information.

Equal Opportunity Employer
The University of Wisconsin-Stevens Point is an
affirmative action/equal opportunity employer and encourages
applications from members of ethnic/racial minorities,
women, and persons with disabilities. Inquiries regarding
compliance with all state and federal legislation may be
directed to the Affirmative Action Office (715) 346-2002, or
our website: www.uwsp.edu/equity.