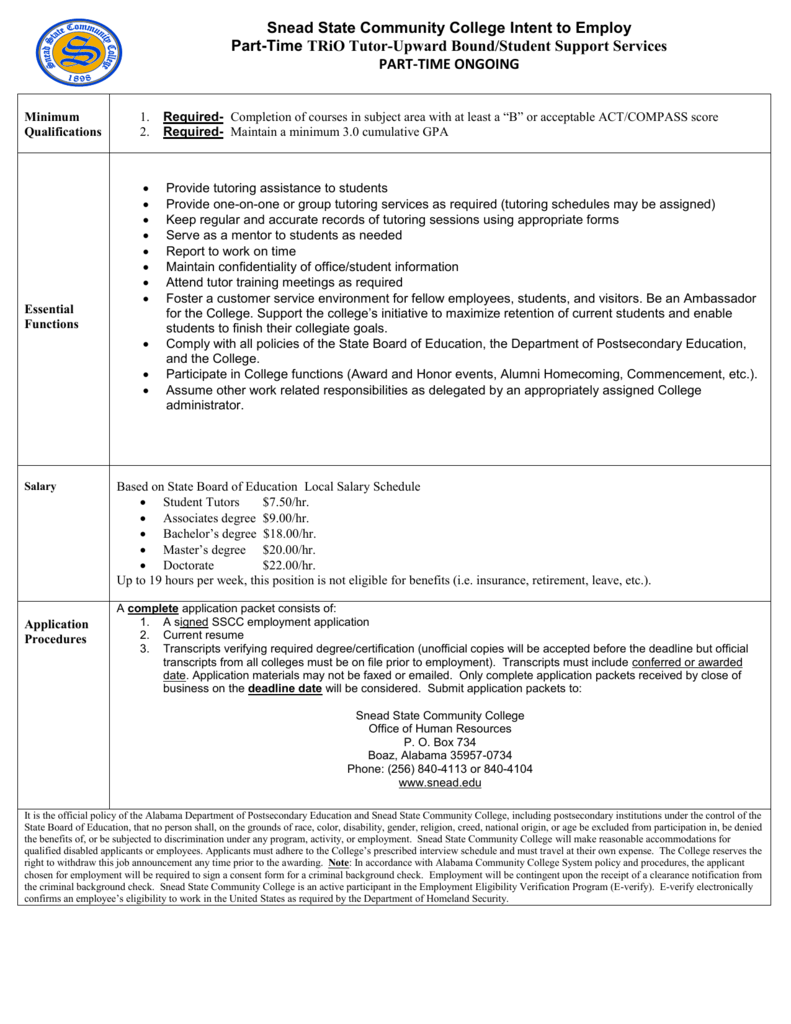 Snead State Community College Intent to Employ
Part-Time TRiO Tutor-Upward Bound/Student Support Services
PART-TIME ONGOING
Minimum
Qualifications
Essential
Functions
1.
2.
Required- Completion of courses in subject area with at least a "B" or acceptable ACT/COMPASS score
Required- Maintain a minimum 3.0 cumulative GPA








Provide tutoring assistance to students
Provide one-on-one or group tutoring services as required (tutoring schedules may be assigned)
Keep regular and accurate records of tutoring sessions using appropriate forms
Serve as a mentor to students as needed
Report to work on time
Maintain confidentiality of office/student information
Attend tutor training meetings as required
Foster a customer service environment for fellow employees, students, and visitors. Be an Ambassador
for the College. Support the college's initiative to maximize retention of current students and enable
students to finish their collegiate goals.
Comply with all policies of the State Board of Education, the Department of Postsecondary Education,
and the College.
Participate in College functions (Award and Honor events, Alumni Homecoming, Commencement, etc.).
Assume other work related responsibilities as delegated by an appropriately assigned College
administrator.



Salary
Application
Procedures
Based on State Board of Education Local Salary Schedule
 Student Tutors
$7.50/hr.
 Associates degree $9.00/hr.
 Bachelor's degree $18.00/hr.
 Master's degree $20.00/hr.
 Doctorate
$22.00/hr.
Up to 19 hours per week, this position is not eligible for benefits (i.e. insurance, retirement, leave, etc.).
A complete application packet consists of:
1. A signed SSCC employment application
2. Current resume
3. Transcripts verifying required degree/certification (unofficial copies will be accepted before the deadline but official
transcripts from all colleges must be on file prior to employment). Transcripts must include conferred or awarded
date. Application materials may not be faxed or emailed. Only complete application packets received by close of
business on the deadline date will be considered. Submit application packets to:
Snead State Community College
Office of Human Resources
P. O. Box 734
Boaz, Alabama 35957-0734
Phone: (256) 840-4113 or 840-4104
www.snead.edu
It is the official policy of the Alabama Department of Postsecondary Education and Snead State Community College, including postsecondary institutions under the control of the
State Board of Education, that no person shall, on the grounds of race, color, disability, gender, religion, creed, national origin, or age be excluded from participation in, be denied
the benefits of, or be subjected to discrimination under any program, activity, or employment. Snead State Community College will make reasonable accommodations for
qualified disabled applicants or employees. Applicants must adhere to the College's prescribed interview schedule and must travel at their own expense. The College reserves the
right to withdraw this job announcement any time prior to the awarding. Note: In accordance with Alabama Community College System policy and procedures, the applicant
chosen for employment will be required to sign a consent form for a criminal background check. Employment will be contingent upon the receipt of a clearance notification from
the criminal background check. Snead State Community College is an active participant in the Employment Eligibility Verification Program (E-verify). E-verify electronically
confirms an employee's eligibility to work in the United States as required by the Department of Homeland Security.