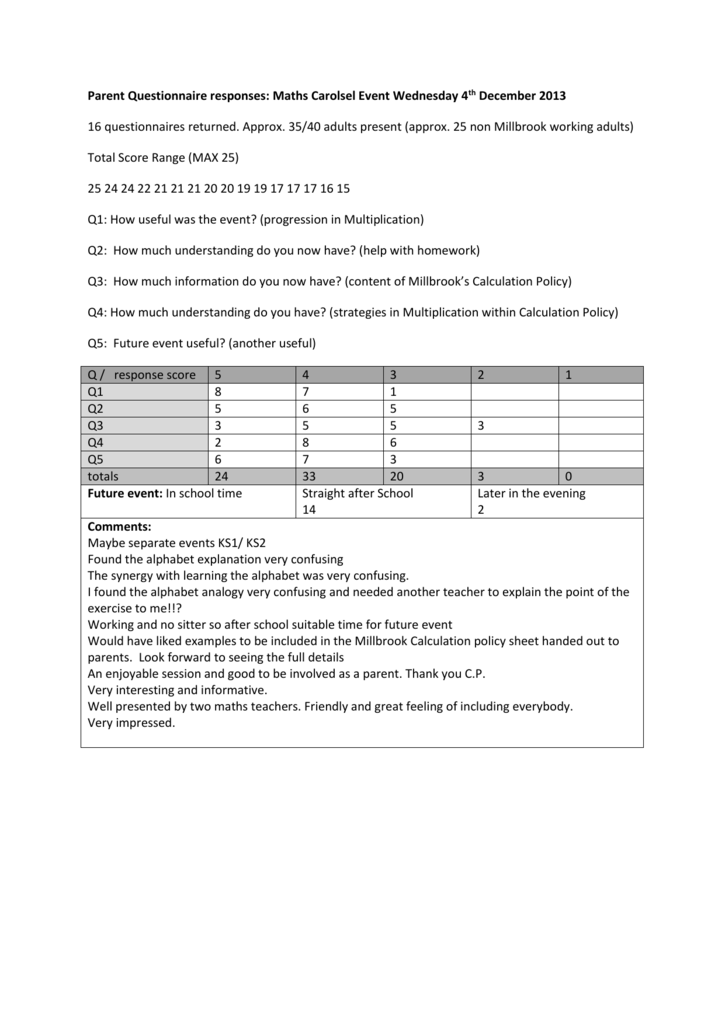 Parent Questionnaire responses: Maths Carolsel Event Wednesday 4th December 2013
16 questionnaires returned. Approx. 35/40 adults present (approx. 25 non Millbrook working adults)
Total Score Range (MAX 25)
25 24 24 22 21 21 21 20 20 19 19 17 17 17 16 15
Q1: How useful was the event? (progression in Multiplication)
Q2: How much understanding do you now have? (help with homework)
Q3: How much information do you now have? (content of Millbrook's Calculation Policy)
Q4: How much understanding do you have? (strategies in Multiplication within Calculation Policy)
Q5: Future event useful? (another useful)
Q / response score 5
Q1
8
Q2
5
Q3
3
Q4
2
Q5
6
totals
24
Future event: In school time
4
3
7
1
6
5
5
5
8
6
7
3
33
20
Straight after School
14
2
1
3
3
0
Later in the evening
2
Comments:
Maybe separate events KS1/ KS2
Found the alphabet explanation very confusing
The synergy with learning the alphabet was very confusing.
I found the alphabet analogy very confusing and needed another teacher to explain the point of the
exercise to me!!?
Working and no sitter so after school suitable time for future event
Would have liked examples to be included in the Millbrook Calculation policy sheet handed out to
parents. Look forward to seeing the full details
An enjoyable session and good to be involved as a parent. Thank you C.P.
Very interesting and informative.
Well presented by two maths teachers. Friendly and great feeling of including everybody.
Very impressed.