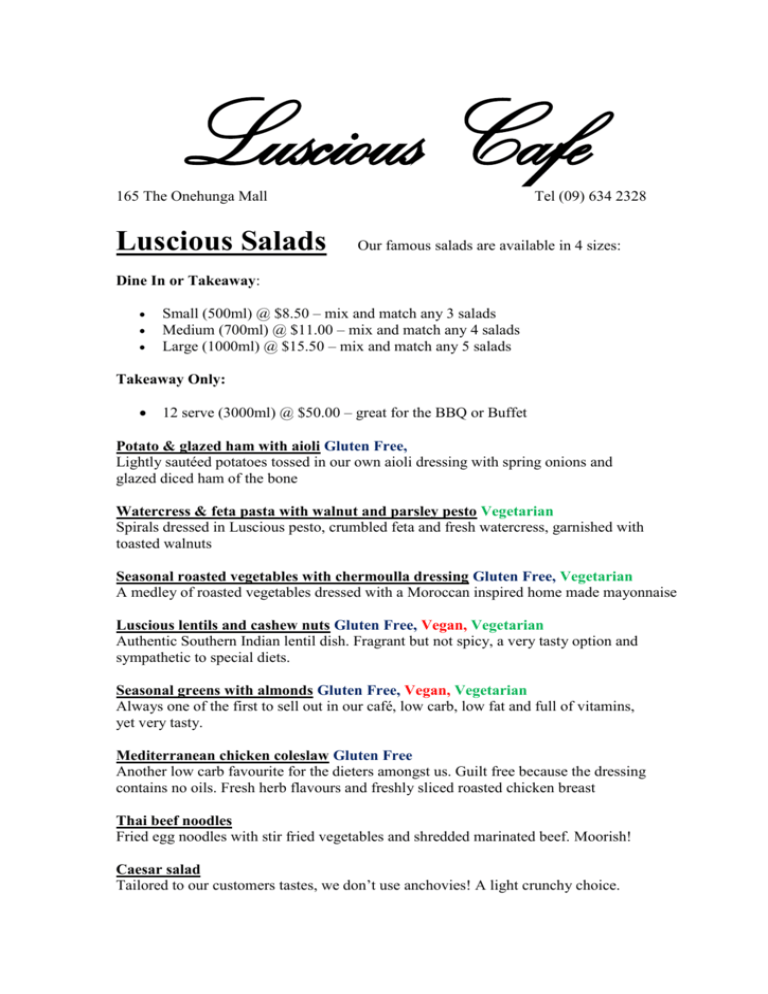 Luscious Cafe
165 The Onehunga Mall
Luscious Salads
Tel (09) 634 2328
Our famous salads are available in 4 sizes:
Dine In or Takeaway:



Small (500ml) @ $8.50 – mix and match any 3 salads
Medium (700ml) @ $11.00 – mix and match any 4 salads
Large (1000ml) @ $15.50 – mix and match any 5 salads
Takeaway Only:

12 serve (3000ml) @ $50.00 – great for the BBQ or Buffet
Potato & glazed ham with aioli Gluten Free,
Lightly sautéed potatoes tossed in our own aioli dressing with spring onions and
glazed diced ham of the bone
Watercress & feta pasta with walnut and parsley pesto Vegetarian
Spirals dressed in Luscious pesto, crumbled feta and fresh watercress, garnished with
toasted walnuts
Seasonal roasted vegetables with chermoulla dressing Gluten Free, Vegetarian
A medley of roasted vegetables dressed with a Moroccan inspired home made mayonnaise
Luscious lentils and cashew nuts Gluten Free, Vegan, Vegetarian
Authentic Southern Indian lentil dish. Fragrant but not spicy, a very tasty option and
sympathetic to special diets.
Seasonal greens with almonds Gluten Free, Vegan, Vegetarian
Always one of the first to sell out in our café, low carb, low fat and full of vitamins,
yet very tasty.
Mediterranean chicken coleslaw Gluten Free
Another low carb favourite for the dieters amongst us. Guilt free because the dressing
contains no oils. Fresh herb flavours and freshly sliced roasted chicken breast
Thai beef noodles
Fried egg noodles with stir fried vegetables and shredded marinated beef. Moorish!
Caesar salad
Tailored to our customers tastes, we don't use anchovies! A light crunchy choice.