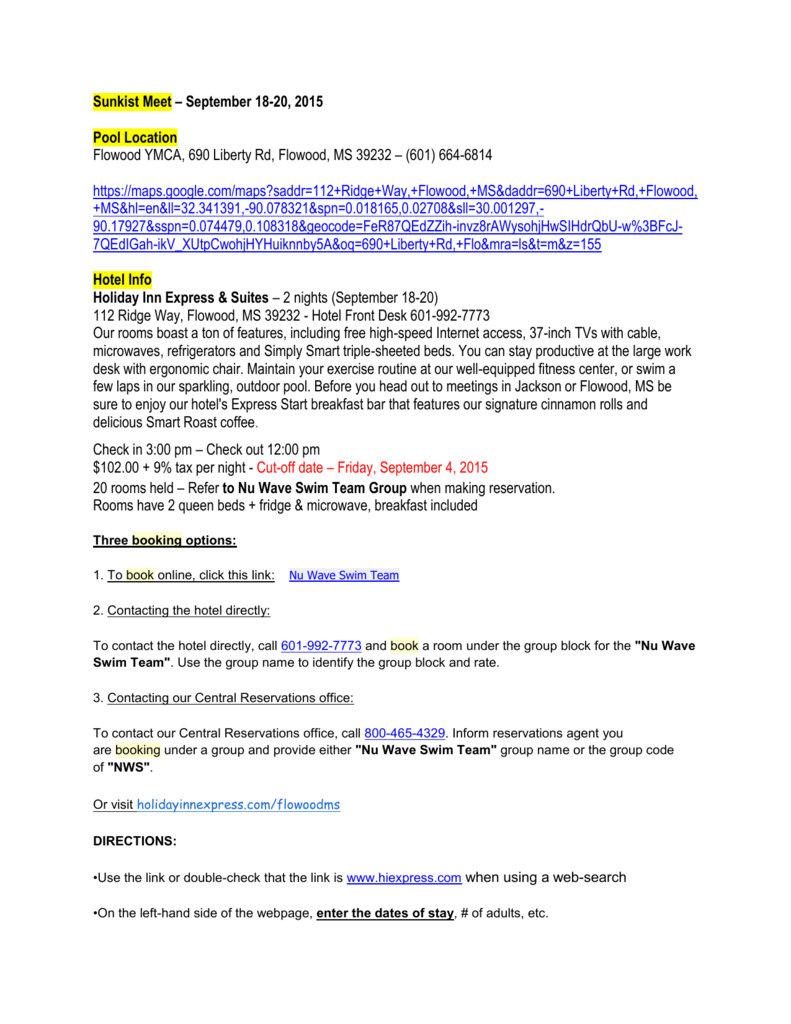 Sunkist Meet – September 18-20, 2015
Pool Location
Flowood YMCA, 690 Liberty Rd, Flowood, MS 39232 – (601) 664-6814
https://maps.google.com/maps?saddr=112+Ridge+Way,+Flowood,+MS&daddr=690+Liberty+Rd,+Flowood,
+MS&hl=en&ll=32.341391,-90.078321&spn=0.018165,0.02708&sll=30.001297,90.17927&sspn=0.074479,0.108318&geocode=FeR87QEdZZih-invz8rAWysohjHwSIHdrQbU-w%3BFcJ7QEdIGah-ikV_XUtpCwohjHYHuiknnby5A&oq=690+Liberty+Rd,+Flo&mra=ls&t=m&z=155
Hotel Info
Holiday Inn Express & Suites – 2 nights (September 18-20)
112 Ridge Way, Flowood, MS 39232 - Hotel Front Desk 601-992-7773
Our rooms boast a ton of features, including free high-speed Internet access, 37-inch TVs with cable,
microwaves, refrigerators and Simply Smart triple-sheeted beds. You can stay productive at the large work
desk with ergonomic chair. Maintain your exercise routine at our well-equipped fitness center, or swim a
few laps in our sparkling, outdoor pool. Before you head out to meetings in Jackson or Flowood, MS be
sure to enjoy our hotel's Express Start breakfast bar that features our signature cinnamon rolls and
delicious Smart Roast coffee.
Check in 3:00 pm – Check out 12:00 pm
$102.00 + 9% tax per night - Cut-off date – Friday, September 4, 2015
20 rooms held – Refer to Nu Wave Swim Team Group when making reservation.
Rooms have 2 queen beds + fridge & microwave, breakfast included
Three booking options:
1. To book online, click this link:
Nu Wave Swim Team
2. Contacting the hotel directly:
To contact the hotel directly, call 601-992-7773 and book a room under the group block for the "Nu Wave
Swim Team". Use the group name to identify the group block and rate.
3. Contacting our Central Reservations office:
To contact our Central Reservations office, call 800-465-4329. Inform reservations agent you
are booking under a group and provide either "Nu Wave Swim Team" group name or the group code
of "NWS".
Or visit holidayinnexpress.com/flowoodms
DIRECTIONS:
•Use the link or double-check that the link is www.hiexpress.com when using a web-search
•On the left-hand side of the webpage, enter the dates of stay, # of adults, etc.
•Directly under the above fields, click "Have a group code"
•They will need to then enter the group code of "NWS" and search
•This will bring up the page for them to book for the group rate
•Special requests will be made by contacting the hotel directly
Please note: Be cautious of general web searches for our hotel, as there are sites such as Expedia and
Hotels.com, that mimic our website and will book a non-refundable reservation.