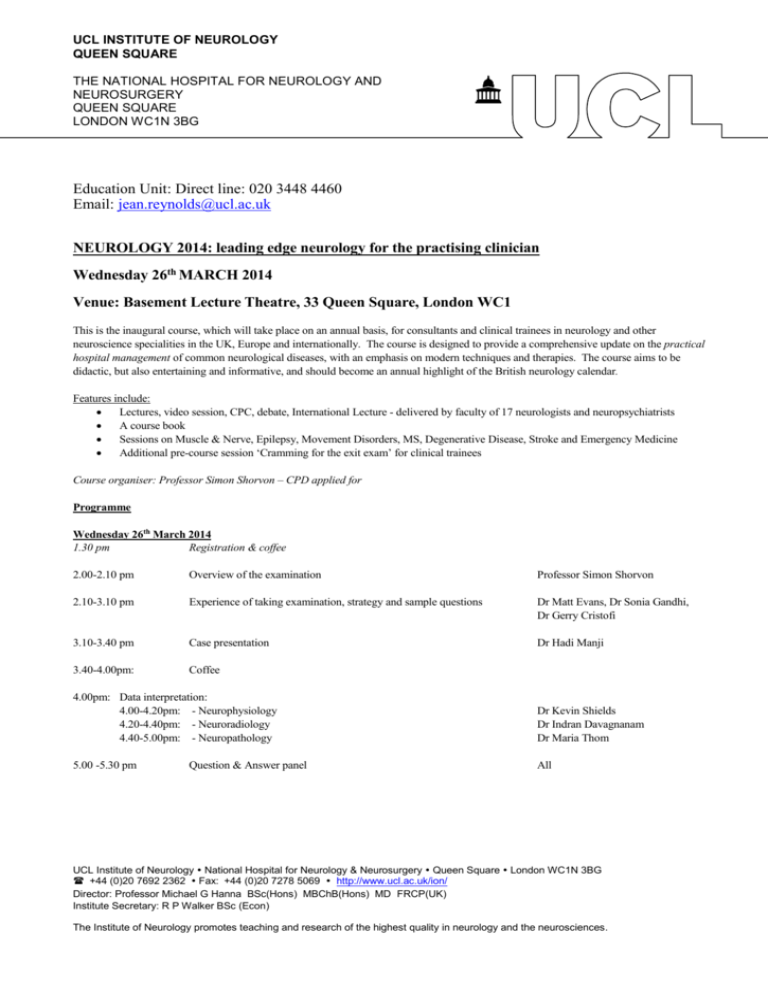 UCL INSTITUTE OF NEUROLOGY
QUEEN SQUARE
THE NATIONAL HOSPITAL FOR NEUROLOGY AND
NEUROSURGERY
QUEEN SQUARE
LONDON WC1N 3BG
Education Unit: Direct line: 020 3448 4460
Email: jean.reynolds@ucl.ac.uk
NEUROLOGY 2014: leading edge neurology for the practising clinician
Wednesday 26th MARCH 2014
Venue: Basement Lecture Theatre, 33 Queen Square, London WC1
This is the inaugural course, which will take place on an annual basis, for consultants and clinical trainees in neurology and other
neuroscience specialities in the UK, Europe and internationally. The course is designed to provide a comprehensive update on the practical
hospital management of common neurological diseases, with an emphasis on modern techniques and therapies. The course aims to be
didactic, but also entertaining and informative, and should become an annual highlight of the British neurology calendar.
Features include:

Lectures, video session, CPC, debate, International Lecture - delivered by faculty of 17 neurologists and neuropsychiatrists

A course book

Sessions on Muscle & Nerve, Epilepsy, Movement Disorders, MS, Degenerative Disease, Stroke and Emergency Medicine

Additional pre-course session 'Cramming for the exit exam' for clinical trainees
Course organiser: Professor Simon Shorvon – CPD applied for
Programme
Wednesday 26th March 2014
1.30 pm
Registration & coffee
2.00-2.10 pm
Overview of the examination
Professor Simon Shorvon
2.10-3.10 pm
Experience of taking examination, strategy and sample questions
Dr Matt Evans, Dr Sonia Gandhi,
Dr Gerry Cristofi
3.10-3.40 pm
Case presentation
Dr Hadi Manji
3.40-4.00pm:
Coffee
4.00pm: Data interpretation:
4.00-4.20pm: - Neurophysiology
4.20-4.40pm: - Neuroradiology
4.40-5.00pm: - Neuropathology
Dr Kevin Shields
Dr Indran Davagnanam
Dr Maria Thom
5.00 -5.30 pm
All
Question & Answer panel
UCL Institute of Neurology  National Hospital for Neurology & Neurosurgery  Queen Square  London WC1N 3BG
 +44 (0)20 7692 2362  Fax: +44 (0)20 7278 5069  http://www.ucl.ac.uk/ion/
Director: Professor Michael G Hanna BSc(Hons) MBChB(Hons) MD FRCP(UK)
Institute Secretary: R P Walker BSc (Econ)
The Institute of Neurology promotes teaching and research of the highest quality in neurology and the neurosciences.