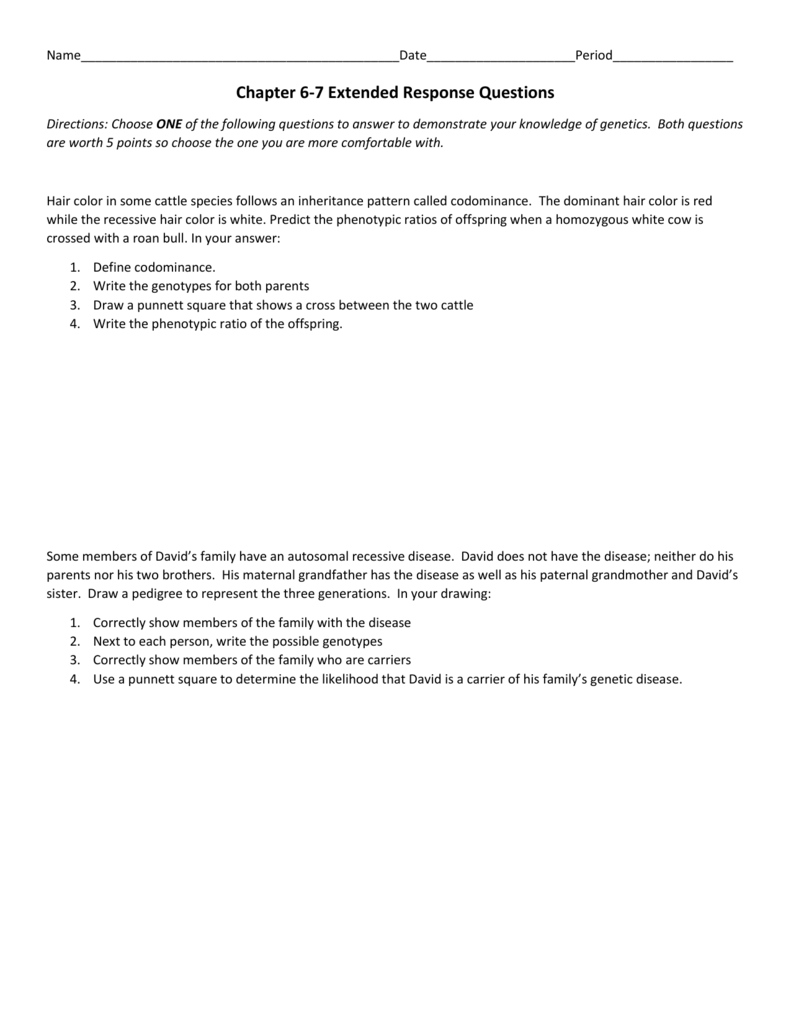 Name_____________________________________________Date_____________________Period_________________
Chapter 6-7 Extended Response Questions
Directions: Choose ONE of the following questions to answer to demonstrate your knowledge of genetics. Both questions
are worth 5 points so choose the one you are more comfortable with.
Hair color in some cattle species follows an inheritance pattern called codominance. The dominant hair color is red
while the recessive hair color is white. Predict the phenotypic ratios of offspring when a homozygous white cow is
crossed with a roan bull. In your answer:
1.
2.
3.
4.
Define codominance.
Write the genotypes for both parents
Draw a punnett square that shows a cross between the two cattle
Write the phenotypic ratio of the offspring.
Some members of David's family have an autosomal recessive disease. David does not have the disease; neither do his
parents nor his two brothers. His maternal grandfather has the disease as well as his paternal grandmother and David's
sister. Draw a pedigree to represent the three generations. In your drawing:
1.
2.
3.
4.
Correctly show members of the family with the disease
Next to each person, write the possible genotypes
Correctly show members of the family who are carriers
Use a punnett square to determine the likelihood that David is a carrier of his family's genetic disease.