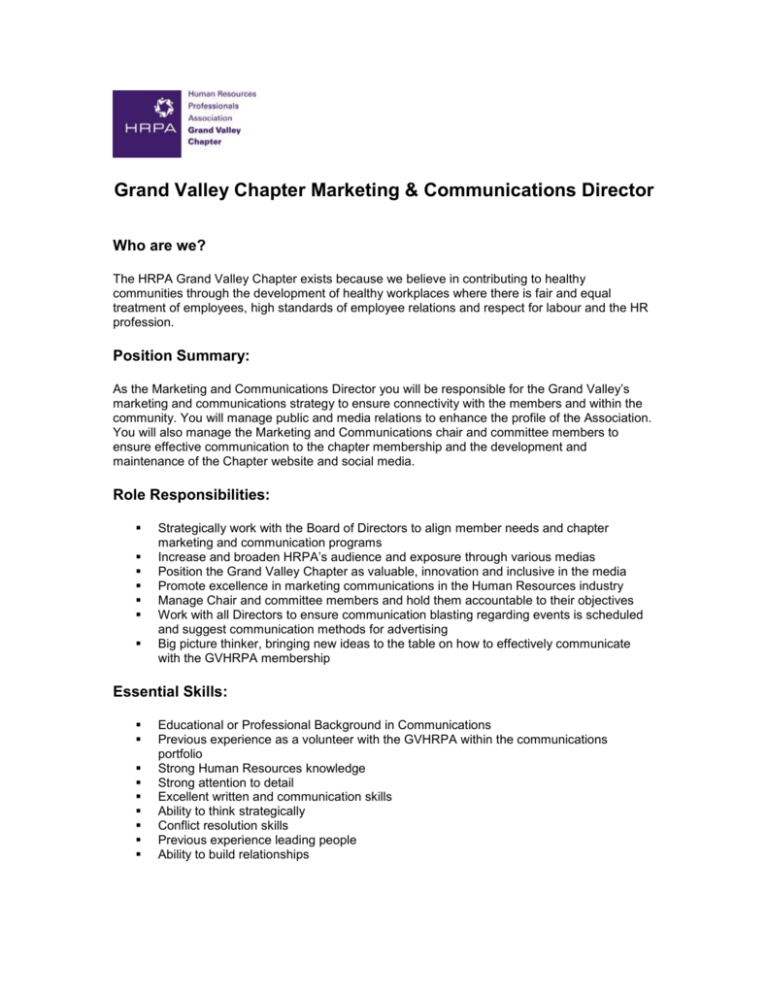 Grand Valley Chapter Marketing & Communications Director
Who are we?
The HRPA Grand Valley Chapter exists because we believe in contributing to healthy
communities through the development of healthy workplaces where there is fair and equal
treatment of employees, high standards of employee relations and respect for labour and the HR
profession.
Position Summary:
As the Marketing and Communications Director you will be responsible for the Grand Valley's
marketing and communications strategy to ensure connectivity with the members and within the
community. You will manage public and media relations to enhance the profile of the Association.
You will also manage the Marketing and Communications chair and committee members to
ensure effective communication to the chapter membership and the development and
maintenance of the Chapter website and social media.
Role Responsibilities:







Strategically work with the Board of Directors to align member needs and chapter
marketing and communication programs
Increase and broaden HRPA's audience and exposure through various medias
Position the Grand Valley Chapter as valuable, innovation and inclusive in the media
Promote excellence in marketing communications in the Human Resources industry
Manage Chair and committee members and hold them accountable to their objectives
Work with all Directors to ensure communication blasting regarding events is scheduled
and suggest communication methods for advertising
Big picture thinker, bringing new ideas to the table on how to effectively communicate
with the GVHRPA membership
Essential Skills:









Educational or Professional Background in Communications
Previous experience as a volunteer with the GVHRPA within the communications
portfolio
Strong Human Resources knowledge
Strong attention to detail
Excellent written and communication skills
Ability to think strategically
Conflict resolution skills
Previous experience leading people
Ability to build relationships
Assets:


CHRP Designation
Previous experience managing a website and social media.
Time Commitment:

15-20 Hours/Month
We are committed to providing accommodations (for people with disabilities.) If you require an
accommodation, we will work with you to support you through your application and during the
interviewing and assessment process.
The Grand Valley Chapter is the local chapter of the Human Resources Professionals Association, with more than
1200 members, covers Kitchener, Waterloo, Cambridge, Brantford and surrounding areas. Our members represent
over 400 local organizations in the manufacturing, high tech, public, and service sectors.
The HRPA Grand Valley Chapter offers local Human Resources executives, managers, generalists, specialists,
and administrators opportunities to network and share information on a broad range of Human Resources
Management topics and the opportunity to enhance their professional knowledge and skills through regular
meeting, seminars, and workshops.