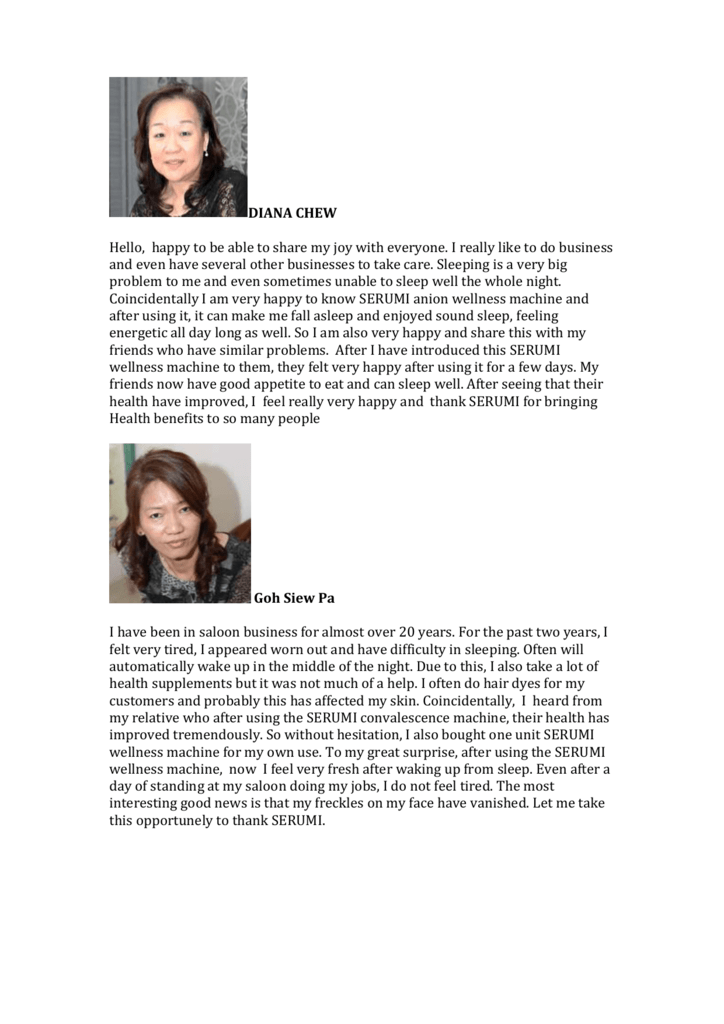 DIANA CHEW
Hello, happy to be able to share my joy with everyone. I really like to do business
and even have several other businesses to take care. Sleeping is a very big
problem to me and even sometimes unable to sleep well the whole night.
Coincidentally I am very happy to know SERUMI anion wellness machine and
after using it, it can make me fall asleep and enjoyed sound sleep, feeling
energetic all day long as well. So I am also very happy and share this with my
friends who have similar problems. After I have introduced this SERUMI
wellness machine to them, they felt very happy after using it for a few days. My
friends now have good appetite to eat and can sleep well. After seeing that their
health have improved, I feel really very happy and thank SERUMI for bringing
Health benefits to so many people
Goh Siew Pa
I have been in saloon business for almost over 20 years. For the past two years, I
felt very tired, I appeared worn out and have difficulty in sleeping. Often will
automatically wake up in the middle of the night. Due to this, I also take a lot of
health supplements but it was not much of a help. I often do hair dyes for my
customers and probably this has affected my skin. Coincidentally, I heard from
my relative who after using the SERUMI convalescence machine, their health has
improved tremendously. So without hesitation, I also bought one unit SERUMI
wellness machine for my own use. To my great surprise, after using the SERUMI
wellness machine, now I feel very fresh after waking up from sleep. Even after a
day of standing at my saloon doing my jobs, I do not feel tired. The most
interesting good news is that my freckles on my face have vanished. Let me take
this opportunely to thank SERUMI.
EDWIN'S SON
I am 11 years old, studying in Pei Hua Primary School. It is my nightmare for the
past six months because my nose will often suddenly bleeds at night when I
sleep, this make me feel uneasy and cannot sleep well. My father took me to see a
doctor, who gave me a lot of drugs and everytime when I take the medicine I
have difficulty in swallowing those pills. Worst of all , I have some medicine to
spray inside of my nose and this make me feel very uncomfortable and because
of that I everyday feel very sleepy in class and don't have appetite to eat.
Moreover , there is not much improvement after taking so much of drugs. Finally,
my father bought me a unit of SERUMI negative ion wellness machine and put
beside my bed around two to three feet away from my bed to breathe in the
negative ion when I go to sleep at night. To my very surprise, after using the
SERUMI machine for the past six months, the bleeding has stopped in the middle
of night. Moreover, in the school, I feel very energetic, active and is able focus in
my study, and I am very thankful to my daddy who bought me such a remarkable
machine for me. Thank you daddy, I love you.
LAI SENG
During my younger days, I worked very hard to earn money and because of that I
did not take good care of my health. After my retirement, I feel my body have a
lot of problems, almost everyday suffering from sleep disorders and for almost
two years. Thanks to a good friend who loaned me a unit SERUMI wellness
machine and after using the machine for a day, I feel very comfortable and soon
fell asleep. Now I always have a good sleep and don't have the problem of sleep
disorders. With SERUMI wellness machine, my life began to change. Do not
worry about sleep disorders and I am getting more energetic, high spirit, good
appetite and getting healthier and fit. I really appreciate and thanks to my good
friend who shared with me this wonderful news on SERUMI. Thank you!
Mr Yap
A few months ago, I feel that my whole body is very uncomfortable due to
breathing difficulty. I went to see a doctor who discovered that my intestine has
one 5cm large tumor and as a result I could not pass motion normally. The
doctor advised me to go for an immediate operation to remove the tumor. Since
that day, I was very worry as my children are still very young. On the advice of
the doctor I have no other option and went for the surgery. After the operation I
went home to recuperate. The doctor also gave me a lot of chemo medications
which have affected my appetite. I could not sleep well and I felt weaker . My
friend recommended me the SERUMI ion wellness machine. Since there is no
other option I bought one unit of this SERUMI wellness machine. After I having
used this SERUMI wellness machine, my appetite had improve dramatically, able
to take health supplement . The most fantastic news is that a month later, the
doctor checked my tumor cells did not spread to other part of my body and I
remain fine. Since then I can now go about helping my wife in her business in the
shop.
DOLLY TAN
I am Dolly Tan from Bukit Jalil, in the education business and due to my busy
business schedule I appeared to suffer sleeping disorders , frequent urination ,
pale complexion and become easily irritated that affected my mood .
On August 13 I came into contact with a friend who recommended the serumi
wellness machine to me and after using it for 8 days my sleep has improved and
is able to sleep well . Amazingly, my health and mood have improved by leaps
and bounds. My 15-year old child who has sensitive nose, breathing difficulty
etc , has benefitted from this machine too. His health has been restored and is
healthy now.
I have full confidence in SERUMI Wellness machines and will place 10 units in
my Fitness Centre for my customers to use and will not hesitate to introduce to
whoever may need it.
YONGLAM 61 -year-old KinraraPuchong
In 2001 was torn apart due to the resencal, was really incredibly hard to accept .
By practicing qigong and breathing negative ions to reduce the pain but in 2008 I
suffered a stroke & hemiplegia . Though I received treatment yet continued with
my Qigong . Three years ago my friend insisted that I try SERUMI air vitamin
wellness machine and after using it, I could asleep well and my appetite had
improved . Since then, health is gradually restored , easier to sleep. The latest
blood test report that shows my health is very stable , cancer index reached a
safe level. I also introduced this to many cancer patients whose health has
improved too. My family members have diabetes which is hereditary - my
brothers and sisters also died due to acute diabetes . I'm glad I did not suffer
from this chronic disease. I believe that the negative ion machine helps to
prevent this. I thank SERUMI wellness machine which has made me strong and
healthy . Thank you.
62 -year-old Huang Ling ChauNegeri Sembilan
I suffered acute asthma for the past ten years. The medical examination revealed
the left lung sclerosis signs have begun to appear , the health index has been
declining. Often experience breathing diffculty and often have to depend on
oxygen machine. Too weak to perform simple households chores e.g. washing
rice, feeding chicken etc, etc .I have a filial son who bought various health
supplements for me. My my son gave me a SERUMI ion wellness machine and
soon the asthmatic situation had greatly improved and getting stronger day by
day. I am really very happy, thanks to my son. I was able to do housework , and
also be able to feed the chickens in the farm .The entire family is very delighted
and happy. Occasionally, I could cook delicious meals for the family to eat. Thank
you SERUMI !