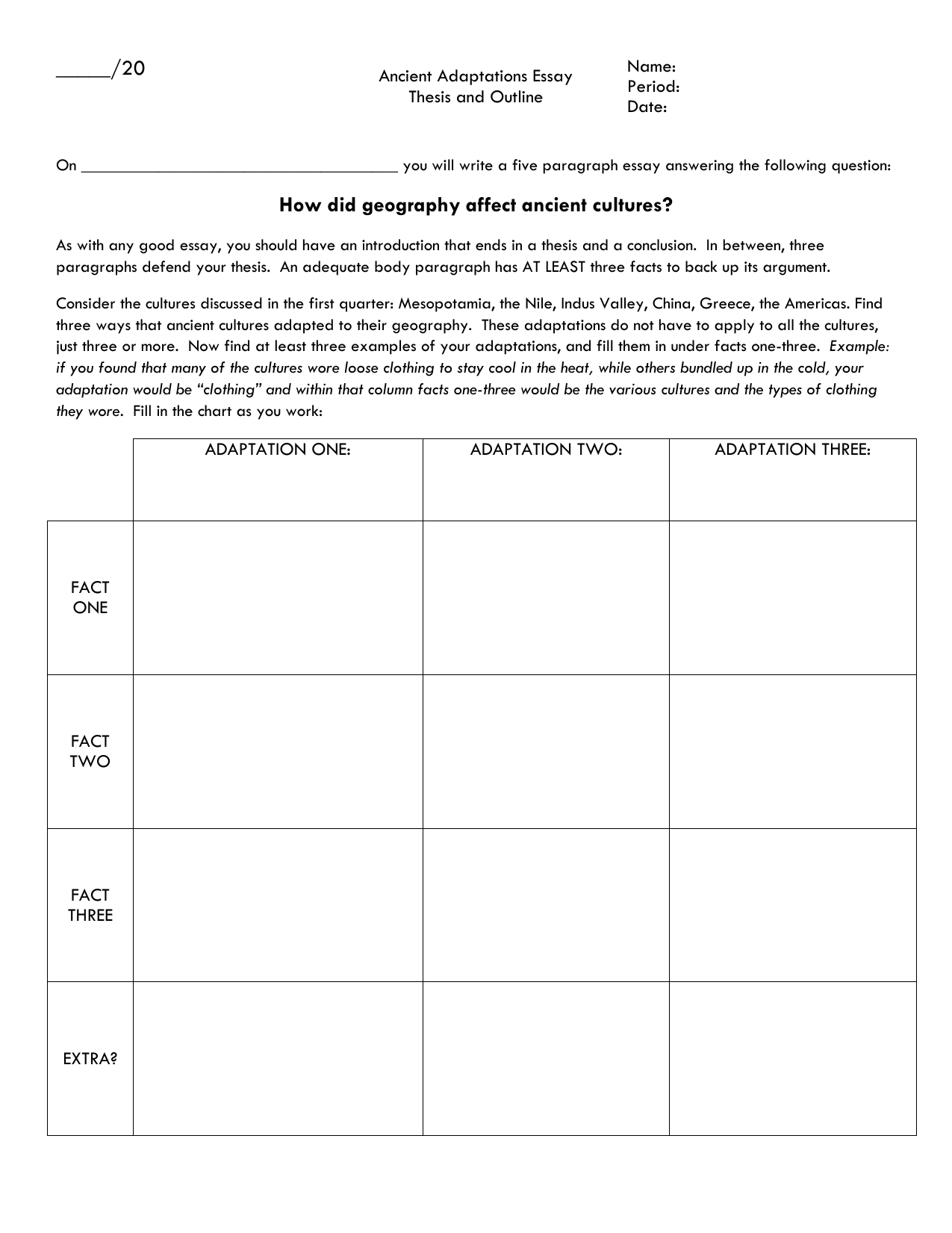 _____/20
Ancient Adaptations Essay
Thesis and Outline
Name:
Period:
Date:
On _____________________________________ you will write a five paragraph essay answering the following question:
How did geography affect ancient cultures?
As with any good essay, you should have an introduction that ends in a thesis and a conclusion. In between, three
paragraphs defend your thesis. An adequate body paragraph has AT LEAST three facts to back up its argument.
Consider the cultures discussed in the first quarter: Mesopotamia, the Nile, Indus Valley, China, Greece, the Americas. Find
three ways that ancient cultures adapted to their geography. These adaptations do not have to apply to all the cultures,
just three or more. Now find at least three examples of your adaptations, and fill them in under facts one-three. Example:
if you found that many of the cultures wore loose clothing to stay cool in the heat, while others bundled up in the cold, your
adaptation would be "clothing" and within that column facts one-three would be the various cultures and the types of clothing
they wore. Fill in the chart as you work:
ADAPTATION ONE:
FACT
ONE
FACT
TWO
FACT
THREE
EXTRA?
ADAPTATION TWO:
ADAPTATION THREE:
THESIS
Now that you have three (or more) facts for each location, you have enough meat for your body paragraphs. You also
have an outline for your paper! Your next task is to take all the information in the chart, and distill it into a thesis
statement. This thesis will tell the reader what you are about to argue, and the facts from your chart will defend said
argument. The thesis should outline the paper in the same order you will write it.
INTRODUCTION
The last thing you need to consider before you start writing is how are you going to begin the paper? Attention getters,
fun facts, or interesting quotes are great ways to start. A classic (though totally unoriginal) way to start is with a definition.
Consider how you want to start your paper (maybe do a little bit of research) and write your opening lines below. An
introduction should go from broad to narrow – with the most specific statement being the thesis at the end. Write your
opening lines below – understanding that your thesis will be placed at the end when you write the paper.
This paper will be stapled to the front of your essay.