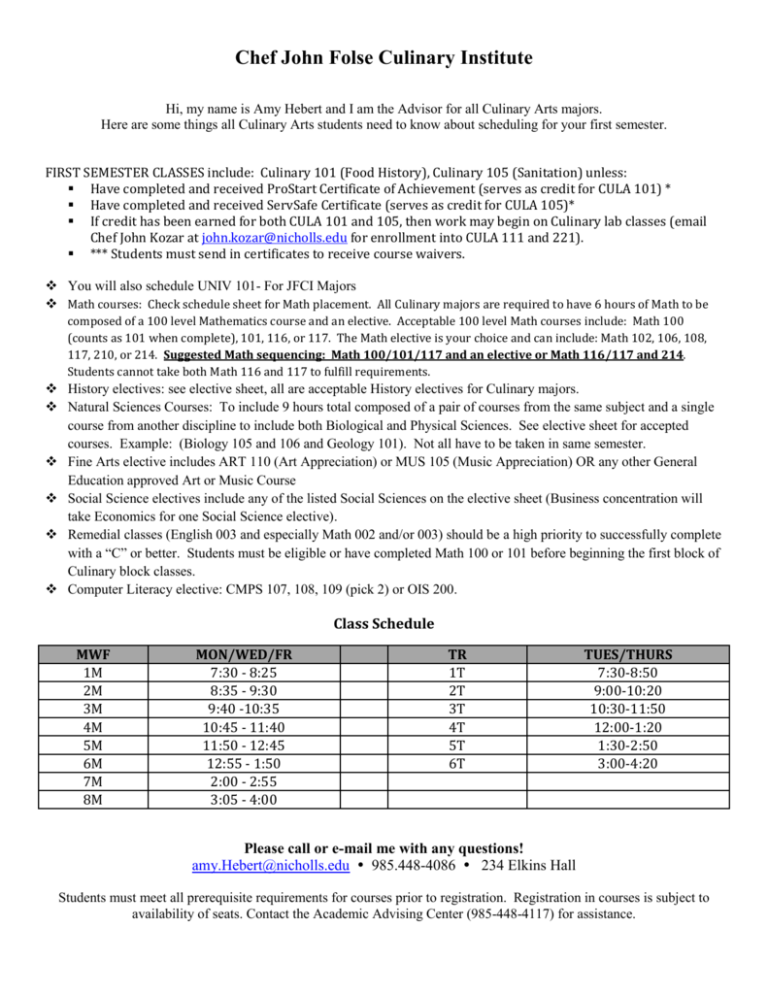 Chef John Folse Culinary Institute
Hi, my name is Amy Hebert and I am the Advisor for all Culinary Arts majors.
Here are some things all Culinary Arts students need to know about scheduling for your first semester.
FIRST SEMESTER CLASSES include: Culinary 101 (Food History), Culinary 105 (Sanitation) unless:
 Have completed and received ProStart Certificate of Achievement (serves as credit for CULA 101) *
 Have completed and received ServSafe Certificate (serves as credit for CULA 105)*
 If credit has been earned for both CULA 101 and 105, then work may begin on Culinary lab classes (email
Chef John Kozar at john.kozar@nicholls.edu for enrollment into CULA 111 and 221).
 *** Students must send in certificates to receive course waivers.
 You will also schedule UNIV 101- For JFCI Majors
 Math courses: Check schedule sheet for Math placement. All Culinary majors are required to have 6 hours of Math to be
composed of a 100 level Mathematics course and an elective. Acceptable 100 level Math courses include: Math 100
(counts as 101 when complete), 101, 116, or 117. The Math elective is your choice and can include: Math 102, 106, 108,
117, 210, or 214. Suggested Math sequencing: Math 100/101/117 and an elective or Math 116/117 and 214.
Students cannot take both Math 116 and 117 to fulfill requirements.
 History electives: see elective sheet, all are acceptable History electives for Culinary majors.
 Natural Sciences Courses: To include 9 hours total composed of a pair of courses from the same subject and a single
course from another discipline to include both Biological and Physical Sciences. See elective sheet for accepted
courses. Example: (Biology 105 and 106 and Geology 101). Not all have to be taken in same semester.
 Fine Arts elective includes ART 110 (Art Appreciation) or MUS 105 (Music Appreciation) OR any other General
Education approved Art or Music Course
 Social Science electives include any of the listed Social Sciences on the elective sheet (Business concentration will
take Economics for one Social Science elective).
 Remedial classes (English 003 and especially Math 002 and/or 003) should be a high priority to successfully complete
with a "C" or better. Students must be eligible or have completed Math 100 or 101 before beginning the first block of
Culinary block classes.
 Computer Literacy elective: CMPS 107, 108, 109 (pick 2) or OIS 200.
Class Schedule
MWF
1M
2M
3M
4M
5M
6M
7M
8M
MON/WED/FR
7:30 - 8:25
8:35 - 9:30
9:40 -10:35
10:45 - 11:40
11:50 - 12:45
12:55 - 1:50
2:00 - 2:55
3:05 - 4:00
TR
1T
2T
3T
4T
5T
6T
TUES/THURS
7:30-8:50
9:00-10:20
10:30-11:50
12:00-1:20
1:30-2:50
3:00-4:20
Please call or e-mail me with any questions!
amy.Hebert@nicholls.edu  985.448-4086  234 Elkins Hall
Students must meet all prerequisite requirements for courses prior to registration. Registration in courses is subject to
availability of seats. Contact the Academic Advising Center (985-448-4117) for assistance.