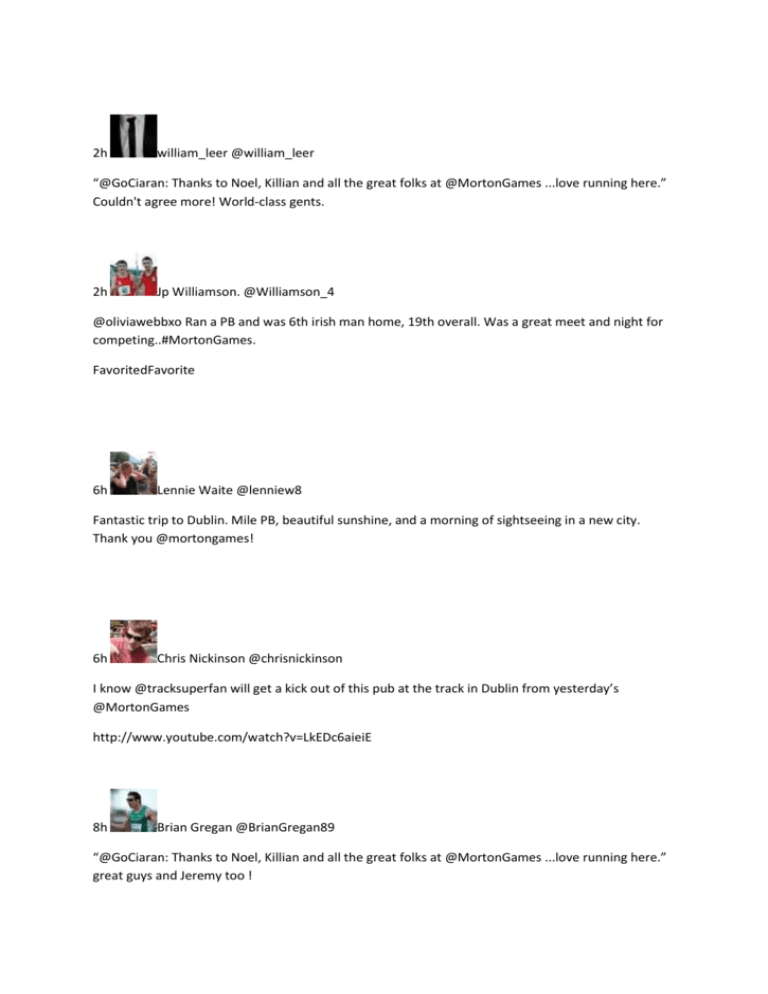 2h
william_leer @william_leer
"@GoCiaran: Thanks to Noel, Killian and all the great folks at @MortonGames ...love running here."
Couldn't agree more! World-class gents.
2h
Jp Williamson. @Williamson_4
@oliviawebbxo Ran a PB and was 6th irish man home, 19th overall. Was a great meet and night for
competing..#MortonGames.
FavoritedFavorite
6h
Lennie Waite @lenniew8
Fantastic trip to Dublin. Mile PB, beautiful sunshine, and a morning of sightseeing in a new city.
Thank you @mortongames!
6h
Chris Nickinson @chrisnickinson
I know @tracksuperfan will get a kick out of this pub at the track in Dublin from yesterday's
@MortonGames
http://www.youtube.com/watch?v=LkEDc6aieiE
8h
Brian Gregan @BrianGregan89
"@GoCiaran: Thanks to Noel, Killian and all the great folks at @MortonGames ...love running here."
great guys and Jeremy too !
8h
Graham Bray @grahambra
Great to see some awesome athletes/olympians yesterday @MortonGames, great meeting.
@BrianGregan89 had some 400, fantastic win #rio2016
8h
Ciarán ó Lionáird @GoCiaran
Thanks to Noel, Killian and all the great folks at @MortonGames ...love running here.
9h
Katie Follett Mackey @KatiefMackey
Thank you to @MortonGames for a wonderful first time in Ireland and a great meet!! Very fun!!
Now on to Uppsala, Sweden for a 3k.
9h
Melissa Bishop @BishopMelissa
@MortonGames Wonderful meet and the most friendly people! Thankyou! #iwillbeback
9h
Brian Gregan @BrianGregan89
@MortonGames amazing meeting ANSI h atmosphere ! Pencil that one in next year !
10h
Jordan Bransberg @JordanBransberg
@MortonGames thanks for a great 800m race and a amazing meeting you will be sure to see me
next year!!
10h
Marie Crowe @mariecrowe
"@btmurphy: @MortonGames Last night was the best meet I've
Mark Christie @christie3k
What a super evening of athletics last night @MortonGames Good crowd, great weather and a great
atmosphere. #irelandsbestmeet
11h
Colin Griffin @colingriffin
Looked like a great @MortonGames meet last night from I heard. Big crowds, atmosphere and good
performances. Thats the way it should be
12h
Stephen Keane @stekeano
Great night of athletics @MortonGames last night. One of the highlights was @william_leer 's
moustache!
13h
Brian Murphy @btmurphy
@MortonGames Last night was the best meet I've raced in Ireland. Really enjoyed it and Santry
never looked better
http://instagr.am/p/NiM7mSAdCe/
14h
Philipp Pflieger @PhilippPflieger
Thanks to all @ClonliffeHAC who made that happen @MortonGames . Everyone was so kind and
welcoming. Loved the familiar atmosphere!
14h
Philipp Pflieger @PhilippPflieger
Good job @MortonGames for that night of athletics. I'm just sorry that I couldn't go faster than my
4th place 7:58min in that 3k yesterday.
16h
Pat Price @WritingAboutRun
"I thought I got that, the moustache won it for me!" @William_Leer on winning the @MortonGames
Mile in a photo finish http://www.irishexaminer.com/breakingnews/sport/a-dramatic-morton-miledenies-torrance-a-trophy-560632.html
19h
Conor Bradley @ConorBradley_
What an event @MortonGames put on tonight! A big thank you to everyone involved in making it
happen!!
19h
Will Downing @WillDowningComm
Very enjoyable night working at the @MortonGames - highlights being spliced together now!
20h
Jp Williamson. @Williamson_4
Loved the @MortonGames , terrific meet and weather conditions, the races were brilliant. Best
meet of the season!!! #Unreal
20h
Amy Foster @AmyFaster
Thanks to @MortonGames for a great night of athletics. Delighted to be a part of it & retain my title.
A good crowd out supporting too
21h
Liam Harbison @LiamHarbison
Really enjoyed @MortonGames tonight. Great job by organising committee. Great see Paralympians
in action.
21h
NickSymmonds @NickSymmonds
A HUGE thank you to the @MortonGames for giving me the opportunity to run a PB in the 400m. A
very classy meeting. #IRElove
21h
Gabriele Anderson @GabrieleAnde
No 800 PR for me tonight but you can't complain when you get a win! Lovely night in Dublin, thank
you for having me @MortonGames!
22h
Shalaya Kipp @ShalayaKipp
@MortonGames men's mile race beautiful evening http://pic.twitter.com/CS6BsnVd
22h
Greg kenny @Gregkenny
@MortonGames Cracking night of athletics da irish boys done great in the mile
http://pic.twitter.com/FLLVigQS
22h
EVENTSinFingal @EVENTSinFingal
"@MortonGames: Time for a Guinness" you deserve it some of the best tweets from a sporting
event I've seen,
22h
Sinead Hartnett @shin_hart
@BrianGregan89 what a place and night for your pb. Well done. Clonliffe golden boy
@MortonGames
22h
Tulsen Tollett @TulsenTollett
Great night @MortonGames with @WillDowningComm and crew. Even Enda Kenny and Eamonn
Coughlan thought so! #funtimes http://pic.twitter.com/satErEOH
22h
RunningAcrossBorders @RnnngAcrssBrdrs
Big thanks to the @MortonGames for a fantastic meet tonight. Quality fields, new records and pb's
abound! Can't wait for next year!
22h
Karen Locke @klocke1
Paul Walsh @MortonGames Mile finish photo @David_Torrence @RyanGregson25
http://twitpic.com/abpw7p
22h
Darragh Greene @onestep800
@MortonGames athlete of the meet has to be @BrianGregan89 for total domination of the men's
400m #seriousrunning
22h
Jason Harvey @jason_66
On the way home after a really good race @MortonGames well organised, would love more of those
races in Ireland next year! #Sucessful
22h
Hazel Murphy @hazymurphy
Crackin meet @MortonGames tonight! Great to see so many world class athletes in Santry!
22h
Paul Walsh @PaulWalshPhoto
@MortonGames Does this help with the result of the Mile?? http://pic.twitter.com/RTOkmYPv
22h
Dave Hooper @AthleticDJ
What a meet! Well done everyone @MortonGames
22h
Ahearne @bohemians7
@MortonGames Congratulations to all concerned on a superbs nights entertainment.Top class
racing.
23h
Paul Hession @phession
That was a great night of athletics at the @MortonGames. Serious run by @BrianGregan89.
23h
Ms. Trackspeed @MsTrackspeed
Great meeting @MortonGames. Perfect conditions and bang on schedule.
23h
Zane Breakiron @DJ_ZBreazy
@MortonGames appreciate it!
23h
Gavin Kates @GavinKates
RT @MortonGames: 7:44.40 for Ben True, destroys Coghlan's record." Currently looking for a field of
high grass to roll naked in #GiveMeLyme
23h
Marie Crowe @mariecrowe
@shootNbreeze @mortongames ya just over now, great night
23h
Catherine McManus @Catweets92
On the plus side, @MortonGames was buzzin! #greatnight
23h
NYAC Track and Field @NYACTrack_Field
Nicole Schappert concludes her European tour with a win at the @MortonGames Mile. She returns
home with new 800m, 1500m, and Mile PB's.
23h
Joe Townsend @JoesterT
BUAC boyz at @MortonGames Contrary to @hazza_23 me, @Corny_14 & @WillEarlGray think 3k is
SICK #Guinnessmakesyoustrong
http://pic.twitter.com/3kBmrgRW
23h
Marie Crowe @mariecrowe
Excellent night at the @MortonGames great atmosphere and only €5 in. PB for Brian Gregan and
brill finish to the mile #quality
23h
Derek Veilleux @MaineTrackXC
Congrats to @bentrue for setting a meet record 7:44.4 in the 3k @mortongames all-time best for a
Maine runner old record 7:45.72 Matt lane
23h
Track Thoughts @TrackThoughts
@MortonGames Thanks for the tweets today!
23h
David Harper @harperdavid95
@MortonGames Well done, Great coverage! It was the next best thing to being there, wish I was!!!
23h
Una Morrison @surfguna
What a great evening @mortongames, chatted to 2 Olympians and got the inside track for
#London2012 #teamireland #exciting
25 Jul
Eamonn Kelly @EamoKelly
Would have liked to have been at the @MortonGames. Not likely to see such a field of quality
athletes in Ireland for another while
25 Jul
Run and Jump @RunandJumpBlog
An exciting Morton Mile at @MortonGames http://pic.twitter.com/B63Qt7nz
25 Jul
Kevin Liao @RunLiao
There will be a run-off to determine the @MortonGames mile winner. First one to the pub gets the
trophy. #fakemortongamestweets
25 Jul
Morton Games @MortonGames
@irishtrackfan impossible to know, it's was like Grafton St on a Saturday afternoon. Still cant call the
winner.
25 Jul
Morton Games @MortonGames
Leer is coming....is it too late. Oohhhhhh, can't call that, Torrence and Leer, who knows, 3:56.
25 Jul
Morton Games @MortonGames
Torrance goes at the bell. Kisorio lead at 200, it's a but up with 100 to go, Torrance pushes on, they
are 4 abreast with 50 to go.
25 Jul
Morton Games @MortonGames
Kisorio makes move at 600 to go. Coming to bell.
25 Jul
Morton Games @MortonGames
Wednesday night lights, the lights are on. Chesser thru in 1:58.
25 Jul
Morton Games @MortonGames
57, Gregson leads after pace, Chesser getting stuck in.
25 Jul
Morton Games @MortonGames
@NickSymmonds what a gent, has spent most of his time since his race signing autographs for local
kids.
25 Jul
Andrew Johnson @additivedesign
Well done to @CarolynPlateau for running what an awesome time at @mortongames this evening.
Sorry I wasn't there! =[
25 Jul
Paul Hughes @pabloeldiablo77
Up home in the north for a few days. Kinda wish I could have gone to the @MortonGames though!