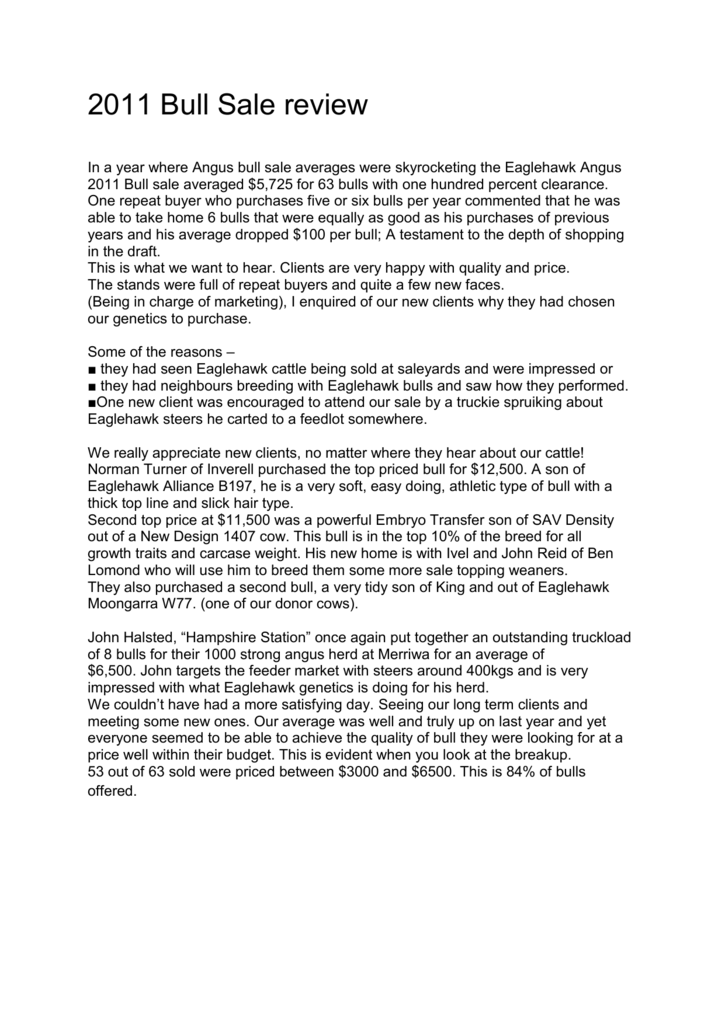 2011 Bull Sale review
In a year where Angus bull sale averages were skyrocketing the Eaglehawk Angus
2011 Bull sale averaged $5,725 for 63 bulls with one hundred percent clearance.
One repeat buyer who purchases five or six bulls per year commented that he was
able to take home 6 bulls that were equally as good as his purchases of previous
years and his average dropped $100 per bull; A testament to the depth of shopping
in the draft.
This is what we want to hear. Clients are very happy with quality and price.
The stands were full of repeat buyers and quite a few new faces.
(Being in charge of marketing), I enquired of our new clients why they had chosen
our genetics to purchase.
Some of the reasons –
■ they had seen Eaglehawk cattle being sold at saleyards and were impressed or
■ they had neighbours breeding with Eaglehawk bulls and saw how they performed.
■One new client was encouraged to attend our sale by a truckie spruiking about
Eaglehawk steers he carted to a feedlot somewhere.
We really appreciate new clients, no matter where they hear about our cattle!
Norman Turner of Inverell purchased the top priced bull for $12,500. A son of
Eaglehawk Alliance B197, he is a very soft, easy doing, athletic type of bull with a
thick top line and slick hair type.
Second top price at $11,500 was a powerful Embryo Transfer son of SAV Density
out of a New Design 1407 cow. This bull is in the top 10% of the breed for all
growth traits and carcase weight. His new home is with Ivel and John Reid of Ben
Lomond who will use him to breed them some more sale topping weaners.
They also purchased a second bull, a very tidy son of King and out of Eaglehawk
Moongarra W77. (one of our donor cows).
John Halsted, "Hampshire Station" once again put together an outstanding truckload
of 8 bulls for their 1000 strong angus herd at Merriwa for an average of
$6,500. John targets the feeder market with steers around 400kgs and is very
impressed with what Eaglehawk genetics is doing for his herd.
We couldn't have had a more satisfying day. Seeing our long term clients and
meeting some new ones. Our average was well and truly up on last year and yet
everyone seemed to be able to achieve the quality of bull they were looking for at a
price well within their budget. This is evident when you look at the breakup.
53 out of 63 sold were priced between $3000 and $6500. This is 84% of bulls
offered.