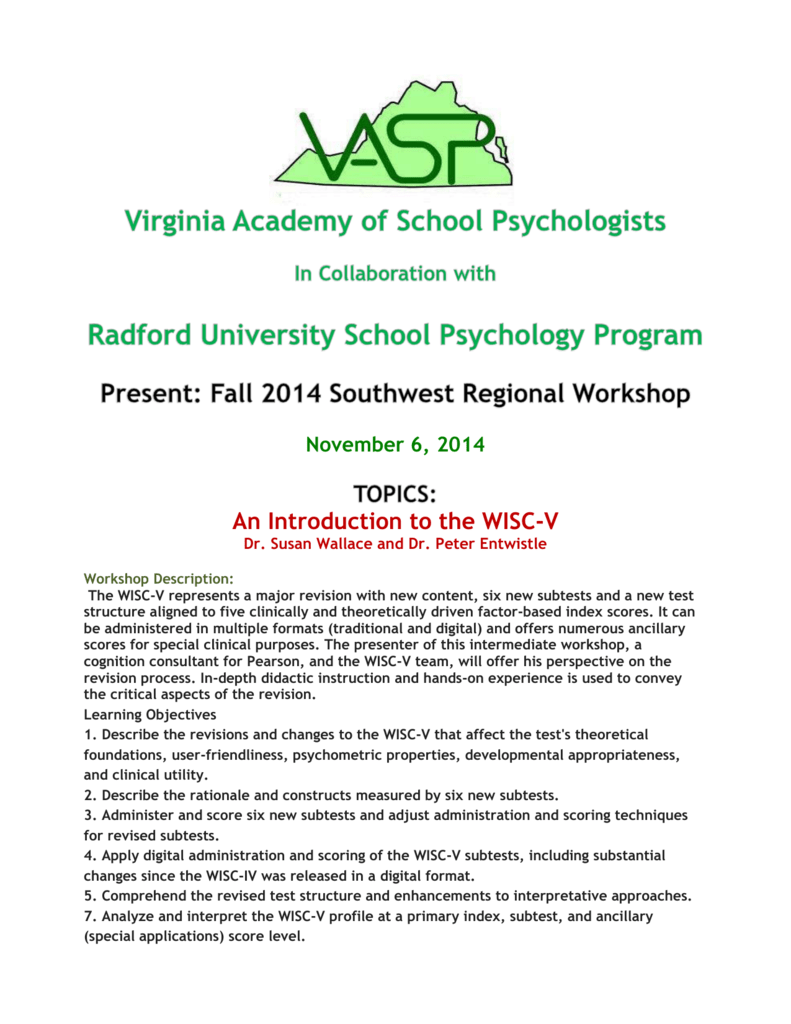 November 6, 2014
An Introduction to the WISC-V
Dr. Susan Wallace and Dr. Peter Entwistle
Workshop Description:
The WISC-V represents a major revision with new content, six new subtests and a new test
structure aligned to five clinically and theoretically driven factor-based index scores. It can
be administered in multiple formats (traditional and digital) and offers numerous ancillary
scores for special clinical purposes. The presenter of this intermediate workshop, a
cognition consultant for Pearson, and the WISC-V team, will offer his perspective on the
revision process. In-depth didactic instruction and hands-on experience is used to convey
the critical aspects of the revision.
Learning Objectives
1. Describe the revisions and changes to the WISC-V that affect the test's theoretical
foundations, user-friendliness, psychometric properties, developmental appropriateness,
and clinical utility.
2. Describe the rationale and constructs measured by six new subtests.
3. Administer and score six new subtests and adjust administration and scoring techniques
for revised subtests.
4. Apply digital administration and scoring of the WISC-V subtests, including substantial
changes since the WISC-IV was released in a digital format.
5. Comprehend the revised test structure and enhancements to interpretative approaches.
7. Analyze and interpret the WISC-V profile at a primary index, subtest, and ancillary
(special applications) score level.
About the Presenters:
Susan Brown Wallace, Ph.D. is currently an Assessment Consultant with Pearson after serving
15 years as a School Psychologist in Fairfax County Public Schools. Dr. Wallace joined the
Pearson family in May of 2006 after having worked as a consultant for American Guidance
Services (now a part of Pearson Clinical Assessments) on the standardization of the KABC-II,
KTEA-II, Vineland, DAS-II, and other instruments while in Fairfax County. Much of that work
involved ensuring that diverse groups were appropriately included in the standardization
sample of these instruments. She now consults with schools in Virginia, Maryland and
Washington, DC. She currently serves as a Diversity Advocate for Pearson.
Dr. Wallace holds degrees from Howard University, Boston University, and the University of
Pittsburgh. She currently holds clinical psychology licensure in Virginia, Pennsylvania and
North Carolina. She is a member of the American Psychological Association, National
Association of School Psychologists, the International School Psychology Association, and of
the Network for Multicultural Training in Psychology.
Her special interests are assessment of preschool children, culturally sensitive assessment
and treatment of ethnic and language minority children, effects of chronic illness on
children, childhood anxiety disorders, and the training of psychologists. She formerly taught
at Hampton University and Wake Forest University. Dr. Wallace served as a Clinical Child
Psychologist at Children's Hospital of Pittsburgh and as Supervising Psychologist at the Child
Guidance Center of Winston-Salem, NC.
Peter C. Entwistle Ph.D.
Peter is a Cognition Consultant for Pearson. He has worked for Pearson since July 2008, and
prior to that for The Psychological Corporation from 2002-2008.
Previously, he was at the University of Massachusetts-Boston for 10 years as Program
Director, and full-time faculty in the Department of Counseling & School Psychology. For 6
years he was Pediatric Neuropsychologist at Braintree Hospital. Prior to that he was Chief of
Child Psychology at Pembroke Hospital for 6 years and taught at Northeastern University in
the Graduate Program of Counseling Psychology, Special Education & Rehabilitation.
Earlier, he was the system-wide School Psychologist for 10 years in the Scituate Public
Schools. He received a Bachelor's degree in Social Sciences (Hons.) from London University,
a Master's degree in Education from Harvard, and a Ph.D. in Counseling Psychology from
Boston College in 1983. He is certified and licensed as a school psychologist and was first
licensed in the Commonwealth of Massachusetts in 1987, as a health service provider in
Psychology. He has maintained his license for over 25 years. He has had an independent
private practice for over 15 years.
Is it working? Methods for Evaluating Behavioral
Interventions
Dr. Eric Mesmer, Radford University
Workshop Description:Given the need to evaluate the effectiveness of interventions,
school psychologists need workable methods that assist in this process. The purpose
of this presentation will be to expose attendees to methods intended to assess and
evaluate behavioral outcomes, teacher perceptions, and intervention integrity.
About the Presenter: Eric M. Mesmer, Ph.D., NCSP – is currently an associate professor of
psychology and the coordinator of the school psychology program at Radford University. His research
interests include the application of behavioral generalization principles to the academic responding of
students with behavioral and learning difficulties, school psychologists' involvement in Response to
Intervention, and teacher interpretation and use of progress monitoring data. He has authored or coauthored several articles addressing intervention generalization and was a recent co-author of the
book Reading Intervention in the Primary Grades: A Common Sense Guide to RTI. Dr. Mesmer
previously served as the Co-Principal Investigator of Teach for Achievement (TFA) a state funded
teacher training grant providing professional development in data-driven reading assessment and
intervention practices. He has additionally collaborated with several local school districts to assist in
planning and implementing RTI efforts. In addition to working as a practicing school psychologist for
several years, Dr. Mesmer previously worked on a federally funded technical assistance project that
provided support to school districts in implementing evidence-based programs to students with
disabilities.
Best practices with psychological report writing
Dr. Jennifer Mabry, Radford University
Workshop Description: The purpose of this presentation is to review best practices
with psychological assessment report writing. As child advocates, school
psychologists are tasked with effectively communicating with all audience members.
The attendees will be provided with sample report templates, data tables and
recommendations.
About the Presenter: Dr. Jennifer Mabry is an Associate Professor in the Psychology
Department at Radford University (RU). She also serves RU as the Director of the Center for
Assessment and Psychological Services (CAPS). She completed Masters/Ed.S. level training in
a school psychology program at UNC-CH. She worked for over 10 years as a school
psychologist in NC and VA before enrolling in a school psychology doctoral program at UVA.
While at UVA she earned a specialization in pediatric neuropsychology, completing
coursework, practicum, internship, dissertation and post-doctoral training with Dr. Peter
Patrick at UVA Children's Hospital and Kluge Children's Rehabilitation Center. In addition to
writing well over 1,000 reports in her career, Dr. Mabry teaches aspects of report writing in
graduate psychology classes such as Child Neuropsychological Assessment and Intervention,
and provides clinical supervision of report writing with graduate students serving as CAPS
clinicians.
8:30 Registration and Networking
9:00 Is it working? Methods for Evaluating Behavioral Interventions
10:00 Break
10:15 Best practices with psychological report writing
11:30 Lunch on your own
12:30 An Introduction to the WISC-V (This program will conclude by
3:30pm)
*Refunds will be offered if participants are unable to attend the
workshop.
NOTE: Due to the distance between the parking lot and our event location, Radford
University will be providing a golf cart shuttle service to and from Heth Hall so after
parking in Lot U there will be signs directing you where to wait for the shuttle.
Please complete this form and return to the address below by Monday, November 3, 2014
Please send completed registration form and CHECKS ONLY to:
Christina Gibson, Ed.S.
VASP SW Region Rep.
4782 Pleasant Hill Road
Rocky Mount, VA 24151
NO PURCHASE ORDERS PLEASE
Make checks payable to VASP
For questions, concerns please contact Christina Gibson at
(540)915-4311 or by email: [email protected]
VASP is approved by the National Association of School Psychologists to offer professional
development for school psychologists. VASP maintains responsibility for the program."