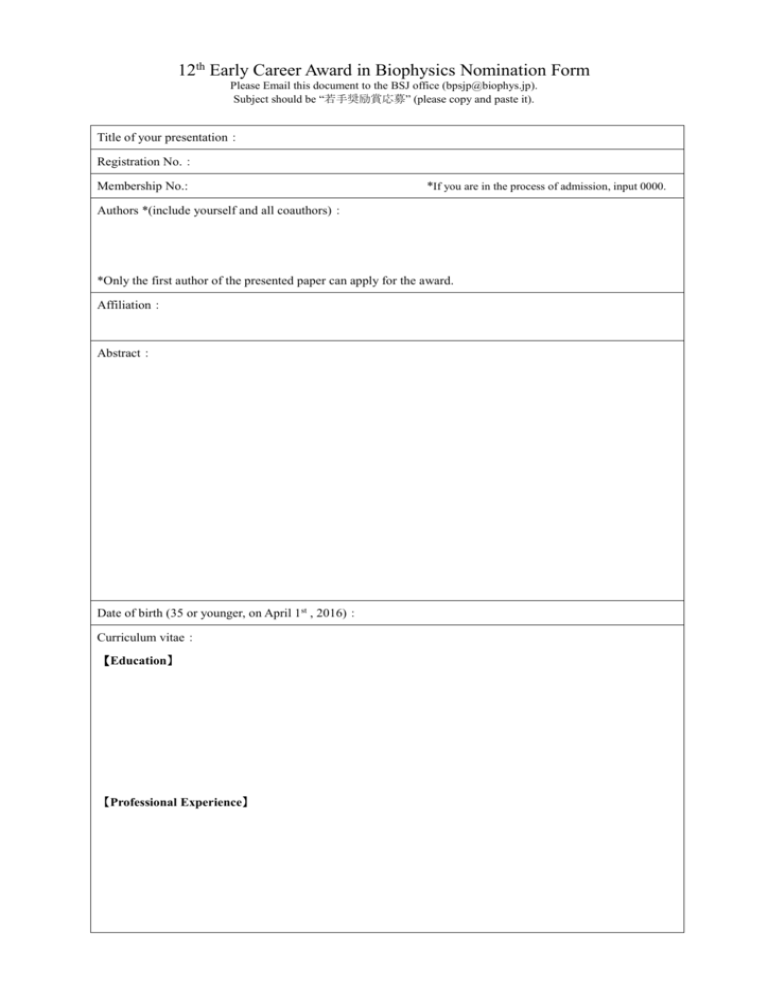 12th Early Career Award in Biophysics Nomination Form
Please Email this document to the BSJ office (bpsjp@biophys.jp).
Subject should be "若手奨励賞応募" (please copy and paste it).
Title of your presentation:
Registration No.:
Membership No.:
*If you are in the process of admission, input 0000.
Authors *(include yourself and all coauthors):
*Only the first author of the presented paper can apply for the award.
Affiliation:
Abstract:
Date of birth (35 or younger, on April 1st , 2016):
Curriculum vitae:
【Education】
【Professional Experience】
Publication list:
The significance of your presentation; uniqueness, novelty or emphasis of your work etc. (within 300 words) :
Your contribution to the work:
Other awards under submission and the record of awards achieved:
【Other awards under submission】
【The record of awards achieved】
Which field does your work belong? Give the number.:
1.
Structure and Function of Proteins
7.
Molecular Motor
2.
Properties of Proteins (Folding, dynamics etc)
8.
Biomembrane, artificial membrane
3.
Nucleic Acid
9.
Bioinformatics
4.
Cellular Biology
10. Imaging, methodology
5.
Photobiology
11. Brain and neuroscience
6.
Muscle
12. Others (Please specify.)
ADDRESS:
PHONE:
FAX:
E-MAIL:
The Biophysical Society of Japan (BSJ) manages personal information with responsibility and will only use personal information to send an invitation.