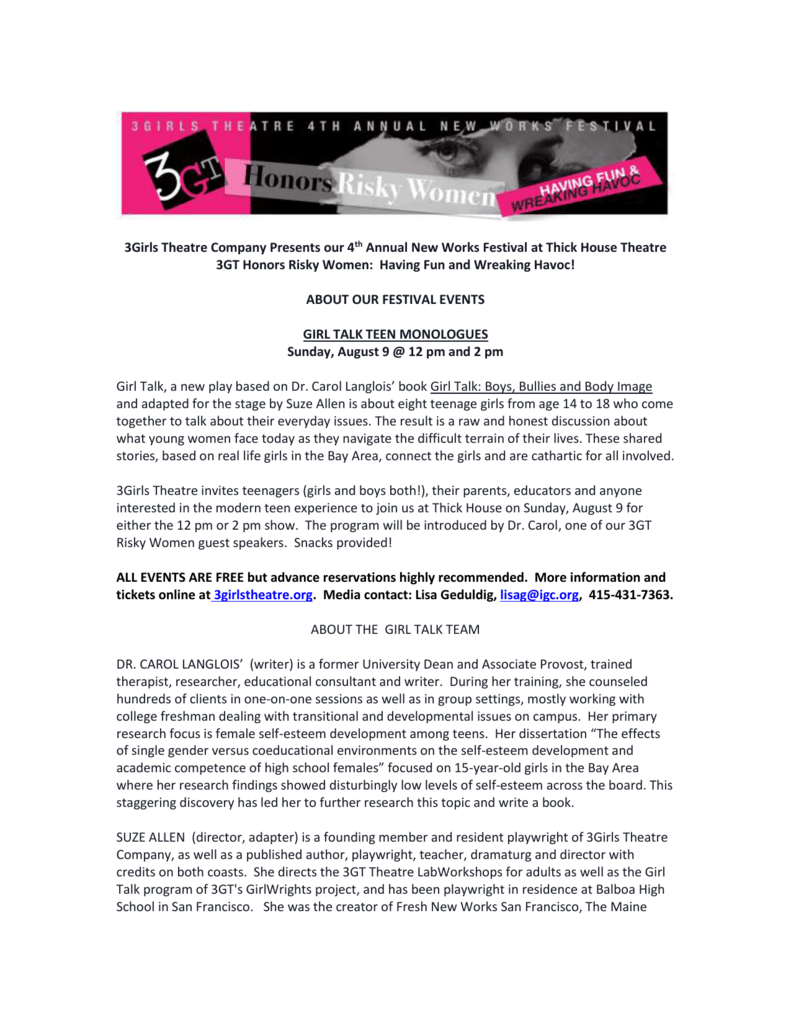 3Girls Theatre Company Presents our 4th Annual New Works Festival at Thick House Theatre
3GT Honors Risky Women: Having Fun and Wreaking Havoc!
ABOUT OUR FESTIVAL EVENTS
GIRL TALK TEEN MONOLOGUES
Sunday, August 9 @ 12 pm and 2 pm
Girl Talk, a new play based on Dr. Carol Langlois' book Girl Talk: Boys, Bullies and Body Image
and adapted for the stage by Suze Allen is about eight teenage girls from age 14 to 18 who come
together to talk about their everyday issues. The result is a raw and honest discussion about
what young women face today as they navigate the difficult terrain of their lives. These shared
stories, based on real life girls in the Bay Area, connect the girls and are cathartic for all involved.
3Girls Theatre invites teenagers (girls and boys both!), their parents, educators and anyone
interested in the modern teen experience to join us at Thick House on Sunday, August 9 for
either the 12 pm or 2 pm show. The program will be introduced by Dr. Carol, one of our 3GT
Risky Women guest speakers. Snacks provided!
ALL EVENTS ARE FREE but advance reservations highly recommended. More information and
tickets online at 3girlstheatre.org. Media contact: Lisa Geduldig, [email protected], 415-431-7363.
ABOUT THE GIRL TALK TEAM
DR. CAROL LANGLOIS' (writer) is a former University Dean and Associate Provost, trained
therapist, researcher, educational consultant and writer. During her training, she counseled
hundreds of clients in one-on-one sessions as well as in group settings, mostly working with
college freshman dealing with transitional and developmental issues on campus. Her primary
research focus is female self-esteem development among teens. Her dissertation "The effects
of single gender versus coeducational environments on the self-esteem development and
academic competence of high school females" focused on 15-year-old girls in the Bay Area
where her research findings showed disturbingly low levels of self-esteem across the board. This
staggering discovery has led her to further research this topic and write a book.
SUZE ALLEN (director, adapter) is a founding member and resident playwright of 3Girls Theatre
Company, as well as a published author, playwright, teacher, dramaturg and director with
credits on both coasts. She directs the 3GT Theatre LabWorkshops for adults as well as the Girl
Talk program of 3GT's GirlWrights project, and has been playwright in residence at Balboa High
School in San Francisco. She was the creator of Fresh New Works San Francisco, The Maine
Playwrights' Lab and Short Works Festival, Artistic Director for the SF Writers and Actors Lab,
Director for Fertile Ground Writing Studio and the resident Dramaturge and playwriting
instructor at The Playwrights' Center of San Francisco. Her work and the work she has directed
has played the Dramatists Guild's SF Footlights, Tides Theatre, Brava Theatre, 450 Geary, The
Marsh, Intersection for the Arts, Noh Space, The Phoenix, OutNorth Contemporary Art House in
Anchorage Alaska and The SF and Edinburgh Fringe Festivals. In 2012 Suze was appointed as
San Francisco's representative to the Dramatists' Guild of America.
***********
About the 3GT New Works Festival: 3GT's annual New Works Festival represents the very best
of 3GT's work in developing, producing and promoting original work by women playwrights
throughout the year. Each year we choose a theme for the festival to focus our work and help
the community rally around important issues. This year's theme is 3GT Celebrates Risky
Women: Having Fun and Wreaking Havoc! It calls attention to the need for women who break
rules and defy the norm—values embodied by our resident playwrights, company members and
this year's featured community and artistic collaborators.
About 3Girls Theatre Company: 3GT's mission is to develop, produce and promote new plays
written by San Francisco Bay Area women playwrights. In 2011, San Francisco playwrights Suze
Allen, AJ Baker and Lee Brady decided it was time to stop complaining about the lack of
opportunities for women playwrights in American theater and take action. With fearless
enthusiasm, the three Girls set about recruiting a company of amazing women who shared their
vision to "put women's work on stage where it belongs." Today, 3GT's resident playwrights
collaborate with one another and the larger community to create and support extraordinary
new work by women playwrights through three core programs: the annual New Works Festival.
the intimate Salon Reading Series, and full productions of new plays. 3GT also sponsors
outreach programs that develop new playwrights, empower girls, and nurture LBT playwrights
and performers.