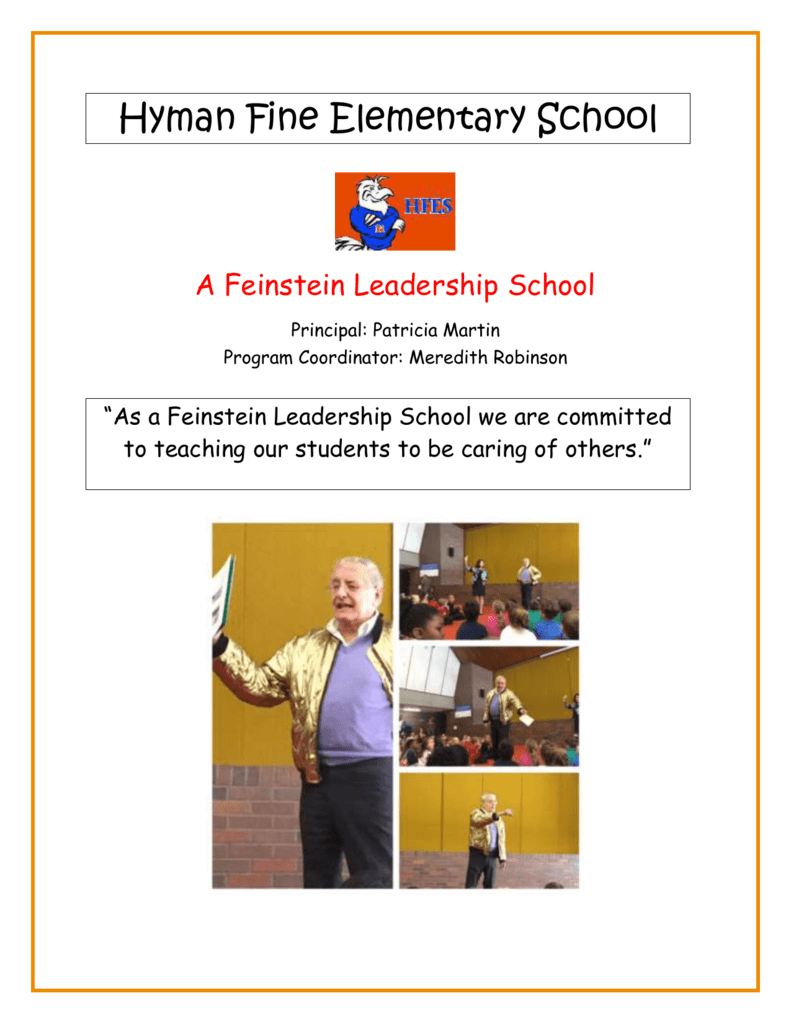 Hyman Fine Elementary School
A Feinstein Leadership School
Principal: Patricia Martin
Program Coordinator: Meredith Robinson
"As a Feinstein Leadership School we are committed
to teaching our students to be caring of others."
Mr. Alan Shawn Feinstein visited our elementary school on
October 6th. On this day all students learned that we were a
Feinstein Leadership School!! Mr. Feinstein's enthusiasm was
contagious throughout our auditorium. He informed all students
and staff members what it means to be a Feinstein Junior Scholar
and encouraged students to do good deeds and acts of kindness for
others. Mr. Feinstein shared his motto, "Helping to better the lives
of others is the greatest of all achievements."
All elementary students were thrilled to learn that they were each
going to receive a Feinstein Leadership card. When Mr. Feinstein
read the different places students could visit, the excitement grew.
Mr. Feinstein's visit left all students enthusiastic to begin writing
good deeds down in their journals and couldn't wait to take them
home. Before leaving, Mr. Feinstein surprised everyone with a
check for $2,000 which Principal Martin graciously accepted.
Hyman Fine Feinstein Junior Scholars got right to work by taking
part in "Socktober." All month long students brought in all
different sized pairs of socks. In total the school collected 480
pairs that were saved to be put into a "Pride Pouch" which also
contained toiletries. The Pride Pouches were distributed by the
high school at a dinner on Christmas Day. Hyman Fine ended the
month of "Socktober" by having a crazy sock day. The whole school
was in the spirit by wearing their most silly or crazy socks!!
November brought our food drive and as another act of
kindness, all Feinstein Junior Scholars from Kindergarten to fourth
grade wrote letters or made pictures for our Hyman Fine Military
Members and Veterans in honor of Veteran's Day. Students were
encouraged to use words such as respect, courage, honor and
thank you. Each Feinstein Junior Scholar really enjoyed taking the
time to perform this act of kindness. The third and fourth grade
student council assisted in stuffing and stamping envelopes so that
they would be received in time.
We then moved from the food drive to the can drive for the
month of December. Feinstein Junior Scholars brought in their
canned goods throughout the month and donations were made to a
food bank in Attleboro.
All students will be continuing to work hard as Feinstein
Junior Scholars and look forward to the messages they receive from
Mr. Feinstein. Mr. Feinstein shares good deeds of his Feinstein
Junior Scholars on his weekly show "Our Great Kids' which airs
Saturday and Sunday at 10:00am on PBS 36 and Cox 8. Our
sweatshirts will be arriving shortly and we look forward to wearing
them on Feinstein Junior Scholar Day.
Alan Shawn Feinstein is founder of the Feinstein Foundation,
dedicated to helping the needy and encouraging youngsters
to do likewise. His campaign to fight hunger has raised over
$2.5 Billion for thousands of anti hunger agencies
nationwide. There are now over 250,000 Feinstein Jr.
Scholars!